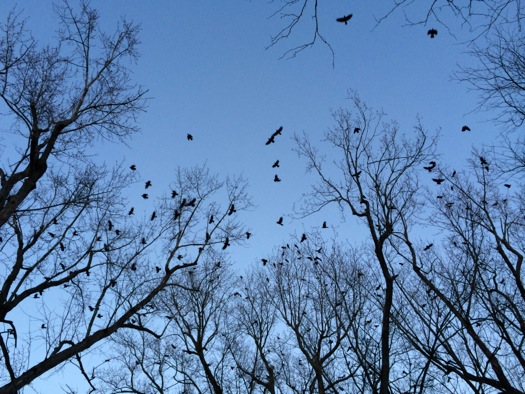 The cold nights arrive. The leaves fall. And the crow dispersal trucks migrate back to the city of the Albany.
Identifying information for this species and its seasonal visits, from a city press release:
The dispersal will take place in the areas surrounding Hackett Blvd. and Sheridan Blvd. in Albany. The City of Albany requested assistance to scatter the crows because of their droppings and the ruckus they create.
The non-lethal dispersal will be conducted by wildlife biologists from the Animal and Plant Health Inspection Service, Wildlife Services, part of the U.S. Department of Agriculture. They will be driving marked vehicles and wearing uniforms and a yellow safety vest marked "USDA Wildlife Services."
The work will be repeated at two-week intervals throughout winter where roosts develop.
The non-lethal methods used to disperse crows include pyrotechnics, spotlights, non-harmful lasers, and recorded crow distress calls that are amplified. Several of these methods produce loud noises and flashing lights similar to sirens and fireworks that frighten birds and may be heard or observed by local residents.
Residents are strongly encouraged to place household trash in containers with lids to discourage crows from feeding. Residents may also use bright flashlights to disperse crows roosting in trees.
Look for the first sightings of the trucks in the evenings of November 20 and 21. They can easily be spotted with the naked eye, no binoculars needed. You may also learn to recognize their distinctive call if you listen for them.
Earlier:
+ A dossier on our crow invaders
+ A seasonal farewell to the crows
Hi there. Comments have been closed for this item. Still have something to say? Contact us.