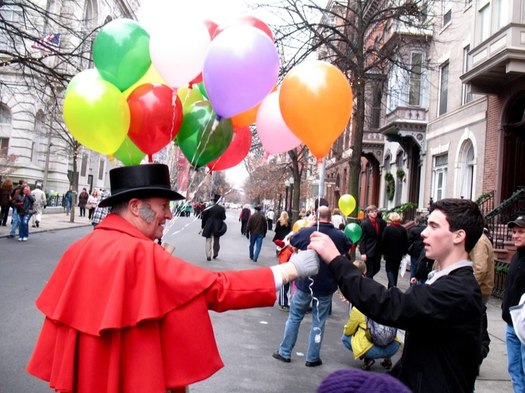 So, what kind of week have you had?
Yeah.
But it's the weekend. That's something. And there's a long list of ways to enjoy it. We've pulled together a few things we thought you might enjoy. Doing something you don't see on our list? Tell us about it.
And whatever you're up to, have a fantastic weekend.


Holiday
Empire State Plaza Holiday Tree Lighting and Fireworks
Sunday: The holiday tree lighting celebration at the Empire State Plaza includes skating demos, arts and crafts, music, horse and buggy rides, and more. Fireworks follow the tree lighting. The Taste NY Holiday Market is also that day at the State Museum ($5, cash). And the Great Train Extravaganza is in the ESP Convention Center from 10 am-4 pm ($7 / under 12 free). Sunday plaza events start at noon / fireworks at 5:30 pm -- free admission
Victorian Stroll
Sunday: The annual Victorian Stroll returns to Troy. Music, performers, people in Victorian costume, sales, and more throughout downtown Troy. Sunday, 10 am-5 pm -- free admission
Holiday Greens Show
Friday-Sunday: The Rensselaer County Historical Society's historic Hart-Cluett House hosts its annual Holiday Greens Show this weekend. Friday-Sunday noon-5 pm -- $10 / $6 seniors / $5 kids / under 4 free
Holiday lights in the park
Friday-Sunday: The Capital Holiday Lights are on in Albany's Washington Park. Light displays, Santa, reindeer, crafts, and more. Friday and Saturday 6 pm-10 pm, Sunday 6-9 pm -- $20 and up
Ballston Spa Holiday Parade and Tree Lighting
Friday: The Ballston Spa Holiday Parade will travel down Milton Avenue to Wiswall Park on Front Street. Tree lighting, Santa, carolers, open shops. Friday 6:30 pm -- free
Saratoga Festival of Trees
Friday-Sunday: The Saratoga City Center hosts the annual Festival of Trees, a weekend of holiday crafts, visits with Santa, and 250 decorated Christmas trees. Friday-Sunday various times -- $8 adults / $5 seniors / $3 children over 10 / children under 10 free
Hudson Winter Walk
Saturday: The Hudson Winter Walk is on Warren Street. "For one magical evening, Hudson's unique creative community and independent retailers lining the mile-long historic main street transform our city into a winter wonderland full of music, performance, food, holiday shopping, and family fun. " Saturday 5-8 pm -- free admission
The Nutcracker at Proctors
Saturday-Sunday: Northeast Ballet's annual performance of The Nutcracker returns to Proctors. Saturday 7 pm , Sunday 2 pm -- various prices
Sweets and Treats
Sunday: Ahead of the Sunday matinee of the The Nutcracker, Proctors is hosing Sweets and Treats, an afternoon of cookie decorating, holiday-themed crafts, a make-your-own hot cocoa station, and more. Sunday at noon -- $20 for kids / $10 for adults
Ten Broeck Mansion Holiday House
Saturday-Sunday: Check out the holiday decorations at the Ten Broeck Mansion. First look on Saturday at 6 pm -- $10 / Sunday noon-3 pm --$5 adults / $1 for children under 12
Holiday Open House, National Museum of Racing
Saturday: The National Racing Hall of Fame hosts an open house with free admission, visits with Santa and more. Saturday 11 am-1 pm -- free
Schenectady Festival of Trees
Saturday-Sunday: The annual Festival of Trees returns to the Schenectady County Historical Society. Christmas trees of all styles, from "classic to kooky." Saturday and Sunday 10 am-5 pm -- $6 / under 12 get in free

Markets/shopping
Gifted Artisan Fair
Friday: The Albany Barn hosts the annual Gifted artisan fair, with music, hot chocolate and shopping with local vendors. Saturday 5 pm -- free admission
Saratoga Fair Trade Market Expo
Saturday: The Saratoga Springs City Center will host a fair trade Market Expo with handcrafted fair trade gifts from across the United States and around the globe. Saturday 10 am-4 pm -- free admission
Crafts & Christmas, Albany Capital Center's Premier Arts & Crafts Show
Saturday-Sunday: The Albany Capital Center hosts an arts and crafts show with more than 200 vendors, including wineries and distilleries. Saturday 10 am-6 pm, Sunday 10 am-4 pm -- $6 / military and seniors $4 / kids 6-12 $3 / kids 5 and under free
Miss Party Presents: A Holiday Affair
Saturday: Levels Banquet Hall on North Pearl Street hosts a vendor and craft fair to support urban families in need. Saturday 11 am-4 pm -- $5 suggested donation at the door
Hamagrael Craft Fair
Saturday: Hamagrael Elementary School in Delmar hosts its annual craft fair. "The fair features jewelry, specialty foods, textiles, toys, paper products and more." Saturday 10 am-4 pm -- free admission
Taste NY Holiday Market
Sunday: The annual Taste NY Holiday Market returns to the New York State Museum. Sunday 11 am to 4: 30 pm -- Free
Skating
Empire State Plaza
The skating rink at the Empire State Plaza opens this weekend. The rink will be open seven days a week from 11 am to 8 pm (closed 3-4 pm for maintenance), weather permitting. And it's free to skate. Skate rental is $4 for adults / $3 for kids 12 and under / and free on Fridays. (A photo ID is required for skate rental.)
Swinburne Park
The skating rink at Albany's Swinburne Park opens for the season Friday at 3 pm. (See the link for the schedule.) It's $1 to skate / 50 cents for under 18 / 25 cents for seniors / skate rental is $3.
1st Friday
Friday: It's the last 1st Friday of the year in Albany. Participating shops and galleries throughout the city are open late with specials, music and events.
+ City Church at 200 Washington Ave is hosting an Ugly Sweater Party fundraiser. Music, drinks raffles and more. 6 pm - 10 pm -- $10 or $5 plus a toy donation
+ Nine Pine Cider hosts The Chair Show a display of chairs pulled from St. Joseph's school, now the Albany Barn, and decorated by Capital Region artists. The chairs will be displayed in the Nine Pin tasting room. Friday 5-8 pm
+ The African American Cultural Center of the Capital Region will display African American Santas from the private collection of Cathleen Coleman. Friday 6:30 pm-8:30 pm
+ Gals that Play Jazz Swing Dance Band headlines the 1st Friday Swing Dance at 25 South Allen. 8-11 pm -- $10-$15
Arts and sciences

Azmat Khan
Friday: Award-winning journalist Azmat Khan will be at The Sanctuary for Independent Media. She was the co-author of that recent NYT Mag cover story -- "The Uncounted" -- about the US military significantly undercounting the death toll from air strikes against ISIS. Friday 7 pm -- $10
Upstate Collage Night
Friday: Artists Ira Marcks and Caroline Corrigan host one of their Upstate Collage Nights at the Opalka Gallery on the Sage Albany campus. Make a collage from vintage magazines. Music, supplies and snacks are provided. While you're there you can see the current Opalka exhibit Paper is Part of the Picture: Strathmore and the Evolution of American Graphic Design. Friday 6:30-9 pm -- free
Stage
She Loves Me
Friday-Sunday: Capital Rep continues its production of She Loves Me. "This confection of a musical is based on the timeless story by Miklos Laszlo that also served as inspiration for the classic film The Shop Around the Corner and more recently You've Got Mail." Friday-Sunday various times -- $25 and up
See How They Run
Friday-Sunday: Curtain Call Theater presents the holiday comedy See How They Run."A delightful farce set in an English vicarage, populated by an American actor and actress, a cockney maid, and four men in clergy suits." Friday and Saturday at 8 pm, Sunday at 2 pm -- $20
As Bees In Honey Drown
Friday-Sunday: Schenectady Civic Playhouse presents As Bees in Honey Drown, Douglas Carter Bean's political/social satire on the commercial creation of hot young things in America. Friday and Saturday at 8 pm, Sunday at 2 pm -- $20
A Christmas Carol
Friday-Sunday: The Theater Institute at Sage presents the Dickens classic, A Christmas Carol. Friday and Saturday 7:30 pm, Sunday 3 pm -- $15
Dog Sees God
Friday-Sunday: Steamer 10 Theater hosts a production of Dog Sees God, the unauthorized parody of Peanuts, that looks at the beloved characters as teenagers. Friday and Saturday at 8 pm, Sunday at 3 pm -- $20, $10 for students and seniors
Christine Pedi
Saturday: Proctors cabaret series continues with Broadway's Christine Pedi at the GE Theater. Saturday 8 pm -- $40-$50
Comedy
Friday Night Improv: What Could Go Wrong?
Friday: The MopCo Improv Theater presents What Could Go Wrong? "The region's finest improvisers bring you a night of comedy right off the top of their heads. No script, no plan and nowhere to hide." Friday at 8 pm -- $10, $6 for students and seniors
Spontaneous Broadway
Saturday: MopCo Improv Theatre presentsSpontaneous Broadway. Act one is a mock backers audition, in which the company invents songs based on audience suggestions. The audience votes on a favorite, and in act two, the company makes up the full musical, including costumes, sets and a reprise of the first act song. Saturday 8 pm -- $10 / $6 for students and seniors
Film
Forest Gump / The Art of Still Photography on the Movie Set
Friday: The NYS Writers Institute's classic film series is screening Forest Gump. Before the film there will be a talk and slide show by Hollywood movie set still photographer Phil Caruso, on the art of still photography on movie sets. "Phillip Caruso, one of the most sought-after still photographers in the motion picture industry, is known for his extensive work with Martin Scorsese, Ron Howard, Francis Ford Coppola, Robert Zemeckis, Terry Gilliam, and other leading directors. " Friday at 7:30 pm on the UAlbany Downtown campus -- free
The Madison
This weekend The Madison Theater is screening Elf, Face Off, and Dune.
The Underground World of Mike and George Kuchar
Saturday: The Tang Museum is screening some of the art films of the Kuchar brothers -- fraternal twins and avant guard filmmakers. The museum will screen Hold Me While I'm Naked and Ascension of the Demonoids. Saturday 4 pm -- free
Hockey
Union
+ Friday: Union College men's hockey team takes on Brown at Messa Rink. Friday 7 pm -- $12
+ Saturday: Union takes on Yale at Messa Rink. Saturday 7 pm -- $12
RPI
+ Friday: RPI takes on Yale at the Houston Field House. Friday 7 pm -- $12
+ Saturday: RPI takes on Brown at the Houston Field House. Saturday 7 pm -- $12
Hoops
UAlbany
Saturday: The UAlbany men's team faces Columbia at the SEFCU arena. Saturday 7 pm -- $15 and up
Siena
Saturday: The Siena men's team takes on Robert Morris at the Times Union Center. Saturday 2 pm -- $10 and up
Music
Friday: Ghostface Killah + Beat*Shot showcase at Putnam Den
Hip hop ironman + a bunch of local performers and DJs. 9 pm -- $30
Friday: The Richard Thompson show at The Egg is sold out
Friday: Northern Faces at The Hollow
Hometown show. 9 pm -- $12 ahead / $15 at door
Friday: Sara Watkins at Helsinki Hudson
From Nickel Creek. 9 pm -- $25 and up
Friday: MIRK Toys and Noise at Parish Public House
Annual fundraiser/toy drive. With: Victory Soul Orchestra, The Age, Ozymandias, Big Rush, and Mic Lanny. 8 pm -- $10 or new, unwrapped toy
Friday: The Ballroom Thieves at Caffe Lena
Rock/folk/blues. With: The Novel Ideas. 8 pm -- $22
Friday: Blue Machine at The Hangar
Rock. 9 pm
Saturday: The Figgs at The Low Beat
The annual around-the-holiday show. 8 pm -- $12
Saturday: An Evening with David Rawlings featuring Gillian Welch, Willie Watson, Paul Kowert, and Brittany Haas at The Egg
Americana. 8 pm -- $36
Saturday: 8th Step Celtic Holiday at Proctors
"Celtic Holiday extravaganza with John Whelan, Low Lily & Katie McNally. Traditional Irish accordion, Scottish fiddling, and Americana String Band." 7:30 pm -- $26 and up
Saturday: Martin Sexton Trio at Helsinki Hudson
Singer/songwriter. 9 pm -- $45 and up
Saturday: The Suitcase Junket at Caffe Lena
One-man band. 7 pm -- $20
Saturday: J.E.D.I. @ The Hollow
Jazz Electronic Dance Improvisation, with members from Brazilian Girls, Break Science/Pretty Lights, Lettuce, and The Nth Power. 8 pm -- $16
Saturday: The Refrigerators at Cohoes Music Hall
A benefit for the Waterford Museum. 7 pm -- $25
Saturday: Dana Fuchs at Massry Center
Blues rock. 8 pm -- $35
Saturday: Pigeons Playing Ping Pong at Putnam Den
Psychedelic funk. With: Flamingosis. 9:30 pm -- $14 ahead / $17 day of
Saturday: Old Songs Community "Barn" Dance with the Walker Family Band
"Fun, simple dances from the U.S. and around the world. For every age and ability. All dances will be taught and will include circles, contras and squares. Yummy desert potluck during intermission." 7 pm -- $8 / kids 12 and under free
Sunday: Albany Symphony - The Magic of Christmas at The Palace
The annual holiday show. 3 pm -- $28 and up adults / $14 and up kids 12 and under
Sunday: Zucchini Brothers Holiday Show at The Egg
Annual show for kids. 3 pm -- free
Sunday: Hot Tuna at the Cohoes Music Hall
An acoustic show. 8 pm -- $52 and up
Sunday: LlÅ·r Williams at Union College
Classical pianist. 3 pm -- $30'
Sunday: The Wynotte Sisters' Holiday Concert at Caffe Lena
Sara Milonovich, Daria Grace, and Vibeke Saugestad. 7 pm -- $18
Museums/galleries
State Museum
The State Museum recently opened Votes for Women -- its new exhibit about the women's suffrage movement. It also recently opened the first phase of its new Enterprising Waters: New York's Erie Canal exhibit.
Albany Institute
Well-Dressed, an exhibit of high fashion from the 19th century, continues at the Albany Institute of History and Art, along with an exhibit about the the anti-suffrage movement in Albany. Also almost its entire collection of Hudson River School works is on display.
Hyde Collection
The Hyde Collection recently opened a a touring exhibit of folk art (on display through the end of 2017). The new Feibes & Schmitt Gallery is also now open. And it's pay-what-you-wish admission during December.
MASS MoCA
MASS MoCA has a bunch of exhibits on display that make use of its huge gallery expansion.
The Clark
The Clark has a good permanent collection, and The Impressionist Line: From Degas to Toulouse-Lautrec is currently on display.
Rockwell
The Norman Rockwell Museum is just over the Massachusetts border in Stockbridge.
Arkell
The Arkell is an easy drive out west to Canajoharie. It currently works by Cassatt, Homer, O'Keeffe, Grandma Moses, Whistler on display.
Baseball Hall of Fame
Baseball fans could probably spend most of the day at the Baseball Hall of Fame in Cooperstown.
Farmers' markets
+ Troy Waterfront Farmers Market is indoors at the atrium. Saturday 9 am-2 pm
+ The Delmar Farmers Market is at Bethlehem Central Middle School (332 Kenwood Ave). Saturday 9 am-1 pm
+ The Saratoga Farmers' Market is indoors at the Lincoln Bathhouse Saturday 9 am-1 pm
+ The Schenectady Greenmarket is indoors at Proctors. Sunday 10 am-2 pm
+ The Spa City Farmers' Market is on the lawn of the the Lincoln Baths. Sunday 10 am-3 pm.
Troy Makers Market
Saturday: Local craft vendors will display and sell wares at the Troy Makers Market in conjunction with the Troy Waterfront Farmers Market. Saturday 9 am to noon
Day trips
Explore New Paltz, head for The Berkshires, the Catskills, or Columbia County.
The Albany Institute, the Mop & Bucket Company, and Troy Music Hall advertise on AOA. And AOA is a sponsor of the ESP ice rink.
Say Something!
We'd really like you to take part in the conversation here at All Over Albany. But we do have a few rules here. Don't worry, they're easy. The first: be kind. The second: treat everyone else with the same respect you'd like to see in return. Cool? Great, post away. Comments are moderated so it might take a little while for your comment to show up. Thanks for being patient.