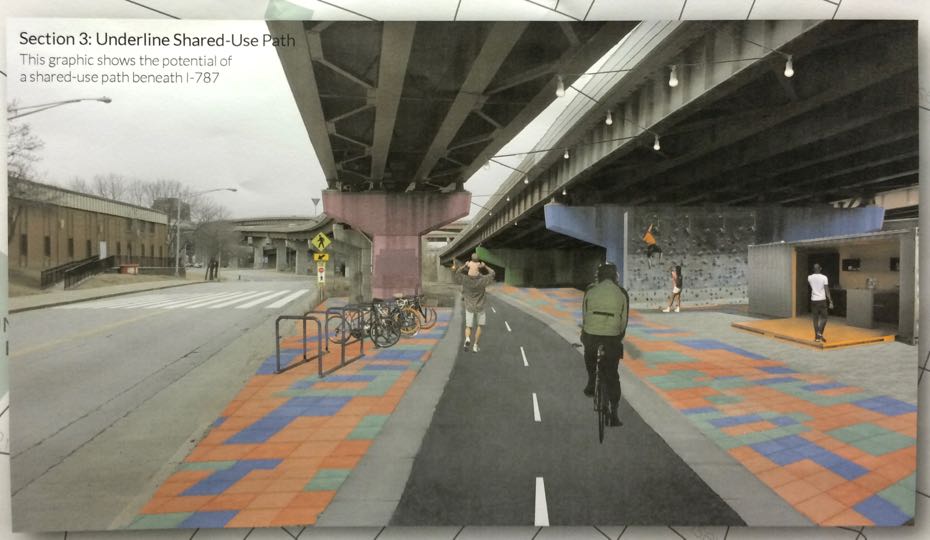 The Capital Region scored $85 million in the state's annual Region Economic Development Council awards/game show porktacular on Wednesday. The region was a "top performer" for the second year in a row, and again landed the second-highest total of grants.
Here are details on the specific projects getting funding in the Capital Region are below, along with a bunch of that caught our eye. There are also region-by-region totals for the awards.
All Capital Region grant awards
They're at the top in a large-format table -- click or scroll all the way up.
Capital Region projects awards that caught our eye
Soldier On Project - $100,000
Albany County
"Albany County will renovate the former Ann Lee Nursing Home and partner with Soldier On, a veterans organization, to create a full service homeless veterans campus, providing education, training and services to support homeless veterans."
City of Albany Floatables Control Facilities - $5 million
Albany Water Board
"The Albany Water Board will build two Floatables Control Facilities to collect floatable debris and materials associated with several combined sewer outfalls in the City. The project will reduce the floatable materials conveyed to the Hudson River and serve to treat urban stormwater runoff, thereby reducing phosphorus, nitrogen, metals and other suspended solids."
This might sound like a boring thing, but combined sewer overflows -- in which Albany's old combined stormwater/sanitary sewer system overflows during storms, allowing sewage into the Hudson River -- is a serious problem. And Albany, along with other municipalities in the "Albany Pool," are working on a longterm plan to fix the CSO problem.
Albany Broadway Streetscape Project - $150,000
City of Albany
"The City of Albany will make major streetscape improvements to link Albany's Warehouse District with the Business Downtown Improvement District. The City will invest in new lighting, sidewalks, intersections/crosswalks, street trees and furniture to improve vehicular, bicycle and pedestrian safety, and improve transit connections to facilitate new investment in businesses, housing and commercial development in the Warehouse District."
See recently: What's up with the Albany Skyway, and a few bits about plans to makeover a key piece of downtown
South End Connector Lowline Project - $200,000
City of Albany
"The South End Connector Lowline Project will be the second phase of the Albany Waterfront Connector, a critical 1.5 mile link between the Albany County Helderberg-Hudson Rail Trail and the Mohawk Hudson Bike Hike Trail. This link will transform an inactive, underutilized space into a vibrant active link from the south end to the waterfront and downtown."
See from earlier this year: The plan to connect two major bike paths at the Albany waterfront
Cohoes Canal Square Park - $915,000 (two grants)
City of Cohoes
"The City of Cohoes will install porous pavers, bioretention, street trees and a rainwater harvest and reuse system at Canal Square Park. This project will revitalize a deteriorating city park by establishing the Remsen Street Arts and Heritage District and also improve water quality in the Hudson River by reducing runoff to a combined sewer system." And: "The City of Cohoes has prepared a plan to construct improvements and to expand Canal Square Park. The acquisition of the adjacent parking area (84 Remsen Street) facilitates this expanded park/site programming. Canal Square Park will serve as a gathering and event space and broaden programming on the site to spur additional visitation, recreation, and investment in downtown."
Cohoes also got another $836,000 for sidewalk and street infrastructure for its downtown. It could use the boost after the huge fire.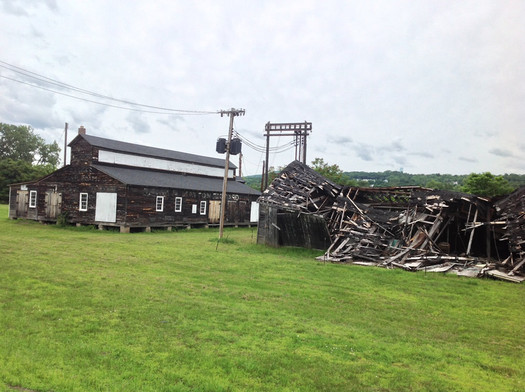 Matton Shipyard / photo: Duncan Crary
Matton Shipyard Preservation Adaptive Reuse Initiative - $373,400 (two grants)
Erie Canalway Heritage Fund Inc.
"Matton Shipyard is a rare surviving example of an early 20th century civilian ship building and repair facility. The site is located directly adjacent to the Mohawk Hudson Bike-Hike Path and the Erie Canalway Trail, which are both included as part of the Governor's Empire State Trail initiative. Project Funding will complete a series of implementation strategies identified as part of the Phase 1 Feasibility Study and Master Plan." And: "The project includes the stabilization of three original structures, environmental remediation of the shipyard buildings, stabilization of the Hudson River shoreline to prevent further erosion, and evaluation of cultural resources through Phase 2 archeological surveys to assess areas of potential ground disturbance."
Palace Theatre Renovation and Revitalization Project - $2.5 million
Palace Performing Arts Center Inc
"The Palace Performing Arts Center Inc. will renovate and modernize the Palace Theater's infrastructure, improve seating and accessibility, enhance the stage and backstage support services, and create an off-street loading dock."
Starbuck Island Development - $1.79 million
South Island Apartments, LLC
"Remediation and redevelopment to transform Starbuck Island (Green Island, Albany County) into a vibrant, sustainable waterfront community with a restaurant, mixed-use commercial building, amphitheater, dock and boat house, marina, seawall and a boardwalk to facilitate a walkable link between Green Island and Troy."
This is the project directly across from downtown Troy just south of the Green Island Bridge.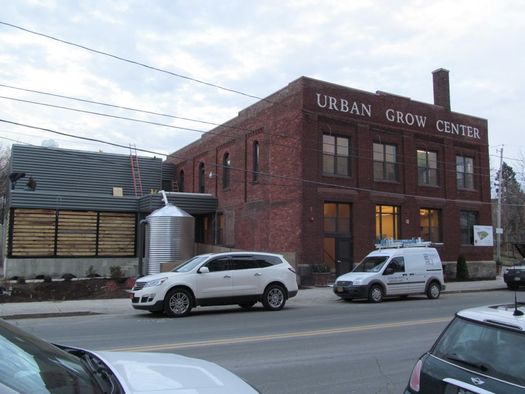 Capital Roots Urban Grow Center - $700,000
Capital Roots
"Capital Roots will construct an addition to include an incubator kitchen and a greenhouse to provide assistance to underserved communities."
HVCC Advanced Manufacturing Training Program - $2.9 million
Hudson Valley Community College
"Hudson Valley Community College will construct labs and classrooms and purchase machinery and equipment to create the Advanced Manufacturing Technology facility, a one-stop manufacturing technology center that will train students on the latest machine tools, equipment, tooling and software for employment with manufacturers in the Capital Region."
Hart-Cluett/Carriage House Restoration - $361,620
Rensselaer County Historical Society
"Rensselaer County Historical Society will restore/secure the envelope of the Hart-Cluett House and the attached Carriage House, which will enable better access to services and programs and protect archived documents."
Troy Innovation District - $4 million
The Quackenbush Building Inc.
"Quackenbush Building will renovate existing building stock to accommodate the demand by technology companies for space in interconnected wired buildings. An Innovation District will be established in Troy's Central Business District leveraging the City's urban and educational resources and rebranding unsightly buildings as clean high-tech space, creating an environment for job creation and growth."
Maker Space at Hillside View - $85,000
Albany Barn, Inc.
"Albany Barn will renovate space in a historic building in Hamilton Hill and purchase machinery and equipment to create maker space that includes a media lab, a fiber/textile studio, an electronics lab and a wood/metal fabrication lab, establishing an ecosystem where makers and creative start-ups can access tools, equipment, knowledge and labor to grow their businesses."
Schenectady Innovation Project - $2.9 million
Re4orm Architecture
"Re4orm Architecture will renovate a blighted building to create the Schenectady Innovation Project, a center for food and beverage development and production featuring labs and training facilities for culinary education, and commercial space."
miSci-Vale Park Education Conservancy Trail Project - $415,120
Schenectady Museum Association
"The miSci-Vale Park Education Conservancy Trail Project is a collaboration between miSci and the Vale Park Task Force to realize the vision of a redeveloped Vale Park in downtown Schenectady. The primary goal of this project is to construct a nature trail connecting miSci and Vale Park as well as an outdoor classroom for environmental and conservancy educational programs."
Notable for not getting a grant?
Here's the list of the Capital Region REDC "priority" projects that was released this past fall. Two large projects that were on that list that didn't end up on the award list today:
+ The Starlite Theater Redevelopment in Colonie, for which the Galesi Group was seeking $5 million.
+ UAlbany's ongoing effort to renovate the Schuyler Building on its downtown campus into a new home for its engineering college, which was on the priority list for $2.4 million.
Award totals by region
* Indicates "top performer."
Western New York: 68.8 million
Finger Lakes: 63.9 million
Southern Tier: 67.3 million
Central New York: 86.4 million *
Mohawk Valley: 85.5 million *
North Country: 64.9 million
Capital Region: 85 million *
Mid Hudson: 84.8 million
New York City: 64.8 million
Long Island: 84.3 million *
Briefing book
NYS REDC 2017 Awards Book by alloveralbany on Scribd