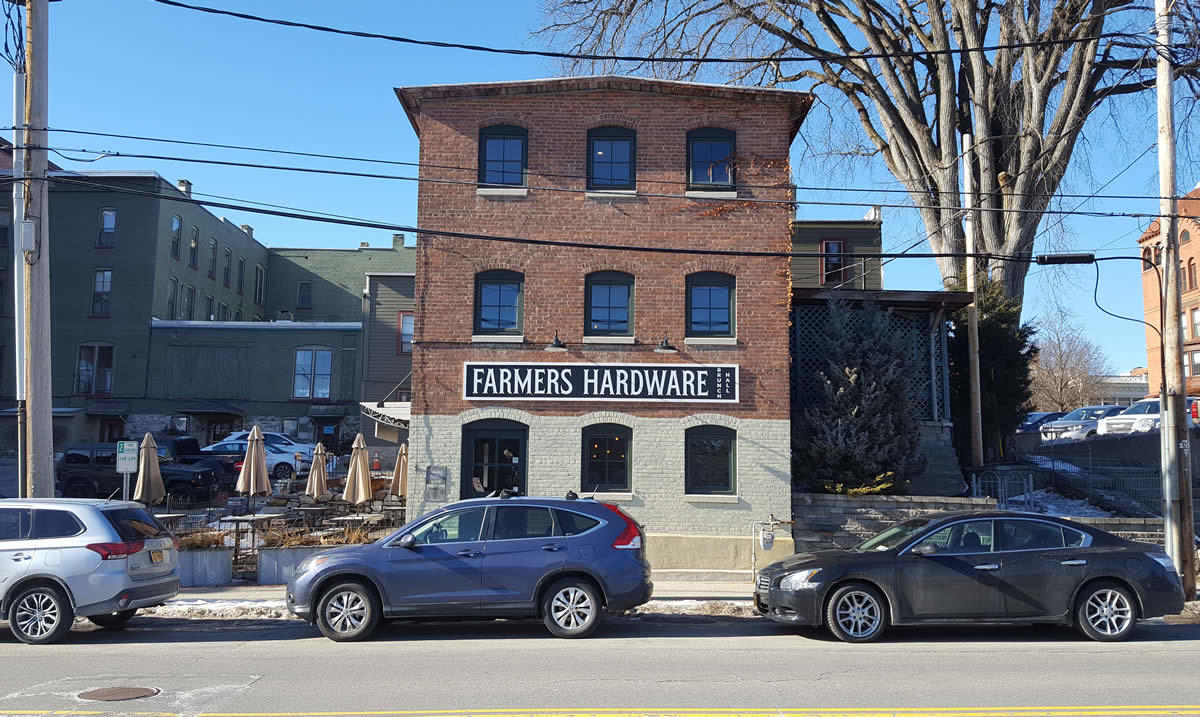 By Deanna Fox
I'm back in Saratoga today. That means I've hit my quota for dining out in Saratoga for the year, right?
Maybe not, since the city keeps opening up restaurants with a velocity reserved for more urbane nooks in bigger cities. Maybe it's because of the high turnover (and higher rents) in this tourist town, or maybe it's because hungry Saratogians are demanding more options, but the dining scene keeps expanding.
Farmers Hardware is a good example of that growth -- reason enough to take a gander at the menu and do a little sampling.

There's a glaring problem with Saratoga -- it's darn expensive there. When people ask me for my opinion on dining out in the city -- "something reasonable," they say -- it's almost impossible to give them a fair answer.
"Uh, doughboys at Esperanto?"
So let's just get the big issue out of the way: For a simple lunch for two people at Farmers Hardware a few weeks back, with a tip, I paid $40. I have a pain in the center of my sternum like Clark Griswold gets when Cousin Eddie starts piling dog food into the shopping cart just thinking about that.
Now that we've swallowed that pill, the food...
The menu at Farmers Hardware is short and concise, a smattering of sweet and savory (sometimes both) options that suit many palates. My favorite kind of meals are the ones you can eat with your fingers and give you the chance to sample. (Buffets for the win.)
So I opted for the Market Plate ($14), which provides the eater with a choice of any four individually-portioned sides.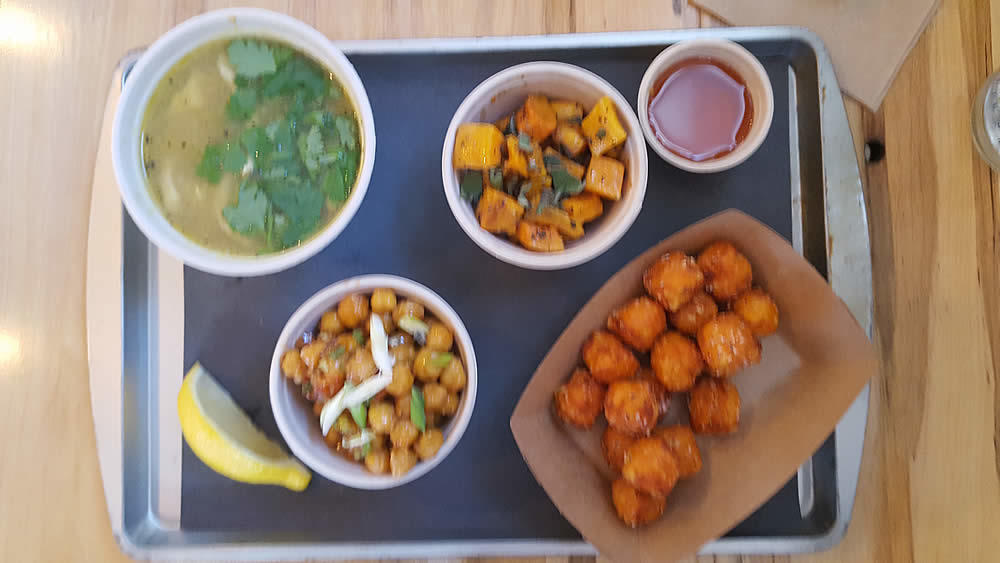 Sweet potato tots with hot honey were option one. All the compacted hash brown beauty of a tater tot with the gentle sweetness of orange tubers, they were generously dusted with coarse salt and provided a small ramekin of deep-amber honey that was spiked with chili peppers. It was a bit of sweetness overkill but I think that's the expected flavor profile when ordering fried sweet potato. Cubes of roasted butternut squash were robust with warm spices and a confetti of fresh sage were next, followed by crispy chili chickpeas that were garnished with obliques of scallion. (A lemon slice wedge came next to the chickpeas, but it was hard to tell if it was supposed to dress the chickpeas or the soup I also ordered.)
Lemon chicken soup was certainly a from-scratch endeavor. The broth was perfectly murky, as though it had just been filtered from a pressure cooker. Lemon notes were subtle, and the poached chicken didn't impart too much flavor, but the broth was slurpable and demonstrated that scratch cooking is a strict priority at Farmers Hardware. (Heads up to cilantro-averse: Ask for the soup without the fresh garnish.)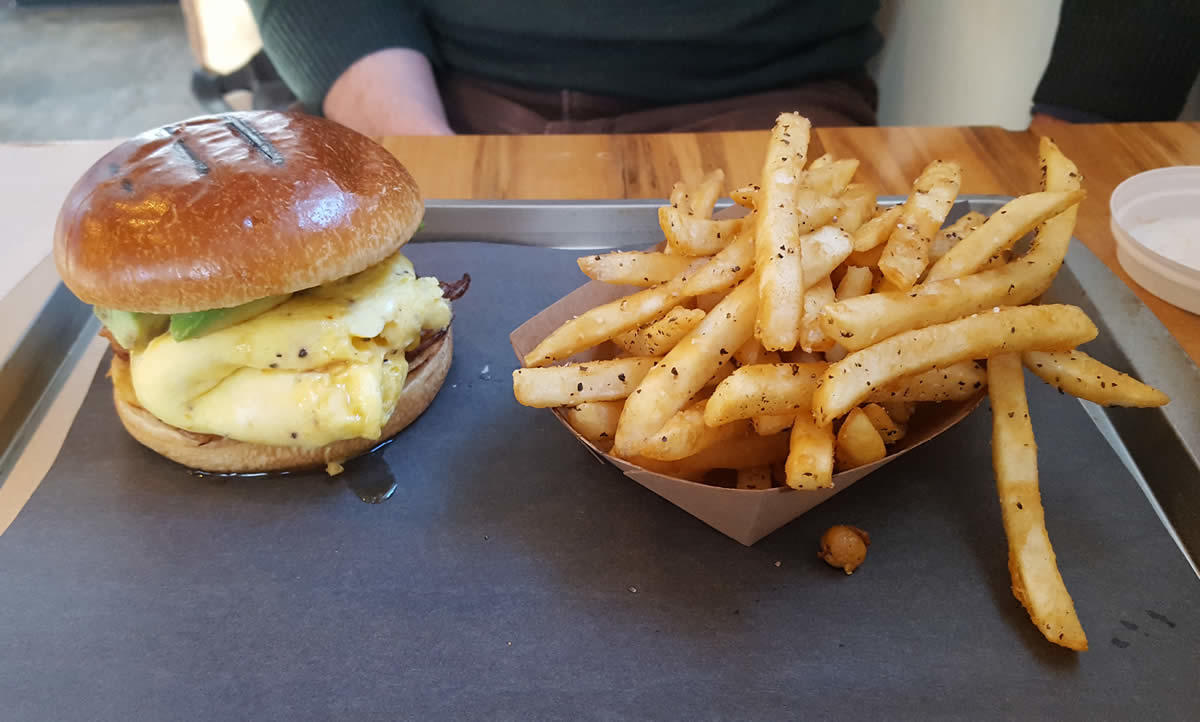 We also had the Staple Sandwich. If Marylou Whitney ate breakfast sandwiches, I imagine she would eat this one. (Note to self: pitch story on what Marylou Whitney eats for breakfast.) This ten-and-a-half dollar breakfast sandwich ($12.50 when you ate avocado) looks upon other breakfast sandwiches and sighs at how lacking in adornment they are. A folded square of scramble egg is an aureolin pillow to support bacon, cheddar cheese, and the added avocado slices. It's drizzled with maple sriracha before being placed on a toasted brioche bun. A side of salt and pepper fries accompanied. Like most other items on the menu, the sandwiched erred towards sweet but was an interesting spin on the commonplace breakfast sandwich.
The menu is littered with acronyms and vagrant letters -- GF, V, VV, VVO, W30 -- which indicate the dietary guidelines and restrictions each items is (or can be) made to suit.
Farmers Hardware is a nice change of pace from traditional breakfast and quick lunch spots, and the building is beautifully renovated and strategically located across from the High Rock public parking lot.
Deanna Fox writes about many things, mostly about food. More can be found on her website, Twitter, or Instagram.
More Eat This
+ Muffaletta from Harrison's Corner Market
+ Oxtail egg rolls at Buddha Noodle
+ Nutella bacon bagel at Wired Coffee
Find It
Farmers Hardware
35 Maple Avenue
Saratoga Springs, NY 12866
Say Something!
We'd really like you to take part in the conversation here at All Over Albany. But we do have a few rules here. Don't worry, they're easy. The first: be kind. The second: treat everyone else with the same respect you'd like to see in return. Cool? Great, post away. Comments are moderated so it might take a little while for your comment to show up. Thanks for being patient.