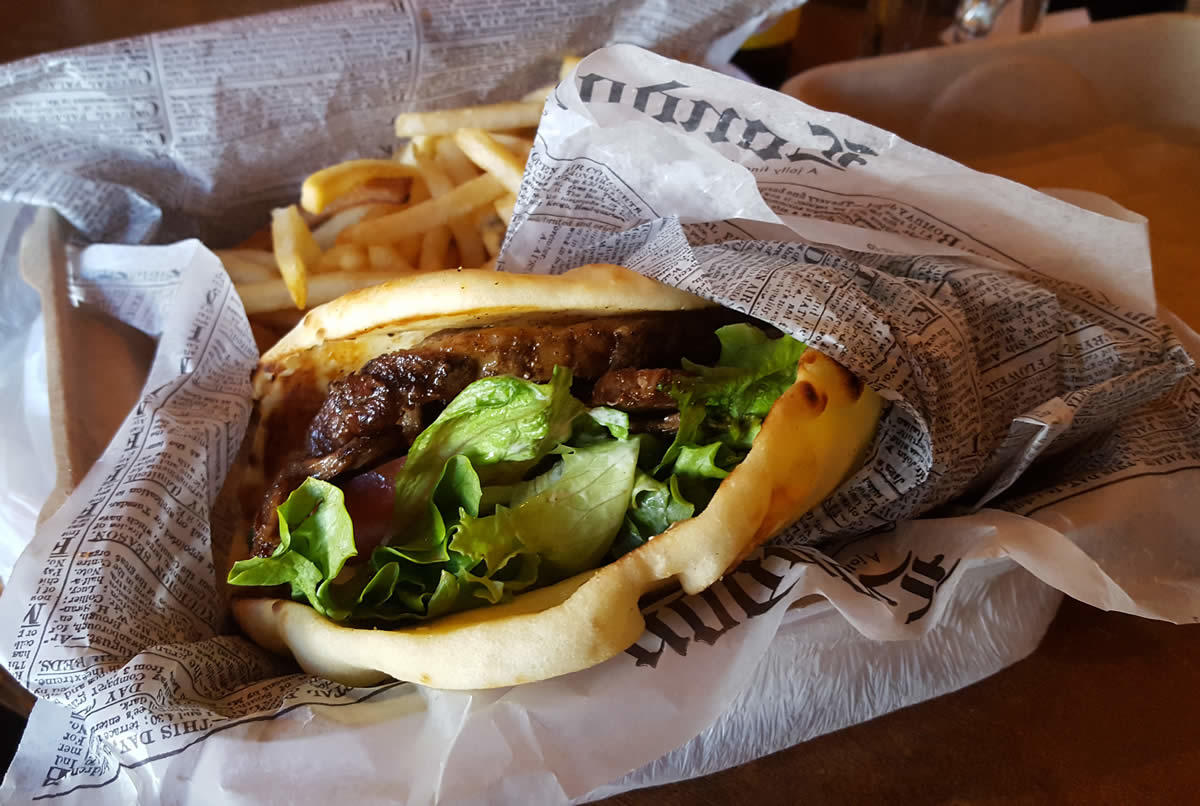 By Deanna Fox
I recently showed up an entire hour early for a meeting at The Olde English Pub in Albany. Well, more than an hour, I guess: I thought I was finally overcoming my chronic lateness by providing myself an extra 15 minute window to park and account for traffic. Turns out I had the time entirely wrong, because that's the kind of winter it's been.
The bright side: I was still early to the meeting and I had the chance to finally eat something more than fries between slugs of beer at The Olde English.
The doner kebab seemed like a great place to start.
Sometimes it has an umlaut on the "o," doner typically refers to those conical stacks of rotisserie meat that's been seasoned and slow-roasted, cut off in thin slices with a big knife. (The Greek gyro is another spin on this concept.) In fact, doner comes from a Turkish word "donmek," which means "to turn."
As the etymology implies, the dish has its roots in Turkish cuisine and immigrants carried it through Europe. There's some debate about who should be credited with selling the first "doner kebab" in Germany during the 1970s -- but it's since become "Germany's favourite fast food." And in England it's become an example of cultural integration and a late-night after-drinking staple.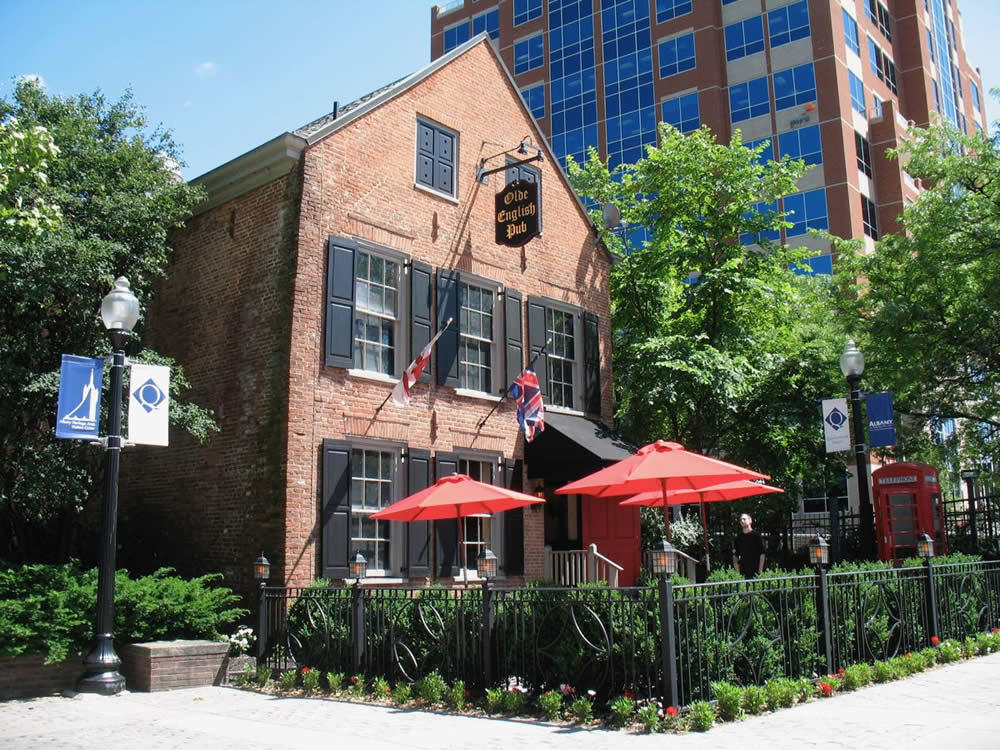 The Olde English in warmer weather.
The Olde English is clever in putting it on its menu, using lamb that is not only popular in Mediterranean fare but also serves as a nod to the copious wooly ruminants that speckle British hills and pastures. The lamb is sheared off the leg in long, thin slices. It's slightly tough but retains the delicate lamb flavor that makes it so appealing. (No gamey mutton taste here.) The meat is served warm, a nice contrast to the cool, crisp lettuce and tomato that accompany. Sauteed onions are listed on the menu, but I can't recall their presence. The whole thing is wrapped in a pillow-soft pita that has been just-warmed enough to offer a bready aroma.
A drizzle of a tzatziki-style sauce made from cucumber, a bit of gentle heat (cayenne?), cumin, and a squeeze of citrus finish the doner kebab wrap, making for a sandwich ($15) that would take most two sittings to finish, especially when the side of fries is factored in. The portion here is only a wee bit smaller than the "dipping fries" appetizer listed on the menu. Encourage your tablemates to help themselves.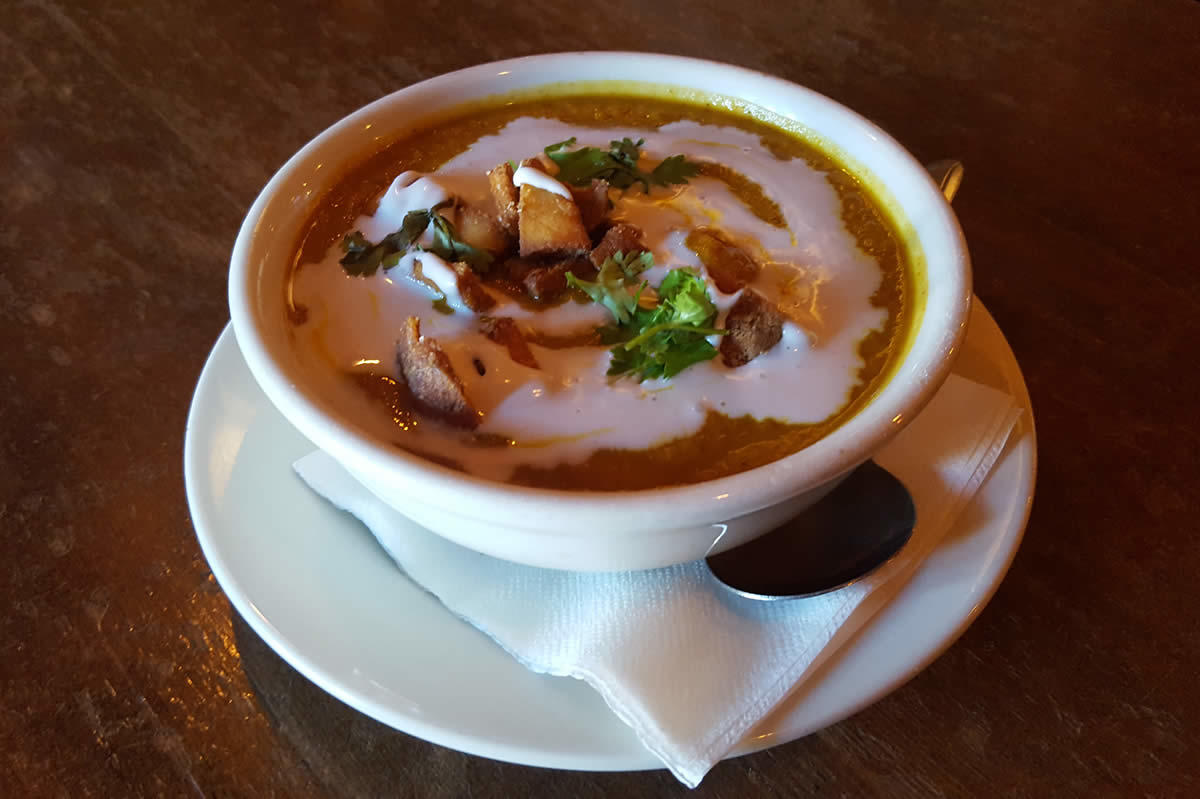 I had a big appetite and time to kill on my visit so I went all-in an ordered the curried carrot soup (carrots stewed and blended with coconut milk, cilantro, and curry spices -- topped with cubes of crispy-roasted carrots and naan squares, $7). That's worth the $1.25 pay-to-park minimum to have again. I've tried replicating the recipe twice at home.
I also had the gluten-free Omission Brewing Co. Lager (gluten-free, as the name might imply) and a true classic of the beer genre, Wells Banana Bread English Strong Ale.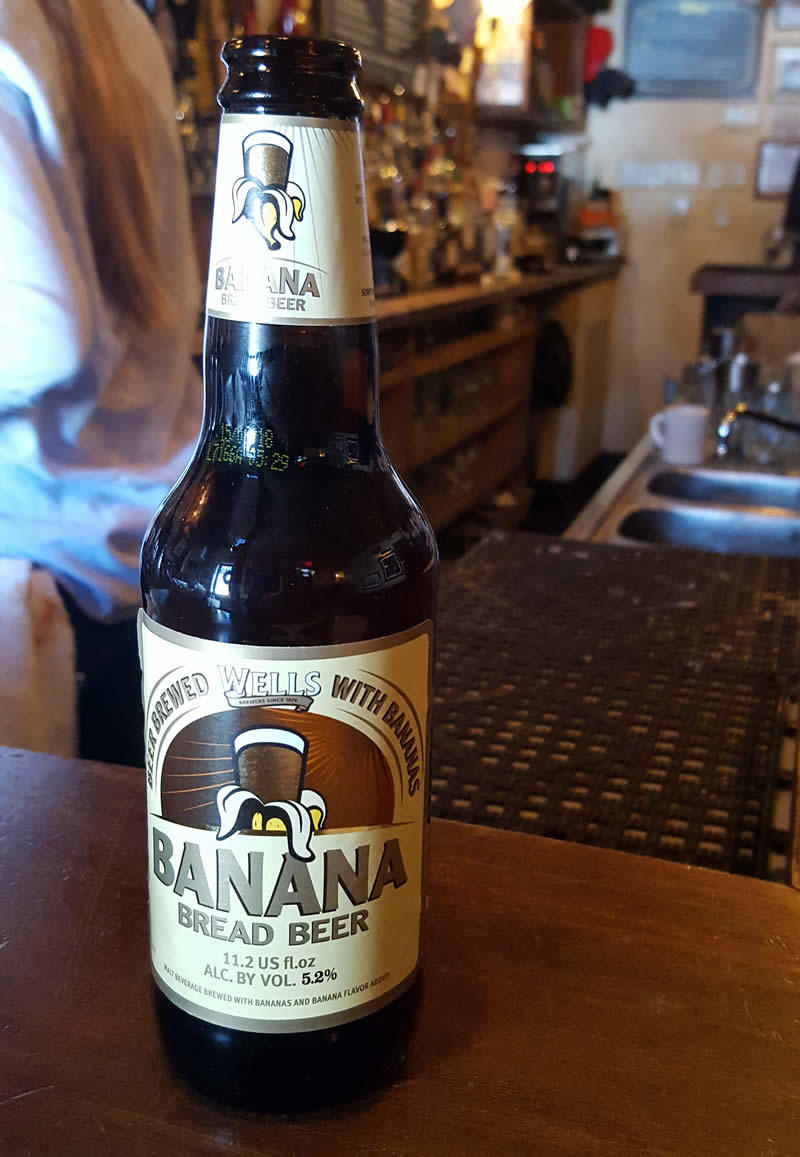 There's something special about Olde English Pub and Pantry. If you've been there, you know the indescribable quality the place emits. Maybe it's because it feels like a portal to another continent, another time. Maybe it's because there is a little something on the menu and drinks list for everyone. Whatever it is, my recent midday meal there solidified for me the Olde English Pub and Pantry is true gem we are lucky to have.
Deanna Fox writes about many things, mostly about food. More can be found on her website, Twitter, or Instagram.
More Eat This
+ Sampling at Farmers Hardware
+ Muffaletta from Harrison's Corner Market
+ Oxtail egg rolls at Buddha Noodle
Find It
The Olde English
683 Broadway
Albany, NY 12204
Say Something!
We'd really like you to take part in the conversation here at All Over Albany. But we do have a few rules here. Don't worry, they're easy. The first: be kind. The second: treat everyone else with the same respect you'd like to see in return. Cool? Great, post away. Comments are moderated so it might take a little while for your comment to show up. Thanks for being patient.