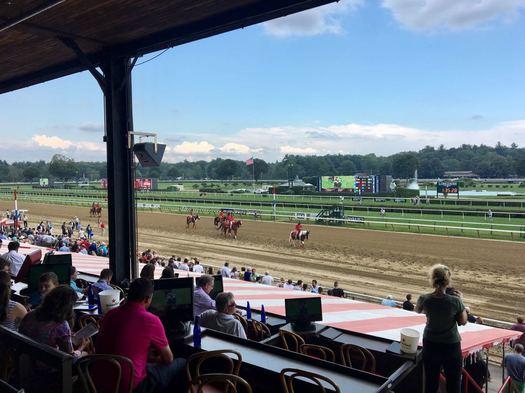 We're in the thick of the summer now. Long days, lemonade, blueberries, ice cream, and a bounty of stuff to do.
We collected a few things we thought might interest you. Doing something that didn't make our list? Tell us about it in the comments.
And whatever you're up to, remember your sunscreen, and have a fantastic weekend.


Saratoga Race Course
Friday is opening day of the 40-day season at the Saratoga Race Course:
+ On Friday there's a Taste NY: Craft Beer tasting -- give samples for $5 -- from noon to 5 pm.
+ The annual hat contest is Sunday, and people will compete with hats both stylish and... unique.
+ And Sunday is the first gate giveaway: a Saratoga baseball cap.
There will be horse racing every day (except for Tuesdays) through Labor Day. And Travers Day this year is August 25.
NYC Ballet
Thursday-Saturday: The New York City Ballet continues its annual summer stay at SPAC. The ballet gala is Saturday, honoring the work of Jerome Robbins and Leonard Bernstein. Thursday-Saturday various times and prices
Stockade Garden Tour
Friday-Saturday: Gardens around the historic Schenectady Stockade will be open for the Stockade Neighborhood Garden Tour. Eight gardens will be open and artists will be working in select locations throughout the neighborhood. Friday 4-8 pm, Saturday 11 am-4 pm -- $20 advance / $25 day of / students $10 / under 12 attend free
Baseball
Tri-City ValleyCats
Thursday: The Tri-City ValleyCats take on the Brooklyn Cyclones on Community Hero / Superhero Night at Joe Bruno Stadium. Thursday 7 pm -- $6.50 and up
Albany Dutchmen
Thursday/Saturday: The Albany Dutchmen have two games at Siena College this weekend. Thursday and Saturday 5 pm -- $5 / $4 students and seniors / $3 youth
Swimming
Pool season is here. Pretty much all the local swimming pools and spray pads are open for the season now.
Blueberries
Blueberry season has begun. Here are a few spots in the Capital Region where you can pick your own.
Free summer concert series
Free summer concert season continues...
Alive at Five
Thursday: The Alive at Five series at Jennings Landing in Albany has reggae band Third World, with Mixed Roots. Thursday 5 pm -- free admission
Upbeat on the Roof
Thursday: The Upbeat on the Roof series at the Tang Museum on the Skidmore campus has Wurliday. Thursday 7 pm -- free
Freedom Park
The free concert series at Freedom Park in Scotia continues:
+ Saturday: The Back40 Band. Friday 6:30 pm -- free
+ Sunday: Uncle Brothers. Sunday 7 pm -- free
Harbor Jam
Saturday: The Harbor Jam series at Mohawk Harbor has Reelin' in the Years, a Steely Dan tribute. Saturday 6 pm -- free
Music Haven
Sunday: The Music Haven series in Schenectady's Central Park has Pascuala Ilabaca, with Taina Asili y la Banda Rebelde. 7 pm -- free
Music
Thursday-Sunday: Grey Fox Bluegrass Festival
"A Who's Who of Bluegrass in the Catskill Mountains." days passes are $85
Thursday: Your Name Lives Showcase at The Low Beat
Hip hop showcase, featuring Bez Aloha and many others. 7:30 pm
Thursday: Gaelynn Lea at The Linda
Folk singer/violinist. Winner of the 2016 NPR Tiny Desk contest. 8 pm -- $12
Thursday: The Patty Griffin show at Helsinki Hudson is sold out.
Friday: Tab Benoit at Cohoes Music Hall
Blues guitarist/singer. 8 pm -- $29.50 and up
Friday: BSO: All-Mozart Program with Emanuel Ax at Tanglewood
Classic pianist playing with the BSO. 8 pm -- $12 and up
Friday: Kinky Friedman at Caffe Lena
Satirical country. 8 pm -- $40
Friday: Samm Bones + Henry's Rifle at Pauly's
"Dark Americana" + punk blues country. 8:30 pm -- $7
Saturday-Sunday: JD McPherson at The Hangar (Sunday)
Rockabilly/blues. 8 pm -- $25
Saturday: Bang on a Can All-Stars: Julie Wolfe's Anthracite Fields at MASS MoCA
"[A]n examination of the coal-mining industry so musically and socially provocative that it netted the 2015 Pulitzer." 8 pm -- $12 ahead / $22 day of
Saturday: Summer UnderCover Show 4 at The Low Beat
"Local bands covering ANY bands from outside of the United States!" 8 pm -- $10
Sunday: Charlie Puth at SPAC
Pop singer/songwriter. With: Hailee Steinfeld. 7:30 pm -- $25 and up
Sunday: Kingston Trio at Caffe Lena
Iconic folk group. 3 pm and 7 pm -- $60
Sunday: Rock Voices presents British Invasion! at the Massry Center
"The Capital Region's only Rock Choir, will pay tribute to the music of the British Invasion." Sunday 4 pm -- $15 / $12 seniors / $8 students
Stage
WTF
Thursday-Sunday: The Williamstown Theatre Festival continues this week with Artney Jackson by James Anthony Tyler. And on Friday the music Lempicka -- starring Carmen Cusack and Eden Espinosa -- has its world premiere. Thursday-Sunday various times -- various prices
Ring of Fire
Thursday-Sunday: Capital Repertory Theatre continues its production of the Johnny Cash musical Ring of Fire. (It was in previews this past weekend.) Tuesday-Sunday various times -- $25 and up
Park Playhouse
Thursday-Saturday: The Park Playhouse's first production of the summer season in Washington Park is Damn Yankees. Tuesday-Saturday 8 pm -- lawn seats free / reserved seats $14 and up
Hair
Thursday-Saturday: Berkshire Theater Group presents a production of the rock musical Hair at the Unicorn Theater in Stockbridge. Thursday-Saturday various times and prices
Mama Mia
Friday-Sunday: The Mac-Haydn Theater in Chatham presents Mama Mia, the ABBA musical. Thursday-Sunday various times and prices
Thoroughly Modern Millie
Friday- Sunday: Not So Common Players presents the musical Thoroughly Modern Millie on stage at the Clifton Commons. Friday-Sunday at 8 pm -- free
Kalamazoo
Friday-Sunday: Curtain Call Theater presents Kalamazoo, a "romantic roller coaster about two 70-year-olds: an Irish Catholic woman and a Jewish, East Coast man who meet on an online dating site. But after their first date, complete with body shots and morning-after tattoos, they discover that they still have a little growing up to do." Thursday-Sunday various times -- $25
Playwright's Showcase
Sunday: Albany Civic Theater hosts its annual playwright's showcase featuring new plays by local playwrights. Sunday at 3 pm -- free
Comedy
Kevin Downey Jr.
Friday-Sunday: Comedian Kevin Downey Jr starts a long run at The Comedy Works in Saratoga. Friday-Sunday, various times and prices
Spontaneous Twilight Zone
Friday: Improv troupe Toodles and Grits performs Spontaneous Twilight Zone, an improvised Twilight Zone-style show based on audience suggestion, at MopCo. Friday 8 pm -- $10 / $6 students and seniors
Summer league TheaterSports
Saturday: The Mop and Bucket Company kicks off its summer league TheaterSports tournament. Teams of improvisors compete by creating songs, scenes and games based on audience suggestions. Saturday 8 pm -- $10 / $6 for students and seniors
Interactive Introverts
Saturday: Proctors hosts YouTube stars Dan & Phil for a live show. "Daniel Howell and Phil Lester are two of the world's biggest YouTube stars. From producing their own comedy videos, they have gone on to present a Radio Academy Award winning show for BBC Radio 1; host international coverage of the BRIT Awards; release an app game, The 7 Second Challenge, which reached #1 on the iTunes store; and, in 2017, the hit board game Truth Bombs." Saturday 8 pm -- $34 and up
Film
Movies Under The Stars: Coco
Friday: The Movies Under the Stars series continues on the lawn at The College of Saint Rose with a screening of the animated film Coco. Bring a blanket or lawn chair. Snacks and drinks will be provided. activities start at 7:30 pm, film starts at 8 pm -- free
Won't You Be My Neighbor
The Spectrum is screening Won't You Be My Neighbor, the new documentary about Mr. Rodgers.
RBG
The documentary RBG -- about Ruth Bader Ginsburg -- is also playing at The Spectrum.
Drive-ins
Here's what's playing at the drive-ins:
+ Malta: Screen 1: Hotel Transylvania 3, Incredibles 2 / Screen 2: The Equalizer 2, Sicario 2: Soldado
+ Hollywood: Jurassic World, Ant Man and The Wasp
+ Jericho Drive-in: Hotel Transylvania 3, The Incredibles
Museums/galleries/talks/walks
Summer Writers Institute readings
The NYS Summer Writers Institute continues its schedule of open-to-the-public readings by authors at Skidmore. Still this week:
+ Thursday: Paul Auster (Brooklyn Follies, Moon Palace) and novelist-memoirist Siri Hustvedt (The Shaking Woman, What I Loved)
+ Friday: Poet Robert Pinsky (The Want Bone, Gulf Music) and Novelist Adam Braver (Misfit, 1963, Crows Over The Wheatfield)
The events are in Palamountain Hall at Skidmore. Thursday-Friday 8 pm -- free
Summer Writers Institute panel
Saturday: The New York State Summer Writers Institute has a panel discussion -- "Fears & Night Thoughts" -- with memoirist Nick Flynn, novelist Madeline Miller, and novelist Binnie Kirshenbaum. (The lineup had previously included Wallace Shawn and Francine Prose.) It's in the Davis Auditorium in Palamountain Hall at Skidmore. Saturday 7 pm -- free
Dutch hearth cooking
Saturday: The Crailo State Historic Site in Rensselaer hosts a talk and demonstration of Dutch hearth cooking. The event starts with a tour of the historic site. Saturday tours 11 am and 1 pm, cooking demonstrations will follow -- $5 / $4 for students and seniors / under 12 attend free
Wild Women of Oakwood
Saturday: The Oakwood Cemetery in Troy has a "Wild Women of Oakwood" walking tour led by historian Kathy Sheehan. "When these women were alive they were a force to contend with -- suffragists, philanthropists, even a clairvoyant physician!" Saturday 9 am -- $15 / under 12 free
St. Rocco's July Reading
Saturday: Hudson River Coffee house hosts the St. Rocco's July Reading, a spoken word evening with Emily XYZ, Brendan Lorber, and Edwin Torres.
Saturday 4:30-7 pm -- free admission
Explore Steepletop
Sunday: There's a guided hike of Steepletop in Austerlitz, once the home of Edna St. Vincent Millay. Wear hiking attire. Sunday 10 am-noon -- $25 (an additional $12 house tour will be offered)
Albany Institute
The Albany Institute of History & Art has three new exhibitions this summer: Thomas Cole's Paper Trail, Birds & Beasts: The Scary, Magical, and Adorable Animals of the Albany Institute, and A Menagerie of Whimsey: The Art of William B. Schade.

UAlbany Art Museum
The UAlbany art museum continues Younger Than Today: Photographs of Children (and sometimes their mothers)by Andy Warhol. It's part of a series of five Andy Warhol exhibitions being presented at five Hudson Valley College Museums this year. (On display through September 15.)
Also on display:
+ Mickey Mouse has grown up a Cow: Videos by Kalup Linzy, Yoshie Sakai, Frances Stark, and Abbey Williams
+ Triple: Alex Bradley Cohen, Louis Fratino, and Tschabalala Self.
The Fields Sculpture Park
The Art Omi Fields Sculpture Garden has its new summer exhibition on display. It's a fun exhibit of outdoor sculptures. It's free and open to the public.
The Clark
The Clark's two new summer exhibitions Women Artists in Paris, 1850-1900 and The Art of Iron: Objects from the Musée Le Secq des Tournelles, Rouen, Normandy have opened.
Saratoga Auto Museum
The Saratoga Auto Museum in Spa State Park has a cars of the 1950s exhibit.
USS Slater
The USS Slater is open for the season.
State Museum
The State Museum has a few new exhibits: "A small fort, which our people call Fort Orange" and Art of the Erie Canal.
Hyde Collection
This is the last weekend for the Hyde Collection exhibit of work by Rockwell Kent. (On display through July 22.)
Luau Block Party
Friday: Franklin Alley Social Club is taking over the alley for an indoor/outdoor luau and block party. Surf rock and silent disco after-party.
Polo
Friday and Sunday: Saratoga Polo Association is hosting matches on Friday and Sunday this week. Matches are played on Whitney Field or on adjacent fields. Here are some hints for novice polo spectators.Friday and Sunday 5:30 pm -- various prices
Rodeo
Friday: The Double M Rodeo in Ballston Spa is open for the season. Friday 8 pm -- $15 / $5 for kids
Repair Cafe
Saturday: The Schenectady County Public Library's central library is hosting another Repair Cafe. "Repair Café is a neighborhood initiative that promotes repair as an alternative to tossing things out. At a Repair Café, community members can bring their broken but cherished items to be fixed on the spot, for free, with the help of volunteer repair coaches." There's a limit of two items per household (see the link for other guidelines). Saturday 10 am-2 pm -- free
Farmers markets
+ The Troy Waterfront Farmers Market is outdoors on River Street. Saturday 9 am-2 pm
+ The Delmar Farmers Market is outside at Bethlehem Central Middle School. Saturday 9 am-1 pm
+ The Saratoga Farmers' Market is outside at High Rock Park. Saturday 9 am-1 pm
+The Colonie Farmers' Market is at The Crossings. Saturday 9 am-1 pm
+ The South End Healthy Market opens its season at the Capital South Campus Center. Saturday 10 am-3 pm
+ The Schenectady Greenmarket is outdoors around City Hall. Sunday 10 am-2 pm
+ The Spa City Farmers' Market is outside at the Lincoln Baths. Sunday 10 am-2 pm.
Historic Albany Foundation Parts Warehouse July Sidewalk Sale
Saturday: Historic Albany(89 Lexington Ave) is hosting a sidewalk sale at the Architectural Parts Warehouse. The sale has a variety of items but it's focused on windows. Even if you don't have an historic home, it might be fun to look. Saturday, 9 am - 5 pm
Troy Makers Market
Saturday: Local craft vendors will display and sell wares at the Troy Makers Market in conjunction with the Troy Waterfront Farmers Market. Saturday 9 am to noon
MopCo, The Albany Institute of History and Art, and The Spectrum advertise on AOA.
Say Something!
We'd really like you to take part in the conversation here at All Over Albany. But we do have a few rules here. Don't worry, they're easy. The first: be kind. The second: treat everyone else with the same respect you'd like to see in return. Cool? Great, post away. Comments are moderated so it might take a little while for your comment to show up. Thanks for being patient.