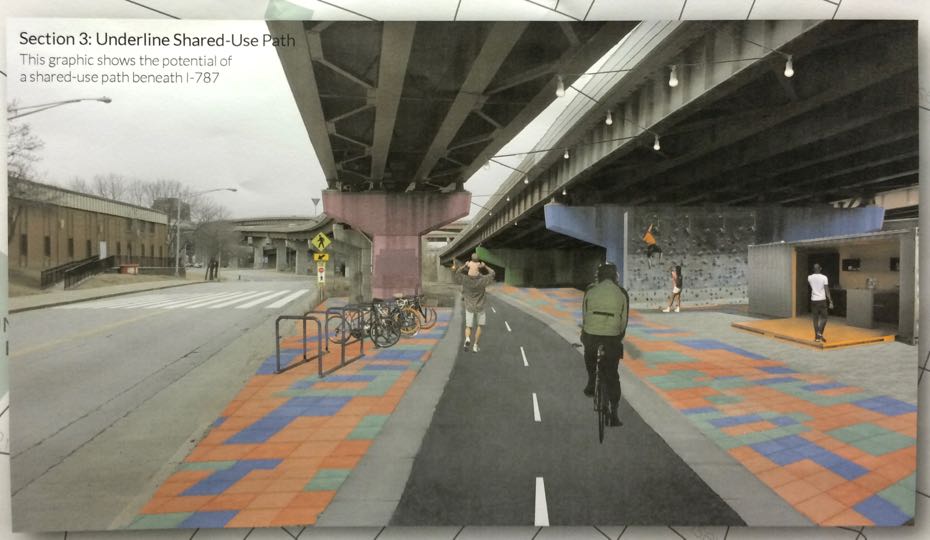 The city of Albany will show off the concept plans for the South End Connector Trail at a public meeting November 13 at the Howe Branch of the Albany Public Library.
The South End Connector is planned to be a roughly two-mile path to connect the end of the Helderberg Hudson Rail Trail in the South End with the Mohawk Hudson Bike Hike Trail along the riverfront. The public planning process for the project started more than two years ago, and the city and its consultants unveiled a plan in May 2017.
It's an important project because of the connection it will form between the two popular bike trails and the progress toward building a larger regional trail network. And it also potentially will open a safer way for people in the South End to get to the riverfront.
There are a two bits of news in the city's meeting announcement:
+ The city says it's anticipating that construction of the project's multi-use pathwill start in the summer of 2019.
+ A second phase -- that "include enhancements such as additional lighting and public art to the section of the route that goes under I-787" -- is scheduled for 2020. The city is calling that segment the "South End Connector Underline."
The public meeting is Tuesday, November 13 at at the Howe Branch of the APL (105 Schuyler Street). There's an open house from 7-7:30 pm and a project presentation from 7:30-8:30 pm.
Earlier
+ The plan to connect two major bike paths at the Albany waterfront (2017 May)
+ Plotting a path for the Albany waterfront bike trail connector (2016 June)
+ Mapping out the future for an alternative transportation network in the Capital District (2018 September)
+ Elsewhere: "Miami's Underline underscores potential of park projects" [Curbed]
Hi there. Comments have been closed for this item. Still have something to say? Contact us.