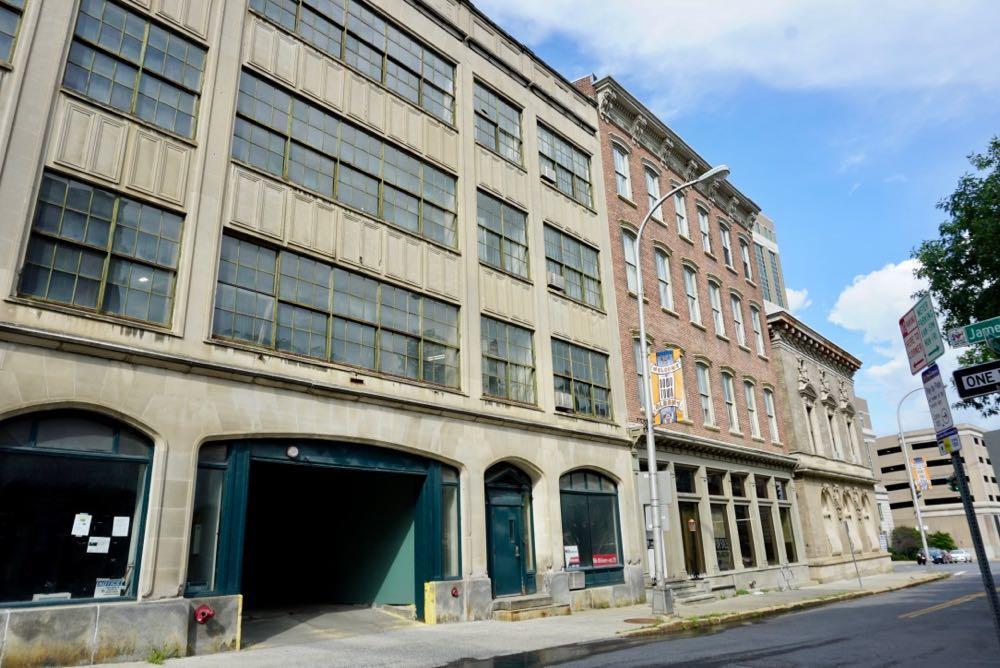 The Capital Region scored $67 million in the state's annual Region Economic Development Council awards/game show/porktacular on Tuesday.
The region was not a "top performer" this year -- the awards roughly broke out into $80some million and $60some million tiers this time around. (The Capital Region had been in the higher tier the last two years.)
Here are details on the specific projects getting funding in the Capital Region are below, along with a bunch of that caught our eye. There are also region-by-region totals for the awards.
A handful of projects that caught our eye
This is not the full list of Capital Region projects that got funding (see below). The projects are roughly grouped by county.
Kennedy Garage Netzero - $1.01 million
Redburn Development
"The project will revitalize a four-story parking garage, currently in very poor condition. In addition to maintaining the existing parking spaces, this mixed- use project will convert eight offices into four two-story apartments and add an additional 22 residential units on the fourth floor and rooftop. The building will meet Net Zero Energy performance through solar energy, battery storage, heat retention, and energy efficient appliances. The project is in a designated Opportunity Zone census tract." This building is part of the "Kenmore portfolio," the group of prominent downtown Albany buildings are planned for residential conversions. Last week the state announced it's also putting up another $5 million for the overall project.
City of Albany green infrastructure - $1 million
Albany Water Board
"The Albany Water Board will implement a Green Infrastructure In-Lieu Fee and Credit Banking and Trading program, including construction of traditional and green infrastructure stormwater management practices along Hackett Boulevard. The project will abate street flooding, sewage backups into residences and sanitary sewer overflows and will reduce combined sewer overflows to the Hudson River."
Regional Bisolids Facility - $1 million
Albany County Water Purification District
"A Regional Biosolids facility will be built, owned and operated by Saratoga and Albany counties. A new anerobic digestion combined heat and power/steam turbine will be installed to generate electricity to offset all power required by the plant. This project will replace incineration facilities to provide an environmentally sustainable solution to solids management, while producing clean power and an end-product that can be beneficial to agricultural land." See this NYSERDA press release from this past March that has more details.
Times Union Center Capital Improvements - $995,000
Albany County
"Albany County will undertake a tourism capital project of the Times Union Center. The project will involve upgrades of seating replacement, locker room renovations and LED expansion to stay competitive in entertainment industry, and continue offering a vast variety of community events."
Hudson River Waterfront Gateway Improvements Design and Construction - $340,000
City of Albany
"The City of Albany will design and construct improvements to the North and South Gateways of the Hudson River Waterfront. Improvements will include lighting, sidewalk enhancements, landscaping, street treatments and wayfinding signage. This project will advance the implementation of the City's Local Waterfront Revitalization Program by providing connectivity between the waterfront, business district and residential neighborhoods."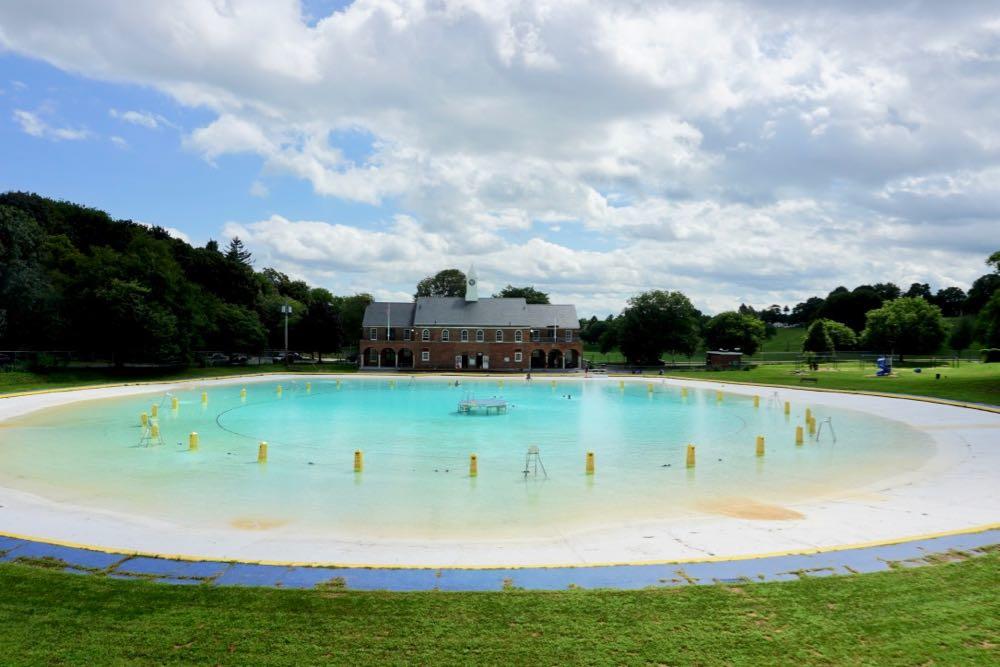 Lincoln Park Pool Design Project - $262,500
City of Albany
"The City of Albany will design, plan and permit the total replacement of the historic Lincoln Pool. The new pool will bring back to life the City's 1930 historic resource. This pool is a recreational resource, a historic asset, and an economic driver, not only to the City, but the whole Capital Region." Earlier: The long past, leaky present, and uncertain future of the Lincoln Park Pool
The Skyway Arrival - $200,000
City of Albany
"The City of Albany will design and construct the Skyway Arrival, an essential phase of the conversion of an underutilized northbound exit ramp from I-787 to Clinton Avenue to the Region's first and only highline park - The Skyway. This dynamic gateway element will include a decorative shade structure, distinctive pavers, and a seat wall to create a highly visible, iconic arrival to the Skyway to maximize use and impact of this transformational project." Earlier: Here's the proposed design for the Albany Skyway
Lark Street Improvement Study - $20,000
City of Albany
"The City of Albany in partnership with the Albany Parking Authority and Lark Street Business Improvement District will develop a Lark Street Improvement Study to traffic congestion, parking issues, pedestrian and bicycle access, street lighting and gateway signage along Lark Street. With assistance from ESD, the resulting plan will serve to strengthen the City's small business district, increase tourism and attract a surge of new visitors."
Rehabilitation of 44 Central Avenue - $250,000
Preservation League of New York State
"The Preservation League of NYS will address structural deterioration, water infiltration, and areas of damaged and missing exterior brick masonry at its historic headquarters building. The work will also include making the first floor meeting space accessible to wheelchairs to allow greater public access."
Hudson Shores Park Shoreline Stabilization & Improvements - $511,700
City of Watervliet
"The City of Watervliet will implement a recommendation of their 2006 Local Waterfront Revitalization Program by making improvements to their nine-acre Hudson Shores Park. The project will include shoreline stabilization, management of invasive species and installation of native plantings, construction of ADA-accessible trails, riverfront access improvements, an amphitheater, and installation of new playground equipment and benches."
Speak Up Festival - $299,500 (two grants)
Albany Symphony
"The Albany Symphony will present a major national music festival, "Sing Out, Justice!", and a regional tour of free, outdoor concerts in an uplifting celebration of the Stonewall uprising, 2019 World Pride, and the Women's Suffrage Movement. The festival will amplify the larger story of New York's leading role in championing civil liberties from the 19th century to the present."
Congress Street Bridge Waterfront Access and Connectivity Study - $170,000
City of Watervliet
"City of Watervliet, in partnership with the City of Troy, will study multi-modal transportation and connectivity options to improve safety and public access to the Hudson River at each end of the Congress Street Bridge. The Study will advance City of Watervliet Local Waterfront Revitalization Program goals by addressing complete streets reconfigurations and providing a template for improvements that will foster increased pedestrian and bike traffic and provide traffic and roadway alternatives."
City Station North 2018 - $1.7 million
City Station North, LLC
"City Station North will revitalize an existing vacant 65,000 square foot building at 141 Congress Street in downtown Troy. The site will revitalize 40,000 square feet of office space, on-site surface parking, as well as a four-story apartment building, 87 one-and-two bedroom units, a rooftop terrace and a fitness center."
The Paint Factory Mixed-use Building - $700,000
669 River Street, LLC
"This multi-use building will provide growth opportunity for each business at this new location along with a new business collaborative incubator office and 7 loft apartments above." That's 699 River Street in Troy. (See this Times Union article from last year.)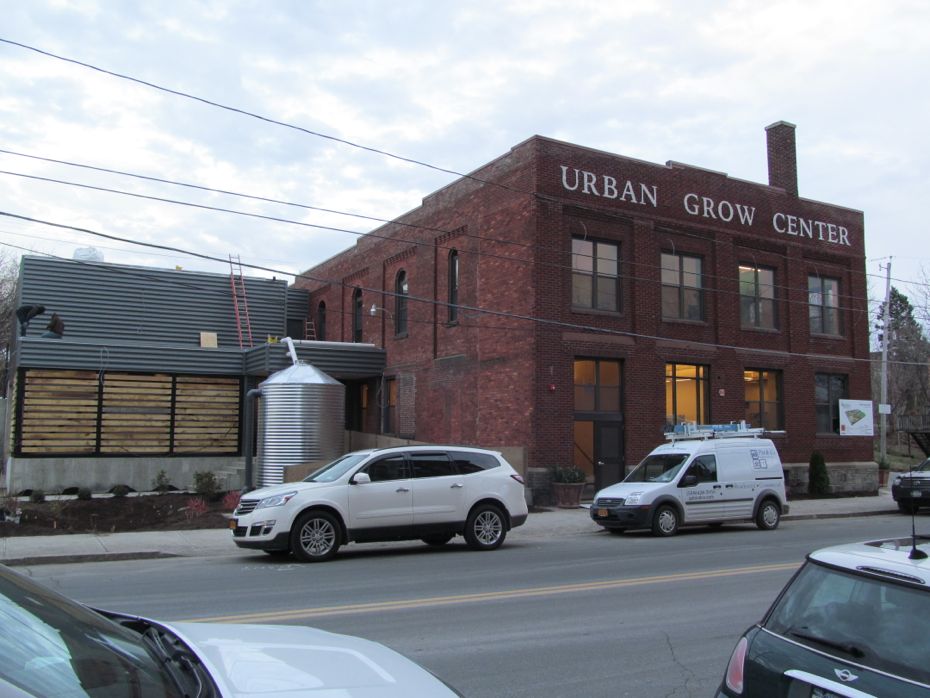 The Urban Grow Center - $1.14 million
Capital Roots
"Capital Roots will construct a Net Zero greenhouse as part of its Urban Grow Center. The project will utilize energy-efficient greenhouse design, from a company that specializes in sustainable passive solar greenhouses. Additional performance measures of the project include a geothermal heating system, solar, and battery storage system. The project is located in a designated Opportunity Zone census tract, and is committed to providing job readiness training for the chronically unemployed."
SPAC Improvement Project - $1.5 million (two grants)
Saratoga Performing Arts Center
"Saratoga Performing Arts Center in the Saratoga Spa State Park will replace aging and inadequate restroom and concession facilities to improve visitor experiences, increase attendance, employment opportunities, and tourism. The project also includes new classroom and gathering spaces to enhance educational, audience development and community engagement opportunities to benefit all." SPAC also got a $195k grant for a marketing campaign.
City of Schenectady North Ferry Street Pump Station Sanitary Sewer Overflow Improvements - $5 million
City of Schenectady
"The City of Schenectady will construct and install a new pump station on North Ferry Street. The new pump station will work in conjunction with a new 30 inch forcemain to reduce sanitary sewer overflows to the Mohawk River. This project will reduce untreated wastewater being discharged to the Mohawk River during storm events." This is the largest grant in the Capital Region's portfolio this time around.
PiSA BioPharm Manufacturing Pilot Plant - $4 million (two grants)
PiSA BioPharm, Inc.
"PiSA BioPharm will estabilsh a new manufacturing plant in New York State's Capital Region. The project involves PiSA BioPharm entering into a long-term lease for over 137,000 square feet of manufacturing space at the Rotterdam Corporate Park." This was the second largest Capital Region grant.
New York Main Street Program for Crane Street Corridor - $460,749
Better Neighborhoods, Inc.
"Better Neighborhoods, Inc. will assist in the renovation of commercial properties along the Crane Street Commercial Corridor in Schenectady." Crane Street runs through Mont Pleasant.
Erie Trustco Revitalization - $363,000
RASPP LLC
"The project includes renovation of the former Trustco building in downtown Schenectady. RASPP, LLC will convert this currently uninhabitable 70,000 square foot structure into 26,000 square feet of new commercial high-tech office space and 36 apartments." It's the building at 192 Erie Boulevard. See this Daily Gazette article from this past spring.
All Capital Region awards
It's worth noting that even though these projects were pledged money, some of them still might not happen.
2018 NYS REDC Award Booklet... by on Scribd
By region
* "Top performer"
Western New York: 66 million
Finger Lakes: 86.5 million*
Southern Tier: 65.4 million
Central New York: 88.2 million*
Mohawk Valley: 85.4 million*
North Country: 64.8 million
Capital Region: 67 million
Mid Hudson: 87.1 million*
New York City: 84.4 million*
Long Island: 68.3 million
Earlier
+ How Albany is figuring out what to spend $10 million on downtown