Items tagged with 'Mohawk River'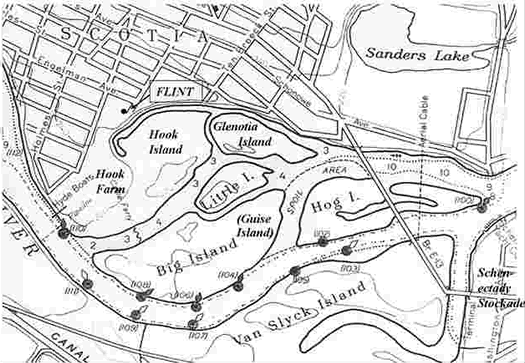 Check it out: an island in the Mohawk River between Scotia and Schenectady is for sale. From the listing for "Glenotia Island" by Denise Polsinelli with CM Fox:
OWN AN ISLAND PARADISE WITHOUT LEAVING THE CAPITAL DISTRICT!HISTORIC GLENOTIA ISLAND IS 18.9 ACRES SITUATED WITHIN THE BEAUTIFUL MOHAWK RIVER. OWN IT FOR YOUR PERSONAL PRIVACY OR CREATE A RIVERFRONT RECREATIONAL DESTINATION.
List price: $91,900.
The Daily Gazette's Michael Goot had an article about the property today -- it was used for recreation in the first few decades of the 1900s, but there's been little activity there since a foot bridge to island was removed in the early 1930s.
The Images of America: Glenville book by the Schenectady County Historical Society has a few photos from back in the day. And here's what appears to be an old map of the area -- the island is marked as "Isle of the Mohawks", which was its name before being tagged Glenotia (Glenville + Scotia). In fact, it still bears that name on some maps. (Also, judging from satellite photos, we wonder if it's more peninsula than island now.)
This is a graph of the Hudson River level at Green Island over the last week: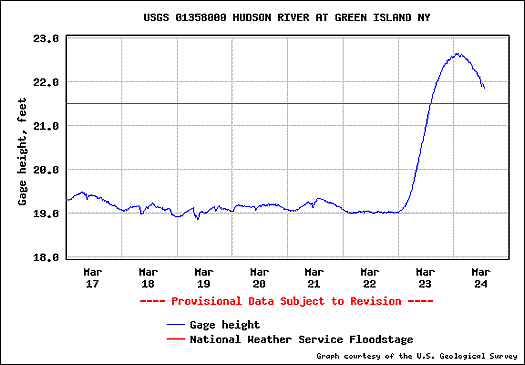 As of this afternoon, the Hudson was still in the range of the lowest flood stage, as defined by the National Weather Service (there are flood warnings throughout the region into tonight and tomorrow morning). Here's a pic from Troy @mstyne took late yesterday afternoon.
The Mohawk has followed a similar pattern (and there's been some flooding in Waterford). [CBS6]
That NWS is forecasting that both the Hudson and the Mohawk will be at more normal levels by this evening.
graph: USGS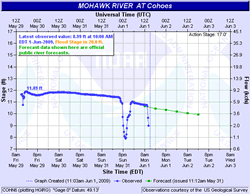 Summer's comment about the Mohawk this morning prompted us to go looking for info about the river's water levels. And, as it turns out, there's a bunch of data posted on online -- something to keep in mind if you're a boater, fisherperson or other river user of some sort.
The US Geological Survey posts some pretty simple river level graphs created from data taken at a station in Cohoes. And the National Weather Service uses that data to create a whole bunch of graphs, charts and forecasts for points in Schenectady and Cohoes.
Bonus river data: the USGS service that tracks the Mohawk also tracks rivers and streams all over the state. As you might expect, this list includes the Hudson (here's the reading near Green Island) -- but also smaller streams such as the Normanskill.
Mohawk graph: National Weather Service