Items tagged with 'NY20 2010'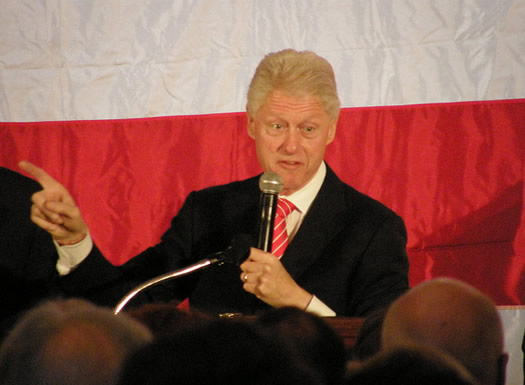 New York Now Matt sent along this photoset from Bill Clinton appearance this morning at the Hall of Springs in Saratoga.
Clinton was in town to campaign for Scott Murphy. Said Clinton of the race between Murphy and Republican Chris Gibson: "It's not about right and left, it's about tomorrow versus yesterday." (You can probably guess which candidate he thinks represents tomorrow.) [TU CapCon]
While Clinton and Murphy were in Saratoga, Gibson was on TALK 1300 also striking a non-idealogical tone: "Here's the thing though: Let's not worry about who gets the credit ... At the end of the day when we get the economy moving again, that's what matters." [Post-Star]
Sometimes it seems like we don't really have good choices in our elections. But both Murphy and Gibson seem like smart, engaged people. Sure, they have different viewpoints -- but neither is a bozo. That's saying something.
Here's the video of their debate two weeks ago.
As late as the end of September, Murphy had a big lead in the polls. But the latest Siena poll reported Gibson up by 9. FiveThirtyEight is projecting a 4.5 point win for Gibson.
(Thanks, Matt!)
photo: Matt Ryan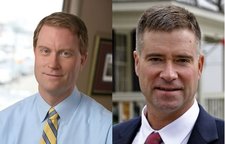 The Siena poll out today reports that Chris Gibson now leads Scott Murphy 51-42 for the NY 20th Congressional District. Gibson also leads 49-42 among independents.
That's quite a swing from a little more than a month ago, when the Siena poll had Murphy up 54-37 (and up 58-30 among independents). Murphy has also lost what was a strong lead in the northern part of the district (he's from Glens Falls, Gibson is from Kinderhook). And his favorability rating has taken a dive -- it was 56-27 a month ago, now it's 45-45.
Interestingly, Barack Obama's favorabilty rating in the district has also fallen over the that time (51 then, 41 now) -- but Kirsten Gillibrand's has not.
The poll was conducted October 23-25 -- that's after last week's debate, in which Gibson came across as confident and likable. [WMHT video]
Bill Clinton is coming to Saratoga Springs Monday to campaign for Murphy. And you can bet both campaigns will be running a whole bunch of ads between now and election day. [Post-Star]
This poll was of "likely" voters and its margin of error was +/- 3.8.
Murphy photo via campaign site
Gibson photo via campaign Facebook page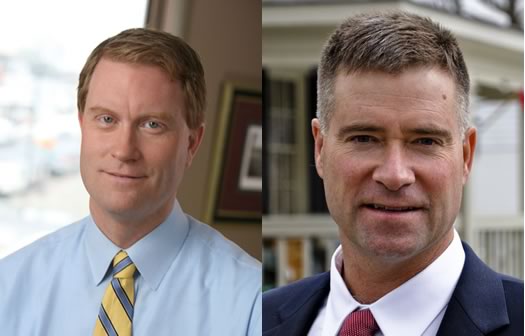 A Siena poll out today reports that Scott Murphy leads Chris Gibson 54-37 for the 20th Congressional District (margin of error +/- 4). Among independents, Murphy's up 58-30. And in Rensselaer and Saratoga counties, he's up 58-36.
When asked which candidate would do a better job representing the district in Congress on a range of issues, Murphy led in each category. The closest was the war in Afghanistan, at 39-31 (Gibson recently retired from the Army -- he was a colonel.) Here's the full breakdown of results.
The poll found that Gibson is trailing close behind Murphy in the southern part of the district. That's not surprising -- Gibson's from Kinderhook. If you drive around Columbia County now, you'll see a bunch of his signs. And he still has about a month-and-a-half to up his name recognition in other parts of the district.
Update: The Gibson campaign sent out a press release this afternoon in an attempt to cast doubt on the Siena poll. The campaign's pollster says the Siena results are "not consistent with other polling in the district" -- and cites results from a poll conducted at the beginning of August by a conservative think tank that reported Murphy was ahead 45-40 (just outside the margin of error).
The release also takes a shot at the Siena poll, noting that its "too close to call" description of the Lazio-Paladino primary "was off by an astounding 24 points."
By the way: When people were asked which issue was most important to them right, 41 percent of respondents said jobs. No other issue was even close.
Murphy photo via campaign site
Gibson photo via campaign Facebook page