Items tagged with 'Neil Breslin'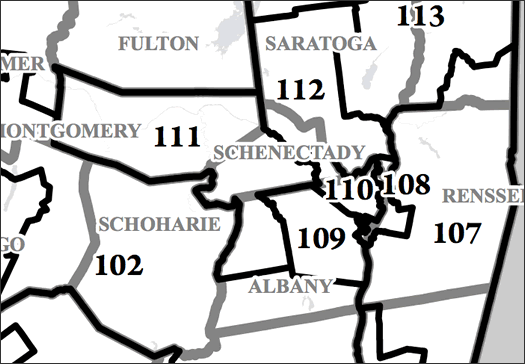 Update: Andrew Cuomo says he'll veto the new lines, which probably means negotiations and adjustments. [AP/WSJ]
____
The task force in charge of drawing new districts for the state Senate and Assembly released its slate of proposed maps this week. As this is New York State politics, there was much criticism. And we'll get to some of that in a bit.
The Capital Region could potentially end up being affected by a lot by the proposed new district lines. Most significantly, the task force is proposing to add a new Senate district that would cover the southwest corner of the area. But there are also shifts in the city of Albany, Saratoga Springs, Schenectady, and Troy.
Reading about all this, we found it kind of hard to keep all the old and new maps straight. So we've we've put together before-and-after versions of the Capital Region's legislative districts -- the current districts side by side with the proposed new lines.
Citizens of the Capital Region, meet what could be your new gerrymanders...

Not every street within the proposed area would be subject to residential parking permits
Via Bob Conner comes word that a bill allowing residential parking permits near the Empire State Plaza is moving through the legislature again.
The bill passed in the Assembly a year ago, but died in the state Senate. Bob reports that Neil Breslin says it looks like there will be enough votes to pass it this time around in the Senate.
Among the bill's provisions:
+ The City of Albany would be allowed to "pilot a residential parking permit system with a two year sunset" within a 3/4 mile radius of the ESP.
+ No more than 2,750 spaces would be allowed in the permitted area.
+ Permit parking would not be allowed on streets where adjacent properties are zoned "commercial, office [and]/or retail use."
(The full text of the bill's provisions is after the jump.)
One possible hitch: the Assembly version of the bill differs from the Senate version in the size of the allowed area for permits -- 3/4 mile vs. 1 mile. Bob reports that CSEA dropped its opposition to the bill because of the reduced radius. Update: Albany common councilman Richard Conti stopped by in the comments to note the Senate bill is identical to the Assembly bill and includes the 3/4 mile radius (it appears the Open Senate entry for the bill hasn't been completely updated, yet).
Jerry Jennings told AOA last October that he wants permit parking -- and would pursue it if the legislature allowed it.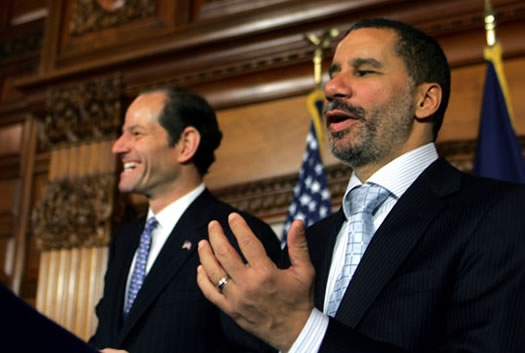 We've read (too) much of the reaction to David Paterson's decision to exit the race for the governor.
Here are a bunch of the quick-scan highlights -- about lame duck status, Paterson's work habits, calls for resignation, the budget, Andrew Cuomo and... yet another SNL skit.
Troy mayor Harry Tutunjian has vetoed the 2009 budget passed by the city council. He says the council unlawfully shifted money into a contingency fund at the last moment. The council president says the shift was made to provide "oversight" of the contingency money. [TU] [Troy Record]
The Albany County legislature approved its 2009 budget, which includes a four percent tax increase. [TU]
A Schenectady County Court judge dismissed official misconduct charges against three Schenectady police officers yesterday. The trio had been charged with not turning on their patrol car's video camera and failing to fill out the proper paperwork following a DWI stop last December in which the suspect accused the officers of using excessive force. The officers have been on paid leave since then. [Daily Gazette]
A grand jury found that two Albany police officers were justified in firing their guns during a chase in September. Police say the suspect in the case pointed a gun at them. [TU]