Items tagged with 'Port of Albany'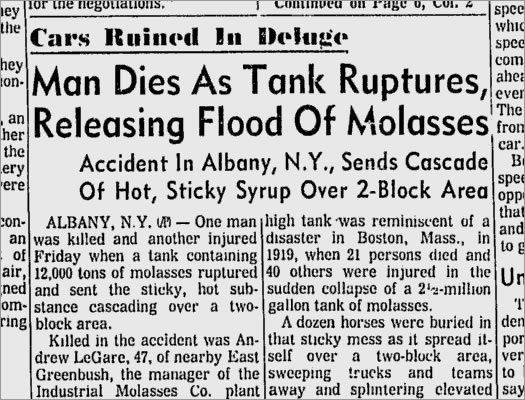 Odd bit of local history: In 1968 there was a fatal molasses spill at the Port of Albany. You read that correctly.
On December 20 of that year a tank holding 12,000 tons of molasses at the port ruptured, spilling its contents. One man was killed, and another suffered minor injuries. From an AP story at the time: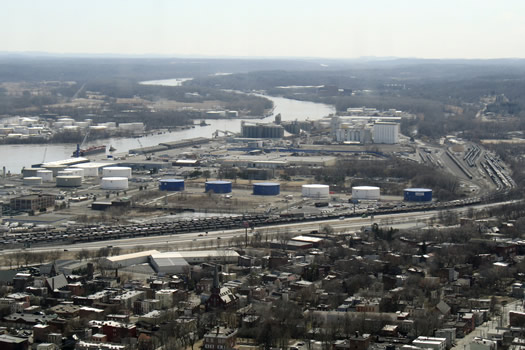 See update at the end about Global Partner's announcement that it will require a newer model of tanker car.
The Cuomo admin released its report today reviewing how the shipment of crude oil on trains through the state could be made safer. As you know, the Port of Albany has become a major transfer point in the distribution of crude oil from North Dakota. And, because of a string of accidents -- such as a catastrophic explosion in Quebec last year -- the issue has gotten a lot of attention locally.
The first few parts of the state's report are a pretty good backgrounder on the issue. It includes a bunch of facts detailing the rapid rise in US production of crude oil, and how that's resulted in trains loaded with crude traveling through the state. (It's also worth keeping in mind that it's a state-authored doc.)
The report also highlights a number of things the state would like to see changed. And top of the list is an improvement in the tanker cars used to transport the oil -- because the tanker cars aren't very good at it. Or, as the report describes them, they're "inadequate." A clip:

The Port of Albany.
There's been a lot attention recently on the Port of Albany's growing role in the shipment of crude of oil -- and the potential dangers involved. More specifically, a company has proposed building a new facility at the port that could potentially open the way for a different type of oil to be shipped through the port, and that's raised some questions.
If you haven't been following this issue -- and we don't really know why you're not thoroughly caught up on petroleum product distribution systems -- here's a Q&A-style breakdown of some of the issues involved -- and why people are concerned.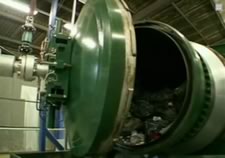 Interesting, and perhaps worth some skepticism: a company called Green Waste Energy has proposed building a waste-to-energy plant at the Port of Albany -- to address both the Albany area's impending trash problem, and to generate energy. [Biz Review] [TU]
The project GWE is proposing is a "thermal conversion" waste plant that would use steam to heat trash in an industrial autoclave (basically a big sealed chamber) to around 320 degree F in the absence of oxygen to break down the trash. Among the resulting products: a gas that could be used to fire a power plant. Here's a video from the company, and here's a clip from the blurbage about its technology (link added):
Unlike old-fashioned mass-burn or incinerator facilities, our Green Energy Centers do not burn and therefore do not pollute. Our patents are on advanced thermal conversion technology. When biomass is heated with no oxygen it gasifies to a syngas with about 66% of the energy of natural gas.
C6 Technology is an advanced conversion technology that has the ability to produce a clean, high calorific value gas from a wide variety of waste and biomass streams. The hydrocarbon content of the waste is converted into a gas, which is suitable for utilization in gas engines to generate green electricity.
It might good in theory, but practice -- and financing, and permitting, and everything -- often proves harder than theory. And while the the trash conversion may not directly create pollution that escapes, burning the gas to fire the power plant would. Nothing's free. The TU reported that GWE's technology is already in use by South African company.
Also, something that's a bit unexpected to us: the founders of the company are an attorney, who also founded an "online debt resolution" company (and was on the board of a different waste-to energy company), and the "managing director of a successful chain of restaurants in the NE US."
But all that trash will have to go somewhere. The Albany landfill, which takes trash from more than 200k people in the area, is projected to be full by the end of this decade.
Earlier on AOA: Albany switches to single-stream recycling
photo: Green Waste Energy