Items tagged with 'Ravens Head Brewing'
The Ravens Head Brewing Company's selection of the Cohoes Armory for its start-up brewery/restaurant is a done deal, Ravens Head co-owner Brennon Cleary says. The company's offer on the building was accepted Monday, and the closing is expected March 15.
Ravens Head Brewing -- the startup brewing company/brewpup that had been hoping to set up at St. Joseph's in Albany -- has put in an offer on the Cohoes Armory, the Business Review reports.
The news isn't a surprise. Ravens Head's application for a zoning variance for St. Joe's had prompted strong concerns from some residents of the Ten Broeck Triangle neighborhood. And co-owner Brennon Cleary had told AOA earlier this month that the group behind the brewery project regarded the former church as "already dead", in part because the cost of acquiring parking for the site was pushing the total price tag of the already-$3 million project too high. The Cohoes Armory was on their list of new target properties.
Cleary told the Biz Review that they're still working out details for the armory, but they're "very confident" about the property.
The Cohoes Armory is currently listed for $239,000 by Trinity Realty Group, and includes 22,000 square feet with "[an] apartment, offices, storage/production areas, storage loft, loading dock, and room for trailer access." A Craigslist item for property mentions "ample parking." The building appears to be in an area zoned for mixed-use that allows for restaurants and bars (p. 58). (St. Joseph's is in an area zoned for residential, thus the need for a zoning variance -- on which the Albany BZA has not ruled.) Update: Cohoes' director of community and economic development tells the TU the project fits with its plan for the neighborhood and it can fit under existing zoning.
The armory dates back to 1893. Its architect was Isaac Perry, who not only designed a handful of armories around the state, but also supervised a phase of the state capitol construction.
Earlier and elsewhere:
+ Ravens Head Brewing considering alternatives to St. Joseph's
+ TU: Church pub called a foul brew
+ TU: Council opposes church pub plan
+ Analysis from local brewer George de Piro
+ Is St. Joseph's Church a brewery in its next life?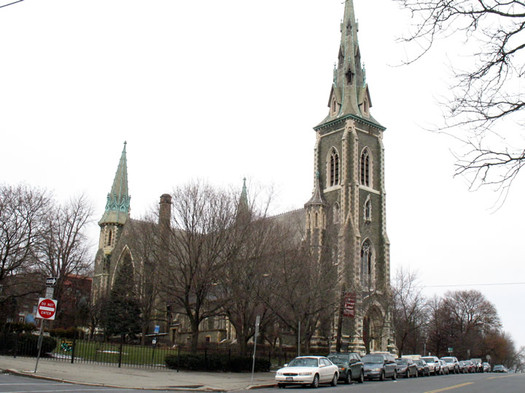 Ravens Head Brewing has yet to hear whether the Albany BZA will approve a required variance for its proposed brewery/restaurant at St. Joseph's, but Ravens Head co-owner Brennon Cleary says they're preparing to move on.
Cleary says in his mind, and in the minds of his investors, the project at St. Joe's is "already dead," but they're going to ride out the process.
"I'm not willing to say I'm done," says Cleary, "but I'm not very optimistic."
And that outlook has Cleary and his partners looking at other options.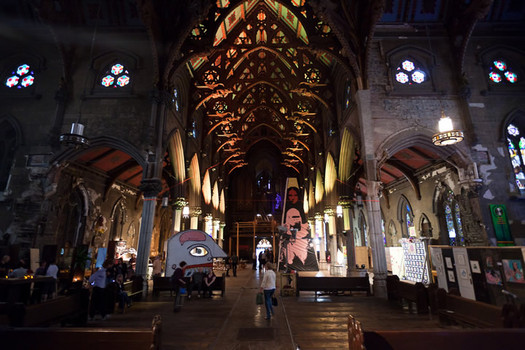 The Historic Albany Foundation has been looking for a use for the former St. Joseph's Church in Albany's Arbor Hill neighborhood since the organization took over the building in 2003.
HAF Executive Director, Susan Holland says they've been pitched everything from a Christian recording company to a goth club -- but, for various reasons, the ideas didn't work out.
Then, not long ago, she heard from a company called Ravens Head Brewing. Its pitch: to turn the old Gothic church into the flagship location for its brewery, and a restaurant/events venue.