Items tagged with 'Rensselaer County Historical Society'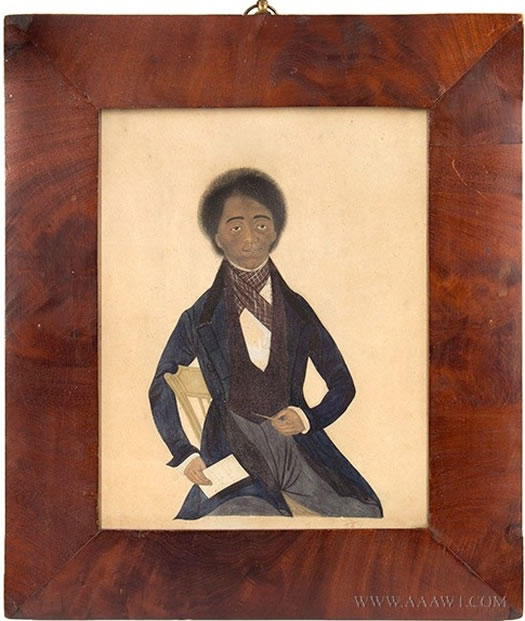 That portrait above depicts Peter F. Baltimore, a prominent resident of Troy during the early 19th century. The Rensselaer County Historical Society has an opportunity to buy the rare circa 1840s watercolor for $15,000 -- and it's asking for the public's help. Historical society blurbage:
RCHS has been offered a rare second chance to acquire an exceptional circa late 1840s watercolor portrait of Peter F. Baltimore (1829-1913), prominent member of an important free black family who came to Troy in the late 18th-early 19th century. They were key members of the community, particularly working in the area of abolition. Peter was a barber who traveled to NY City with Rev. Henry Highland Garnet as an early anti-slavery proponent. His barber shop on First Street was a documented part of the local Underground Railroad system. RCHS uses his unique story in school programming, tours, and other presentations to make connections to our shared national history and to "recognize every face and every story." Peter's only son was Garnet Douglass Baltimore, RPI's first black graduate, who became a civil engineer and designed Troy's Prospect Park among many other important projects.
RCHS had $9,000 of the $15,000 raised as of earlier this week, with an event focused on the portrait and its historical context Wednesday (March 14) evening. It has a deadline of April 24 to raise the money. [TU]
As that blurb alludes to, the Baltimores have a remarkable family story in Troy. Peter Baltimore's father, Samuel, escaped slavery. Peter Baltimore owned a high-end barbershop, was a key figure in the local abolitionist community, and assisted Harriet Tubman in the dramatic rescue of Charles Nalle. And Garnett Douglass Baltimore? In addition to accomplishments mentioned above, upon his death he was remembered in a Troy newspaper as being "as much of Troy as the monument."
image: Antique Associates At West Townsend via RCHS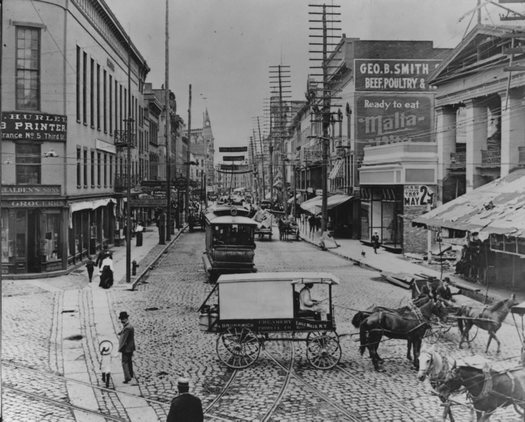 The Rensselaer County Historical Society has a handful of Saturday morning walking history walking tours of Troy coming up over the next few weeks.
The topics range from Sam Wilson to ghost signs to wild women to murder and mayhem...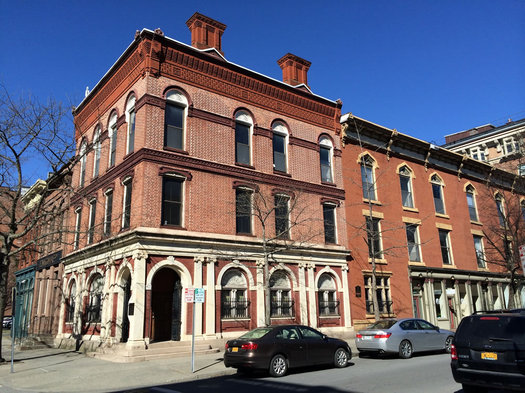 The Rensselaer County Historical Society has a handful of tours and talks coming up over the next month (or so) that look interesting..
They range from walking tours of Troy landmarks, to talks about Prohibition, to a program about the history of abolition in Troy, to... Aaron Burr's slumber.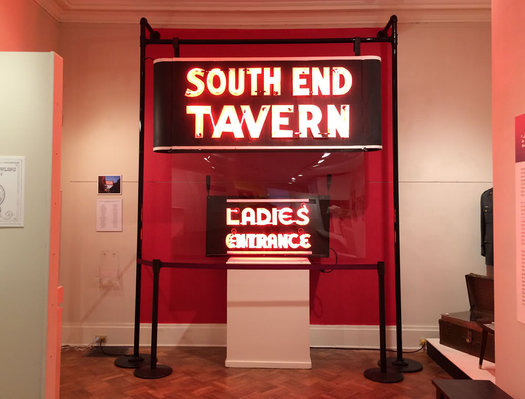 We were in downtown Troy Friday afternoon so we took a moment to check out the new Visions of Troy exhibit commemorating the bicentennial of the city at the Rensselaer County Historical Society. The exhibit just opened and it's worth a look because it includes a bunch of interesting pieces from Troy's history.
But if anything, it's worth stopping in just to gawk at the old South End Tavern signs -- including the famous "Ladies Entrance" sign -- that RCHS bought last year as part of the liquidation sale at the old tavern property. The org got some repairs done on the signs and they're on display in their neon glory.
The Visions of Troy exhibit will be on display throughout 2016. Here are a few more pics from it...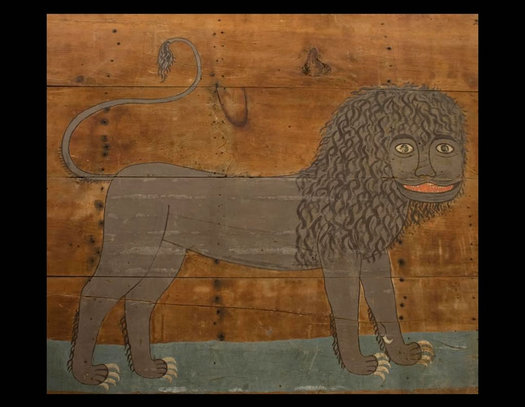 The artwork above -- known as "The Poestenkill Lion" -- is now on display at the Rensselaer County Historical Society. It's a sharp turn of fate for artwork -- it was almost firewood a few years back.
From an RCHS press release:
The lion first came to RCHS in 2011, when long-time RCHS supporters Hughes and Eva Gemmill donated this delightful painting. The painting, which dates to c.1840 and is by an unknown artist, is done on four wide boards, thinly painted with milk paint on unfinished wood.
Discovered a number of years ago during the demolition of a summer kitchen in a house in Poestenkill, the lion was almost lost to history. The dismantled wood was slated to be used as firewood. Thankfully, before these four boards were burnt, the Gemmills noticed a bit of color peeking out from underneath layers of plaster and wallpaper. After some careful removal of the plaster and wallpaper, the complete image of the lion appeared.
The Gemmills did find evidence of at least one other animal. RCHS also has in its collection the small fragments of wood that depict another animal, possibly a leopard, which came from the same space. It is possible that there were more animal figures on other boards that did not survive.
Once the Gemmills had the complete painting of the lion, they hung the four boards over their bed, until they decided to donate the painting to RCHS.
RCHS says the lion is probably based on an illustration from a Bible or maybe the work of Edward Hicks. The artist is unknown.
The historical society got a $2,500 grant this year to restore the work, and sent it to O'Connor Art Conservation in the Berkshires for cleaning and repair.
image: Rensselaer County Historical Society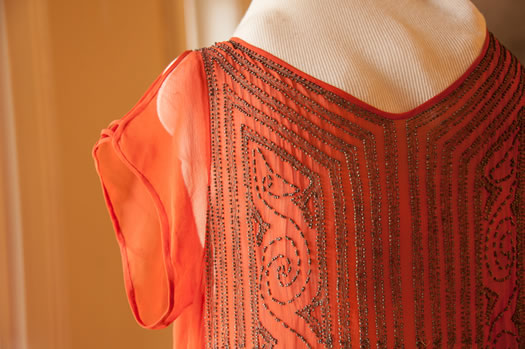 We generally operate under the assumption that the 1920s had the best clothes. And the decade generally sounds like it was a grand time, what with the those stylish clothes and speakeasies and
new work from Fitzgerald and the atmospheric sound of Victrolas.
And maybe it was, if you were a certain kind of person. Maybe less so if you were a woman or a minority.
The 1920s -- and how different, or similar, they are to day -- are the subject of "Expo 1920s," what looks like an interesting upcoming program from the Rensselaer County Historical Society and Russell Sage College. Blurbage:
Expo 1920s uses fashion, technology and leisure items from the RCHS collection and joint research by Russell Sage College Women's Studies students and RCHS staff to explore the question, are the 1920s so different from today? The program features an expo-style show that will highlight twelve different historic artifacts, from flapper dresses to home appliances, wool bathing suits to linen duster coats that highlight the themes of sexuality, consumerism, privilege and power. A multi-media presentation including historic photographs and music serves as the audio/visual backdrop for the show.
After the expo portion of the event, Dr. Shealeen Meaney, Assistant Professor of English, Director of The Helen M. Upton Center for Women's Studies and Coordinator, American Studies at Russell Sage College, will moderate a Q&A session fostering community dialogue.
The program is April 27 at 7 pm in the Bush Memorial Hall at Sage College in Troy. Tickets are $25 and $35 ($10 for students).
RCHS has shared photos with us of some of the artifacts from the expo. A few are after the jump.