Items tagged with 'SCCC'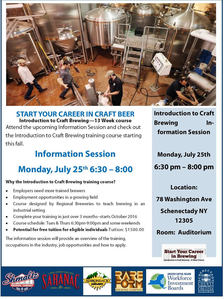 Among the things we learned this week: There is a US Open College Beer Championship. For making beer -- not drinking it.
And, as it happens, a beer made by students from Schenectady County Community College's craft beer program -- Question Mark IPA -- won a silver medal in the open category of this year's competition.
SCCC piloted a brewer training program earlier this year. And it's planning to offer a craft beer brewing certificate program and a craft brewing associate's degree program starting this fall.
The college has an info session about its intro to craft brewing course lined up for Monday, July 25 at 6 pm at its campus in downtown Schenectady. The course is scheduled to start this October.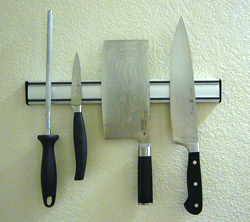 This could be an interesting/fun food experience: SCCC and the Chamber of Schenectady County are offering a three day culinary "boot camp" in January. It's pricy, but it could be worth it if you're a serious foodie or have been curious about a culinary career.
Via Wendy Voelker, one of the organizers:
Schenectady's Culinary Boot Camp is a three-day, two-night culinary workshop, offering food lovers and novices alike the opportunity to learn classic cooking techniques, taste ingredients, and share a great experience with fellow foodies. ...
The three days of professional instruction by Chef [Christoper] Tanner are centered on the theme "A Taste of Tuscany." Students will learn about traditional Italian cuisines, classic Italian ingredients, Antipasti, Primi (pasta, polenta & risotto), Italian ingredients, pairing wine with Italian dishes, and creating Italian desserts. Brief seminars blended with extensive hands-on cooking time will offer students a true interactive culinary experience (which even includes a professional chef's coat)!
The course runs January 3-6. It's $590 ($690 with hotel stay in Schenectady).
photo: Flickr user Kent Wang
David Paterson's top advisor, Charles O'Byrne, resigned Friday because of the furor over him not paying taxes between 2001 and 2005. O'Byrne had been described as "the second-most-powerful man in New York" while working for Paterson. [NYT] [TU]
Police say a woman was murdered in her Schenectady home over the weekend. They say it appears Jaiwanti Mangar, a Guyanese immigrant, was killed after being struck in the head. [Daily Gazette]
Despite the stepped up police presence in the neighborhood following the nearby murder of UAlbany Richard Bailey, a man was stabbed four times at the corner of Madison and Ontario in Albany early Saturday morning. The attack was related to a fight over a woman, apparently. [Fox 23] [TU]
The president of the Pine Hill Neighborhood Association says there's been "an outpouring of outrage" in the neighborhood after Bailey's murder. APD chief James Tuffey says he's "certain" his department will find the murderer. [TU] [TU]

The Rensselaer County legislature has decided to investigate how absentee ballots in the county ended up listing Barack Obama as Barack Osama. [TU]
Albany County's proposed 2009 budget includes a 4 percent property tax increase, the first in four years. [TU]
Malta, Malta, Malta:
+ The transfer of AMD's state incentive package to its spinoff depends on a vote by the Empire State Development Corp. And that spin-off company will be organized in the Cayman Islands -- though it will pay US taxes on operations in this country. [TU]
+ AMD doesn't think its technology sharing agreement with Intel will pose any problem. At all.
+ The new chip fab won't be turning chips until 2012. [Daily Gazette]
+ Malta has a couple of "new urbanist" developments in the works for its downtown -- but some, including the town supervisor, worry the developments will be too dense. [TU]
Both HVCC and SCCC are reporting surges in enrollment, probably because of the weakening economy. Hot program of study at HVCC: overhead electric line worker. [TU]

The State Legislature is back today for its special "holy moly, the state is going broke" session. There isn't a whole lot of consensus about how to make cuts, though. [TU]
The Route 9P bridge that goes over Saratoga Lake has been narrowed to one lane after inspectors found that two of the bridge's floor beams had been falling apart. Repairs are expected to take two weeks. [TU]
Judging from the comments made at a public hearing last night, it sounds like Clifton Park residents aren't so keen about sharing their dog park with people not from Clifton Park. [Daily Gazette]
The City of Troy would like turn the site of the Rensselaer Iron Works, which burned down earlier this year, into a park. It would use pieces of the old iron works in the landscape and call the place Artifact Park. The city needs about $300,000 from the state to make it happen. [TU]
The Green Tech Charter School opened this week in Albany. Green Tech is an all-boys, college prep school. It's only the nation's third all-boys charter school. [TU]