Items tagged with 'The Other Guys'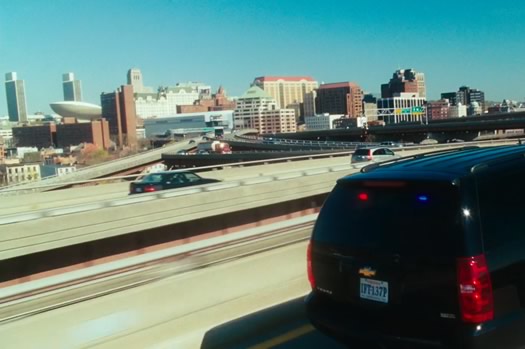 Amy pointed out recently that both Salt and The Other Guys are now available for streaming from Netflix -- which makes it a lot easier to just watch the scenes shot in Albany.
If you're so inclined, here's where the Albany scenes show up...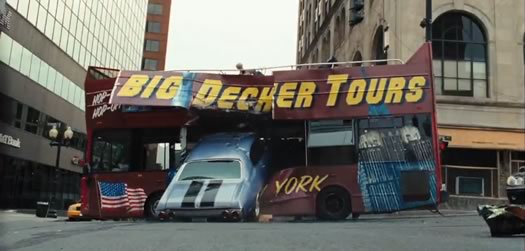 The Other Guys, the Will Ferrell-Mark Wahlberg cop comedy that shot a scene in Albany, is in theaters today.
Is it any good? Metacritic gives it a score of 64 (generally favorable reviews). And Rotten Tomatoes gives it a 79 percent (certified fresh).
Here are a few clips from reviews...
Check it out: the trailer for The Other Guys, one of the films that shot in downtown Albany last year, is now online:
You can see bits of Albany here and there -- if you look closely and don't blink. A few examples (with matching spectator video) are after the jump.
Check out this video clip from the Other Guys shoot this past weekend in downtown Albany:
There's a clip of the same stunt, from a different angle, after the jump (the sound is better on the second clip).
And check out the pic Brian posted of the car stuck in the side of the bus.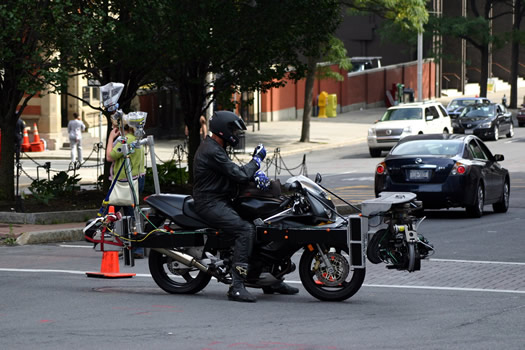 B captured this photo from The Other Guys shoot in downtown Albany. He has a handful of others, including one that shows a prop guy holding an enormous gun, posted in a photoset. (Brian snapped a few pictures yesterday, too.)
An article in the TU today also included a bunch of good photos. Interesting fact from the piece: the days of shooting here will result in all of three minutes of movie.
Earlier on AOA: Detours and parking restrictions related to the shoot
photo: B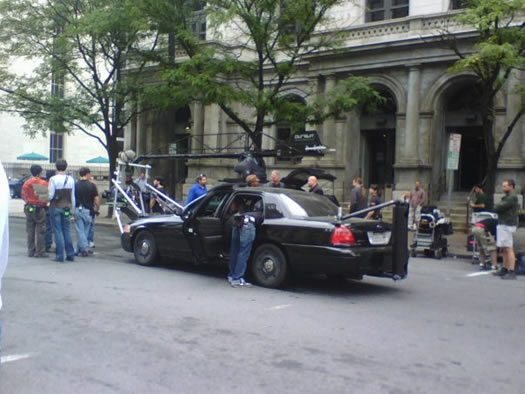 Check out the pic Brian took this morning at the shoot of that Will Ferrell/Mark Wahlberg movie in downtown Albany near Broadway and State.
The film crew is scheduled to be in town through next Monday shooting action shots and exteriors. Apparently none of the headlining stars will be here.
A few more photos after the jump.


Map created by Craig -- here's a bigger version
Hollywood is in town, which is either exciting or annoying, depending on where you live and where you work. Next week Columbia Pictures will start shooting in Albany for the Will Ferrell/Mark Wahlberg movie "The Other Guys."
Since the scenes will be shot on the streets of downtown Albany, parts of downtown will be closed to road and pedestrian traffic. So if you live or work downtown, you're going to
need to plan ahead. And if you just want to...you know ... gawk at movie stars (well, stunt people) and take pictures, you'll know need to know where to do that too.
Scheduled closings and detours and filming sites after the jump:
(Thanks B.!)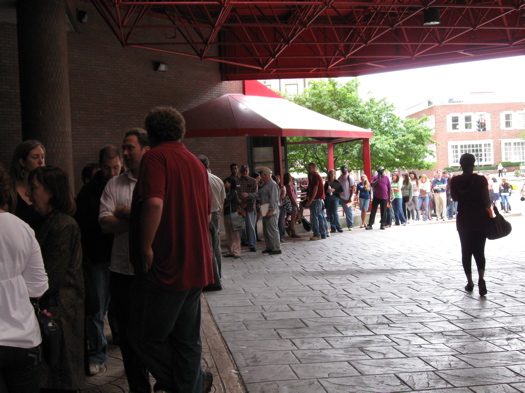 So on Saturday we thought we'd head over to the Crowne Plaza and check out the casting call for extras The Other Guys, that that Will Ferrell/Mark Wahlberg movie that's shooting in Albany.
Whoa!
We stopped by about an hour after things got going. By then the line wrapped around a ballroom twice, down a long corridor, out the door and down the block. Eventually it rounded the corner of State Street.
Over a thousand people showed up for at for the casting call. Who was there? It was a mix of professional and amateur actors and folks who were just out to have a little fun and maybe get a few seconds of screen time. Some people waited up to four hours for a two minute interview with the casting director.
A few more pictures of the scene after the jump.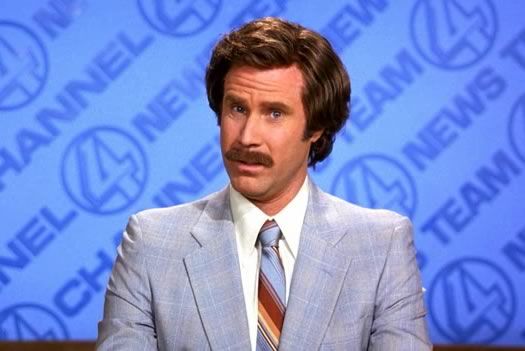 So you didn't get your car into the highway scene in Salt and you weren't cast as a hippie in Taking Woodstock? Well, you've got another chance to grab a few seconds of big screen fame. Hollywood is coming back to A-Town and they're looking for extras.
Columbia Pictures will be casting extras for an upcoming Will Ferrell movie called The Other Guys. There's an open casting call on Saturday from 9AM-8PM at The Crown Plaza in Albany.
The movie also stars Mark Wahlberg and Craig Robinson (Darryl, from The Office).
Shooting is scheduled for September 23rd through October 4th. No word yet on what the movie is about, exactly where they're filming or if Ferrell or the other stars will be in town for the shoot. Update: The TU reports that there will be some shooting in downtown Albany.
(Thanks, K!)