Items tagged with 'cupcakes'
Coccadotts was back on the Food Network's Cupcake Wars this past weekend. And it won.
The Colonie-based bakery came out on top of a "bad girls" WWE-themed episode. Coccadotts bounced back from a first-round setback in which the judges weren't on board with a chicken breast/yam/cinnamon cupcake, to make it through to the final round where the judges praised Coccodotts' flavor adjustments and its large display involving a wrestling "ring" surrounded by cupcakes sitting in the "stands."
The ep aired this past Saturday. It will repeat this coming Friday (September 27) at 11 am. It's also available on-demand from Amazon Instant Video.
Coccadotts says the winning cupcake varieties will be on sale in its shops today (it also has locations in Clifton Park and Myrtle Beach, South Carolina).
It was the bakery's third shot on the show -- the first was in 2011, the second aired earlier this year.
Coccadotts has been savvy about scoring attention and publicity over the years, not just through its Food Network appearances. Its Super Bowl-themed cupcakes -- including a Buffalo wing cupcake -- got it national coverage this past January.
Earlier on AOA:
+ Trying the Super Bowl-themed cupcakes from Coccadotts
+ Tasting Capital Region cupcakes
screengrab: Food Network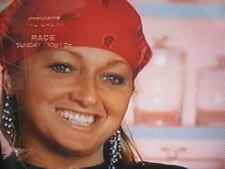 Colonie-based bakery Coccadotts will be back on the Food Network's Cupcake Wars this Sunday in a bid for sweet redemption. The ep airs at 8 pm, and will be shown again on April 29 (3 am) and May 4 (1 pm).
The bakery's first appearance on the show -- in 2011 -- was filled with drama, including a failed batch of cupcakes that got them bounced in the first round.
How the show works: four bakeries compete over the course of three rounds to create cupcakes that somehow relate to a theme set by the show. One bakery gets eliminated with every round.
The theme for Sunday's show: "Tiffani Thiessen's Birthday Bash." Yep, they're making cupcakes for Kelly Kapowski's birthday. We can only hope she likes Buffalo wings.
Coccadotts has organized watch parties in Colonie and Clifton Park for the episode.
Earlier on AOA: Trying the Super Bowl-themed cupcakes from Coccadotts
2011 screengrab: Food Network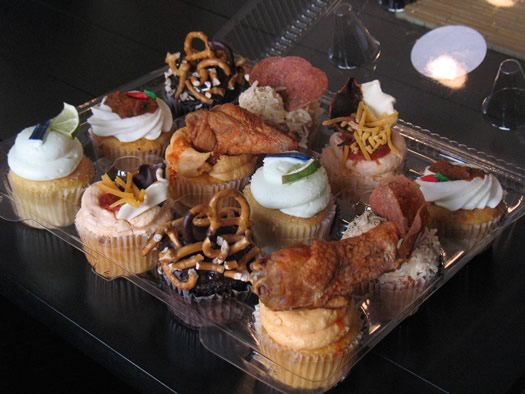 As you might have seen, Coccadotts in Colonie has followed up its Buffalo wing cupcake with a whole line of Super Bowl-themed cupcakes: salsa and chips, beer with lime, pepperoni pizza, cornbread and chili, and chocolate covered pretzel.
Because we know that you love nothing more than having us eat odd things so you don't have to, we got all six cupcakes this week and tried them.
That's right, Anderson Cooper, we had the guts to do something you didn't.
So, bring it on.