Items tagged with 'gnomes'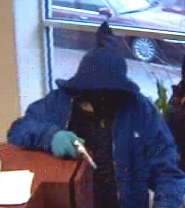 After seeing the surveillance cam image from Tuesday's robbery at the SEFCU on Clinton Ave in Albany, we could only think one thing:
Oh, no! Blue Pants has gone rogue!

Earlier on AOA: Bandit Tracker
image via BanditTracker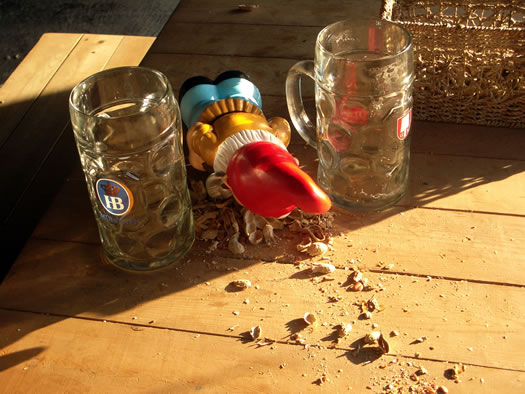 Blue Pants -- Albany's very own traveling garden gnome -- has been very busy lately. After Margie found him on UAlbany's uptown campus, he went on quite the eating and drinking spree (result: overindulgence -- see above). Here's the whole whirlwind trip. Then Margie helped him find a new hiding spot.
But now we've heard that Blue Pants has already been found! And he's off on new adventures! We're looking forward to BP's next round of hijinks.
Earlier on AOA: Have you seen these gnomes?
(Thanks, Sebastien and Kim!)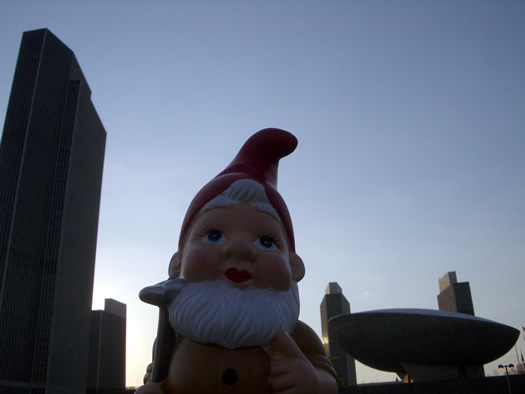 Blue Pants has been found!
Margie plucked him his hiding spot on the UAlbany uptown campus. She reports:

We are having a day or two of adventures around Albany, taking plenty of pictures, and then I will re-hide him somewhere in the city for another to find. I have attached a picture for you. More to come...

We're looking forward to hearing about Blue Pants' next adventure.
Sadly, we've yet to hear what's come of Blue Pants' gnome comrade, Red Pants. We can only hope he's found a nice garden somewhere.
Earlier on AOA: Have you seen these gnomes?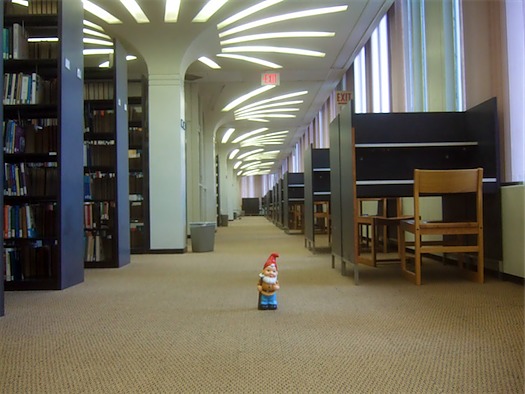 Blue Pants and Red Pants, the Washington Park gnomes, have been found! And they're headed off on new adventures!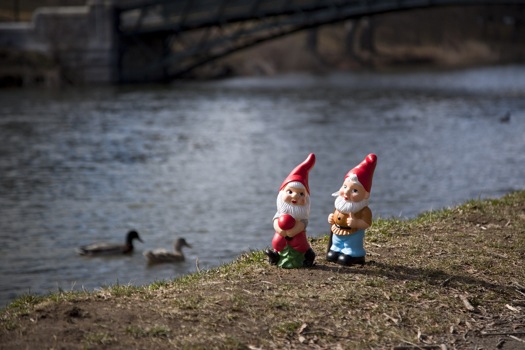 Because they're hiding somewhere in Albany's Washington Park. Waiting for you.
Kim and Sebastien hid the gnomes in in the park this past weekend. From Kim's Flickr stream:

Sebastien and I set them free to frolic in the trees and bushes. Catch them if you can! And if you do, be sure to look under their feet for a secret message.

We have to admit to feeling a little conflicted about catching the little guys. As we all know, sometimes gnomes just want to get out and see the world.
photo: Sebastien B