Items tagged with 'maple'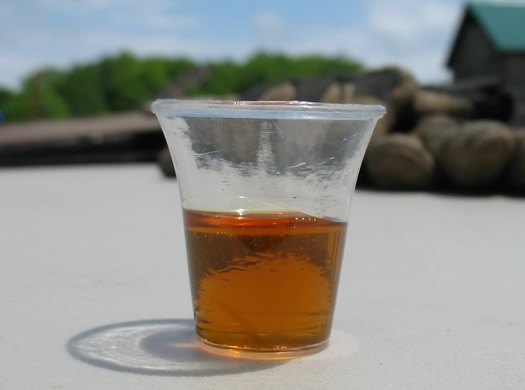 New York State produced more than 800,000 gallons of maple syrup during this year's season. That's the highest total in 74 years, according to the Cuomo admin.
The Empire State was able to hold off Maine (539,000 gallons) for the #2 spot. Vermont continues to look across the border and congratulate New York on its hobby -- the Green Mountain State produced 1.94 million gallons last year. (But its production has more or less than been flat the last few years and New York is gaining...)
Here's the national production table from the USDA (pdf p. 9). And we rolled together a tree map of the numbers. (It's kind of like a square pie chart.)
The maple syrup production of both Vermont and New York State has been on an upswing since the start of this century. And in just the past five years their running three-year averages are up 50 percent.
One of the reasons: There have been major shifts in technology, as producers have switched over to use miles of tubing and vacuums to collect sap, and then reverse osmosis to remove some of the water before boiling.
Here's an interesting Washington Post article from this past spring about the way the industry is changing, and how the growth is attracting the interest of private equity and companies looking to scale.
Maybe the biggest question, though: Is New York's pancake industry ready to step up to the challenge?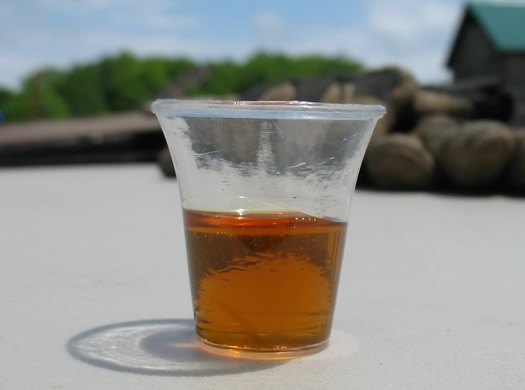 New York State set a new modern record for maple syrup production this year, the Cuomo admin announced Friday. The Empire State produced 707,000 gallons of syrup, according to numbers from the from the US Department of Agriculture.
That's up from 601,000 gallons last year. And it keeps New York at the #2 spot nationally, holding off a surging Maine with 675,000. Better luck next time, Pine (Not Maple) Tree State.
New York's increased production this year was in part a result of a longer season -- 36 days on average this year, compared to 26 last year. But the state continues to add taps, too. Its tap count was above 2,500 this year -- the Cuomo admin says that's the highest number since 1946 -- and the count has been rising by a couple of hundred each year for the past few years. (The state's yield per tap has also been rising.)
Of course, Vermont continues to dominate the field, where they're just playing a different game.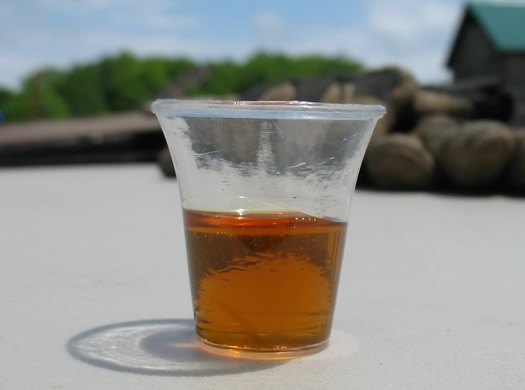 The annual New York State Maple Weekend(s) are coming up later this month -- March 19-20 and April 2-3. What are these weekends and why are they so sappy? Blurbage from the New York State Maple Producers Association:
Every spring, the members of the New York State Maple Producers Association invite families and friends into their "sugar houses" to experience the world of pure NY maple syrup. Located at approximately 160 farms and museums across New York State, Maple Weekend offers a delicious, fun-filled outing that has a little something for all maple-lovers to taste and experience.
There are a bunch of participating spots around the greater Capital Region. Many of the producers offer free samples and tours, and there will be maple products for sale, of course.
The maple sap season is dependent on the temperature -- this year's season got an early start because of the mild winter. So if you're interested in going to one of these places and seeing everything in action, the first weekend could be a better bet than the second.
State of maple: New York State is the nation's second biggest producer of maple syrup (after Vermont) -- and last year it produced a record amount, more than 600,000 gallons.
Earlier on AOA: The art and science of maple sugaring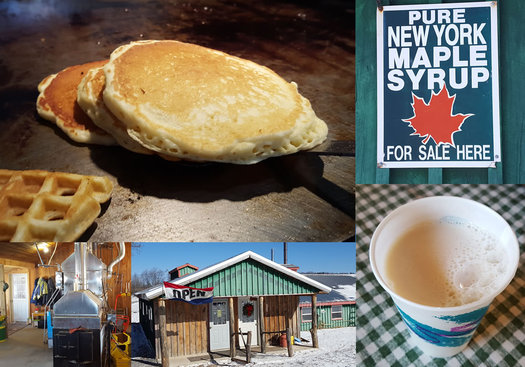 By Deanna Fox
I recently had dinner with a group of friends -- all but one of us an "outsider" to Albany, growing up elsewhere -- about what it is that makes the city so alluring to us. Why we feel Albany is primed for a resurgence as a modern city where young(ish) people like us can thrive, have families, lay down roots. (And by Albany, what we really meant is both the city and the surrounding area we refer to as the Capital Region.)
Part of the appeal, for us, is the fact that there is just so much to do here. Within a three hour drive, we can experience mountains, lake, ocean, cities, other countries. And in considerably less time, we can be transported to the bucolic countryside for leisurely weekend drives that highlight the agricultural and small-town economies that give the Capital Region much of its charm.
Case in point: Sharon Springs. The town lies on the historic byway of US Route 20 and was once a hotspot for the out-of-towners looking for healing qualities in the town's natural springs. And there are plenty of farms surrounding the tiny town center that offer a plethora agricultural products that city-folk are more than happy to bring home.
Like maple syrup. And really, what's the point of maple syrup if you can't have a good pancake to sop it up with?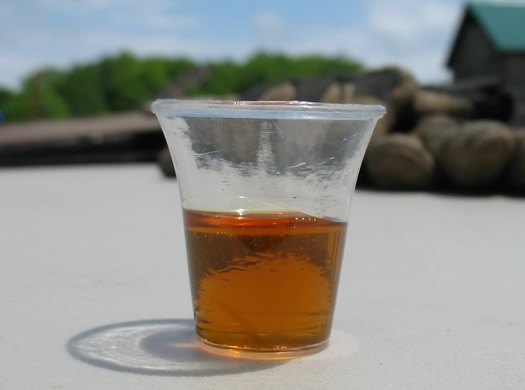 New York State produced more than 600,000 gallons of maple syrup this past spring, according to numbers from the US Department of Agriculture. That's good for #2 in the nation. And the Cuomo admin says that's the state's highest total in 70 years.
The sappy record is especially notable because this past maple syrup season was just 26 days long. It was 40 days long when the state set its last "modern" record in 2013.
So, what's responsible for the sweet success? From a Cuomo admin press release:
The amount produced is the most since 1944, the last year before the beginning of a long drop-off in the number of tree taps and the yield of syrup per tap. New York's resurgence began in 2008 as vacuum pumping systems began to replace the metal tree taps and hanging buckets that have signified maple syrup farming for centuries.
The New York State Maple Producers Association estimates that 60 percent of maple farms, including most of the larger farms of more than 500 taps, use vacuum systems to collect raw sap. The modern vacuum system is easier for producers to maintain, which has helped increase production per tap. The average tree tap produced a little more than one quart of syrup this year, though some large farms are seeing yields of a half-gallon or more.
New York State is still far behind Vermont for the nation's top spot for maple syrup production. The Green Mountain State produced 1.39 million gallons this spring, according to USDA. (The tiny state's pancake industry is straining under the pressure to keep up.)
Vermont maple syrup is an interesting case because the state has been experiencing some sort of Maple Miracle over the last decade. So much so that Quebec -- the Saudi Arabia of maple syrup -- has been warily eyeing its neighbor to the south.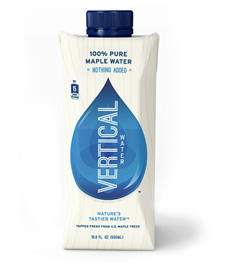 So this is a thing, apparently, and it's a thing from New York that will be showing up in stores in this month: maple water.
You know another word for maple water? Sap. Not boiled down into syrup. Just "minimally" processed sap.
From the Cornell Cooperative Extension, which assisted in developing the product:
As temperatures warm and maple sap starts flowing, gallons of it are collected and boiled down to make syrup. But the subtly sweet watery sap also tastes great straight from the tree, said Michael Farrell, director of Cornell's Uihlein Forest in Lake Placid and author of a recently released comprehensive maple guide, "The Sugarmaker's Companion."
"I love drinking the sap - it's absolutely delicious," Farrell said. ...
If the popularity of coconut water is any indication, there could be a big market for an all-natural product that is mostly water with a bit of sweetness and minerals, Farrell said. In taste tests conducted at Cornell's sensory laboratory, participants preferred maple water to coconut water, he added.
The success of the product would be a big boon to the state's maple producers and forest owners, Farrell said. Cugnasca is now working with members of the New York Maple Producers Association near its western New York bottling plant to supply sap for the first batches of Vertical Water.
As mentioned above, the commercial product is called Vertical Water, and it comes in one of those Tetra-Pak containers with a screw top. Also, from the company website: "The ideal temperature for drinking it is the temperature when it first comes out of the tree: around 40°F."
How does it taste? Over at Slate, L.V. Anderson writes (asterisk added): "It tasted like ... slightly sweet water.* The maple flavor was so mild as to be almost impossible to discern." And a tester for Business Insider concluded: "All it needs is vodka."
Why do we get the feeling Canada is laughing at us right now.
____
* As for sweetness, Vertical Water says its maple water has 3 g of sugar per 8 fluid ounces (and 15 calories). For comparison, Coke has about 26 g of sugar per 8 oz, and orange juice has 21 g. (Different types of sugar have different apparent sweetness, so this is just a sort of rough frame of reference.)
Earlier on AOA:
+ A new way of producing maple syrup: "like a sugar-filled straw stuck in the ground"
+ The art and science of maple sugaring
photo: Vertical Water