Items tagged with 'Hoffman's Playland'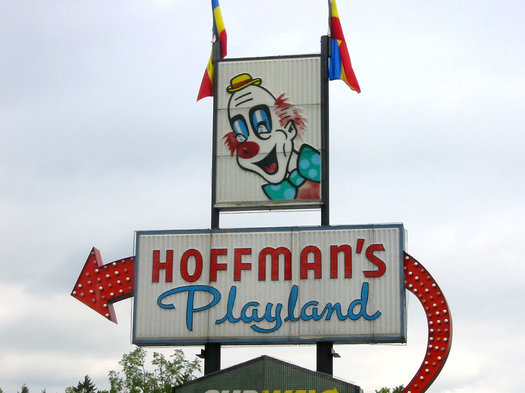 What's left at the old Hoffman's Playland site in Latham is up for auction.
Collar City Auctions is running an online auction through the morning of May 15, and there's an onsite preview the morning of May 12. And you're a winning bidder, you'll have to pick the stuff up yourself.
There's all sorts of stuff in the auction lots, some things certainly evoke the old play land, others are just... stuff.
We browsed the online offerings today and here are a few things that caught our eye...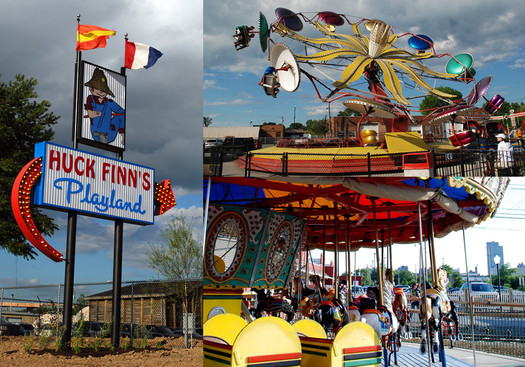 By Nicole Lemperle Correia
Last fall, my family visited Hoffman's Playland during its final weekend. The mood was as somber as it gets at an amusement park. The Playland was being sold after over 60 years in business, and at that point there were no known plans for saving any aspect of the park. The land was headed to commercial development, the rides to auction.
Hoffman's Playland was woven into the childhood memories of anyone who grew up in the Capital Region. It was the place to celebrate good report cards and birthdays, the place where we overcame fears, laughed with our families, ate too much cotton candy, grew up. It was a place we hoped our children and grandchildren would know and love. The thought of losing the Playland broke many hearts.
Just as the rides were set to be sold, Huck Finn's Warehouse announced that it would be buying all of the rides and opening a park adjacent to its furniture store in Albany's Warehouse District.
Huck Finn's Playland opened to the public last Thursday. I went by to check it out on Friday (with my 4-year-old Playland fan in tow, of course). We rode the train and the carousel together, she took the boats for a spin and made new friends on the mini ferris wheel. She got a chocolate-vanilla twist soft serve which melted all over her dress. She was a ball of glee.
So, how does Huck Finn's Playland compare to Hoffman's Playland?
Huck Finn's Playland posted this clip of the relocated rides in action on its FB page last week.
The new Huck Finn's Playland -- which, as you know, includes the rides moved over from the now-closed Hoffman's Playland -- is set to open this Thursday, June 18 from 5-9 pm, according to its website. (And it sounds like that's weather dependent, too.)
Regular hours -- Monday-Sunday noon-9 pm -- will start Friday, June 19.
Ride tickets are $1.75 / 8 for $12.25 / 25 for $29.95, and they're available online.
The new playland is at 25 Erie Boulevard in Albany, just north the Huck Finn's Warehouse furniture store. (You can see some of the rides from 787.)
Earlier on AOA: What I'll miss about Hoffman's Playland (2013)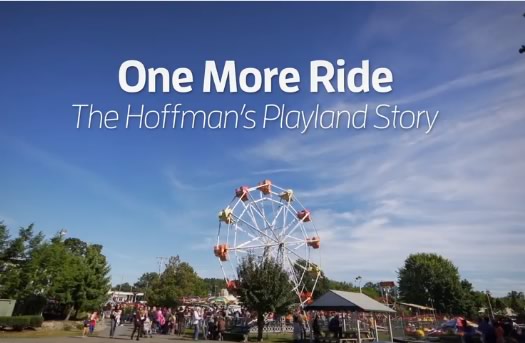 WHMT has scheduled premiere dates for a few local documentaries that a lot of people will probably interested in:
One More Ride: The Hoffman's Playland Story
Pretty much what it says on the label:
"One More Ride: The Hoffman's Playland Story" captures the history of the beloved family amusement park. For 62 years, it was where we brought our children to play and to celebrate birthdays. We rode the roller coaster and merry go round. It was a tradition of smiles and laughter for generations. And while this past season was its final one, WMHT will provide viewers with one last ride as we celebrate the history, nostalgia and memories of Hoffman's Playland. We'll meet the Hoffman family whose long-standing devotion, work ethic and continuous attention to detail and perseverance made the park what it was. It will all come to life through original videography, archival photos, home movies, behind the scenes video and emotional on-screen interviews.
It's set to air on November 29 at 9 pm. (It will also be streamed online.)
The Neighborhood that Disappeared
This is the doc by Mary Paley about the neighborhood knocked down for the Empire State Plaza. (You might remember the Kickstarter for the project.) We get the sense it's very much from the ESP-skeptic perspective. Blurbage:
In 1962, one of the most massive urban renewal projects in American history sterilized the cultural and ethnic heart of Albany, New York. An arrangement made by first term Governor Nelson A. Rockefeller and longtime Albany Mayor, Erastus Corning the 2nd, displaced almost eight per cent of the City's diverse population, razed more than a thousand buildings, dislodged 3,600 households, and closed 350 businesses.
Tune in as 'The Neighborhood That Disappeared' unearths the vibrant ethnic neighborhood that housed courageous immigrants and the Greatest Generation. More than a half-century after it was lost forever; we'll revisit 'The Neighborhood That Disappeared.'
The doc is set to air December 12 at 8 pm.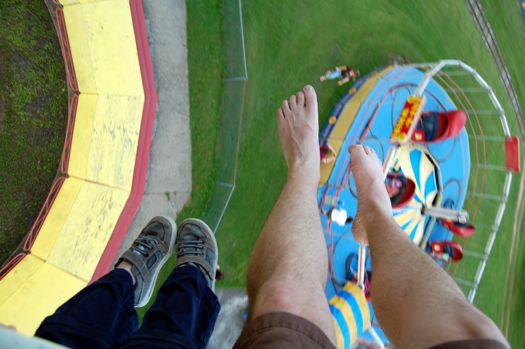 This is it: After more than six decades, Saturday and Sunday will be the final days for Hoffman's Playland. The kids amusement park is set to be open from noon-6 pm each day.
We've heard the last few weekends have included big crowds at Hoffman's, and this weekend the crowds will probably be huge. The park has hired extra police to help with the traffic. [Biz Review]
A crew from local production company Working Pictures has been documenting the amusement park's last few weeks for a documentary that will air on WMHT. They'll be there this weekend, recording memories of the park from people. WMHT is also collecting stories, home movies, and family snapshots for the documentary -- if you have something you'd like to share, email: hoffmans@wmht.org.
Earlier on AOA: What I'll miss about Hoffman's Playland
photo: Tim Dawkins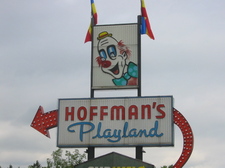 Two quick follow-ups on Thursday's bit of news from the Biz Review that the owners of Hoffman's Playland are "actively pursuing offers" for the amusement park in Latham:
+ A "Save Hoffman's Playland" FB page has started. As one of the posts states: the page was started to "raise awareness to the fact that Hoffman's Playland may be sold and to have a place where people could share their thoughts and memories." It's already racked up more than 12,000 likes in about a day. (Thanks, Jenn)
+ And because we live in the meta age: There's now the beginnings of a documentary project about the effort to save the playland. The filmmakers behind it are Justin and Leanne Maine, who made the documentary So Right, So Smart.
Earlier on AOA: A few years back Dawn highlighted the appeal of Hoffman's Playland, including its "whimsy and weirdness"