Items tagged with 'Madison Theater'
There's another chance -- a bunch of chances, actually -- to catch the latest crop of films from the award-winning YouthFX program coming up next week at the Madison Theater in Albany.
The Madison will be screening the new slate of short films at multiple times from June 8-11. Admission is just $5.
That Saturday, June 10, at 7 pm will be a special screening -- YouthFX filmmakers and crew will be there for a Q&A following the screening.
And Sunday, June 11, at 2 pm there will be screening of the Which Way Is Home series of films that look at the concept of home for range of young people in Albany.
What is YouthFX? About blurbage:
Youth FX is an intensive hands-on program, based in the City of Albany, that is designed to empower youth aged 14-19 by teaching them the technical and creative aspects of digital film making and offering a thorough overview of the production process from script to screen. Our primary mission is to work with diverse groups of young people from communities that have been historically under-served and in need of opportunities for training and engagement in emerging media technologies. Youth FX develops leadership, creativity, and critical thinking, through the collaborative process of digital filmmaking and media production.
The students in the program have turned out a lot of good work, some of which has won awards at film festivals around the country.
TVFilm
A trio of YouthFX films will also be appearing in the upcoming season of WMHT's TVFilm series.
The Madison Theater will screening The Remains of the Day June 18 -- and the film's famous director, James Ivory, will be there for a discussion with film critic/historian Peter Biskind. Tickets are on sale now -- they're $15 until June 11 / $20 after that.
The 1993 The Remains of the Day, starring Anthony Hopkins and Emma Thompason, was nominated for 8 Oscars. And its producers included Ivory's longtime partner Ismail Merchant. Their film company has produced a string of well-regarded period films -- so many, that "Merchant-Ivory" became a bit of a genre in itself.
The event at The Madison is Saturday, June 18 at 7 pm.
The Madison advertises on AOA.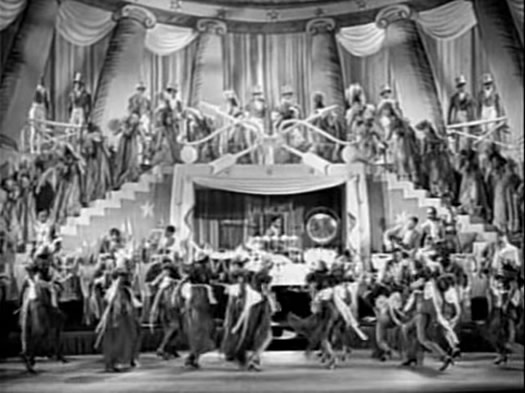 A new film series -- "Murders, Morals, and Music" -- starts at the Madison Theater next Thursday, May 12. Blurbage:
The Pine Hills Film Colony, in partnership with the Madison Theater presents "Murder, Morals and Music," celebrating who-dun-it dilemmas, racy pre-code (before strict censorship) classics, and tuneful extravaganzas. Movie goers will share their evenings with Louise Brooks, Texas Guinan, Duke Ellington, Tallulah Bankhead, Caesar Romero and Josephine Baker and other well-known stars of their time.
Each film will be preceded by a filmed Robert Osborne-like conversation with our own artistic director, Michael Butler, and a local guest. These conversations are designed to enhance viewer enjoyment by placing the film and its stars, writers, and directors in a historic and genre-based context.
The films will be screened the second Thursday of each month at 7 pm through December. The schedule is post jump. Tickets are $10.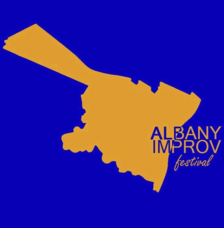 The first Albany Improv Festival is scheduled for April 23 at the Madison Theater. The festival will feature short performances throughout the afternoon and evening by comedy troupes both from this area and around the country. The schedule of acts is after the jump.
Tickets are available online now -- they're $20 for an all-day pass / $17 for two blocks of performances / $11 for one block. Proceeds from the festival will benefit the Damien Center.
Earlier that day the festival will also include a workshop with improv coach Christopher Simpson. Tickets for that are $20 and available online.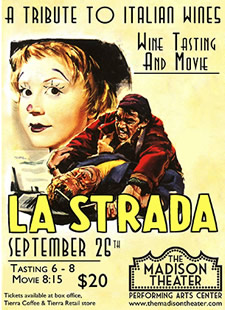 The Madison Theater is hosting an event September 26 that will pair wine with film. Blurbage:
Attendees will sample six Italian wines prior to watching La Strada. Controversial in it's day, La Strada has become "One of the most influential movies ever made," according to the American Film Institute. Many critics believe it to be Fellini's best work. This event marks the third of a wine and movie series that looks to both educate attendees on wine and serve as a social event for the Pine Hills neighborhood and local colleges.
Another event in the series earlier this summer paired six Napa Valley wines with the film Bottle Shock. (It also has an event pairing local craft beer and a screening in October.)
The tasting/screening next week is Saturday, September 26 starting at 6 pm (the film will screen at 8:15 pm). Tickets are $20. It's a 21+ event.
The Madison advertises on AOA.
A "mini-festival" of films from the influential Streetfilms project -- which is focused on urban planning, cycling, and transit -- is queued up for the Madison Theater in Albany on April 13. Event blurbage:
These short films show how smart transportation design and policy can result in better places to live, work and play. The event will include a Q and A with Streetfilms' own Clarence Eckerson following the screening. Mr. Eckerson, a UAlbany alum, is often called, "the hardest working man in transportation show biz" for his dedication to making difficult, wonky concepts more accessible and entertaining to the general public. He's been documenting transportation advocacy for 15 years and has produced over 600 Streetfilms.
The short video embedded above -- Gronigen: The World's Cycling City -- is an example of the sort of film Streetfilms produces.
The Streetfilms Mini-Festival is being organized by the Albany Protected Bike Lane Coalition, which (as the name would imply) is working to get protected bike lanes built in the city. We hear that about eight short films will be screened, with a total runtime of about 45 minutes.
The screening at the Madison on Monday, April 13 is at 7 pm. (Information tables will be set up at 6:15 pm.) Admission is free.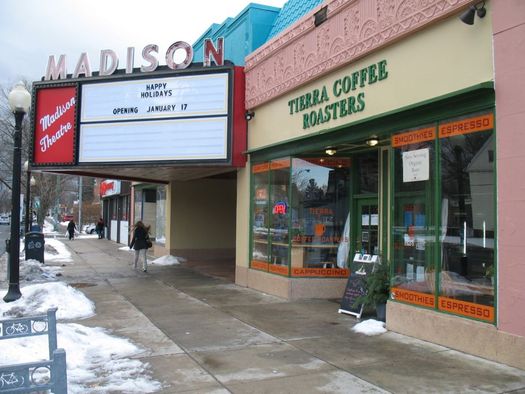 The screens at the Madison Theater in Albany will flick back to life January 17 when the theater opens for the first time after a renovation.
The 85-year-old venue has lived through many different versions in its history. But this next life represents a significant transformation. The Madison is now operated by Tierra Farm, the Columbia County-based organic nuts/coffee/dried fruit company that also runs the coffee shop at the front of the building. Tierra has big plans for the space: upgraded theaters, digital projectors, a retail store for its products, and, eventually, an event space.
We stopped by the theater Monday to get a look at the renovations and hear a little bit more about what's planned for the neighborhood theater.