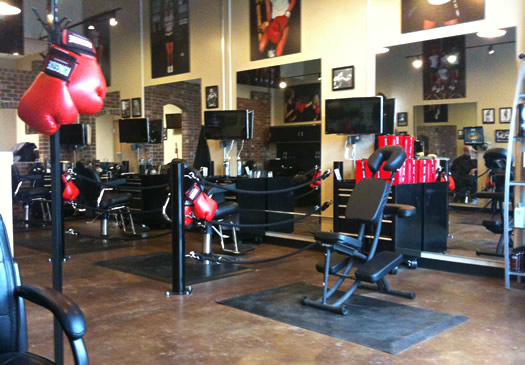 AOA Greg was in a long-term haircutting relationship for the better part of the last decade. And then he wasn't. Suddenly unattached, Greg was at a loss for where to get his hair cut. So he asked the AOA crowd -- and it had a bunch of good suggestions. Now he's playing the field, in search of a new shop.
OK, let's just get this out of the way upfront -- no, I would probably never go to Knockouts on my own. But the place has gotten a certain amount of attention and the barber poll is all about trying new places. So, here we go.
The before/after pics and more after the jump...
Suggested by: N (or was that dared by N?).
The shop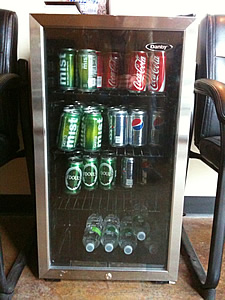 I gotta say I wasn't sure what to expect. Knockouts has a reputation for being for the "Hooters of haircuttting," but it wasn't really that tacky (In all fairness, the last time I was at a Hooters was more than 10 years ago. In Florida.).
The shop isn't that big -- it's tucked in to a strip mall on Wolf Road that also includes a Panera. The space is decorated in a style that mixes boxing (mitts, ropes, framed pictures of boxing) with bachelor pad (lots of black leather, flat screen TVs, posters of women in the Knockouts uniform).
The small waiting area has a mini fridge stocked with sodas, water and non-alcoholic beer -- along with a box of snacks on top. Magazine selection: GQ, Maxim, Sports Illustrated, Men's Health.
There's a flat screen TV at every station, along with a large full length mirror on the wall (perhaps so you can take in... the decor).
There's a station with a massage chair.
I met the local franchise owner, who was working the check-in station at the front. He was friendly.
The stylist
Dawn is the stylist who cut my hair. She's also the manager. She was very nice and pleasant. We talked about small businesses and health care reform.
I was a little worried about getting my hair cut at a place that maybe emphasizes certain aspects of their stylists other than their hair cutting ability. But Dawn was a pro. She said she had owned her own salon up in the North Country for a number of years before moving to the Capital Region.
The experience
The chair is comfy and the flat screen TV is right there if you'd like to watch. ESPN was on and Dawn offered to change the channel to whatever I'd like (ESPN was fine, but without my glasses on, I couldn't see the TV, so it didn't really matter -- it could have been the Lifetime Movie Channel for all I cared.)
I got the "Heavyweight" package, which includes (from the brochure): consultation, relaxing shampoo, haircut, re-shampoo and conditioner with head massage, neck trim, style, hot towel treatment.
In my case, that meant we talked for a minute about how I'd like my hair cut (shorter). Then off for a shampoo (peppermint, tingly). Hair cut. Neck trim. Back for a post-cut shampoo (more peppermint).
The head massage and hot towel treatment were together. The short head massage was nice. I could probably do without the hot towel, which is a warm, wet towel laid over your face.
After that, it was back to the chair for a little bit of product and a touch of styling. Dawn also gave me a free sample of the product.
The cut -- just before and the day after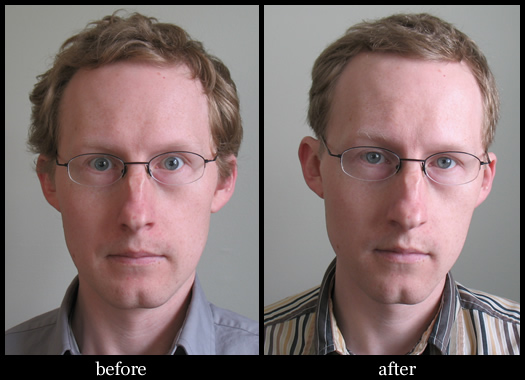 The price
$25 -- that seems fair for a cut and the two shampoos and head massage.
Results
I think it's fine. I have no complaints.
Mrs. Greg's take
"On a scale of 1-10, it's probably a 5 or 6."
Would I go back?
Hmm. Maybe not. I had a perfectly fine experience, but the whole thing -- the boxing theme, the uniforms, the multiple shampoos -- is probably a little much for me. It's just not my thing.
That said, I could see this place doing well. The experience is nice enough -- a "day spa for dudes" as Dawn described it. And for what you get, the price is pretty good, too.
Earlier on AOA:
+ Barber poll: B'yond Style
+ Barber poll: Jean Paul
Find It
Knockouts
65 Wolf Rd
Colonie, NY 12205
(518) 459-2500
Hi there. Comments have been closed for this item. Still have something to say? Contact us.