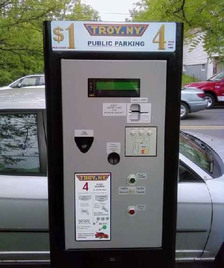 People get very passionate about parking and seemingly all things parking-related: paying for it, permits, meters, shoveling. And these conversations almost always revolve around whether there's enough parking -- and whether it's cheap enough.
Well, in a NYT column this weekend economist Tyler Cowen pushes the case that in most places parking should be... more expensive:
Is this a serious economic issue? In fact, it's a classic tale of how subsidies, use restrictions, and price controls can steer an economy in wrong directions. Car owners may not want to hear this, but we have way too much free parking.
Higher charges for parking spaces would limit our trips by car. That would cut emissions, alleviate congestion and, as a side effect, improve land use.
Cowen goes on to talk about the work of Donald Shoup, a UCLA urban planning professor and the author of The High Cost of Free Parking. He continues the discussion on his excellent blog -- and responds to criticism.
Also via Cowen: San Francisco is testing parking meters that change the price based on current supply and demand.
By the way: Troy is considering residential parking permits for three of its neighborhoods. [TU]
Earlier on AOA:
+ Assembly passes Albany residential parking permits bill
+ Meters parked in Troy
+ The ethics of the shoveled parking spot
+ Ask AOA: Parking in Center Square
+ How the rest of us are ticketed
photo: Kim M
Hi there. Comments have been closed for this item. Still have something to say? Contact us.