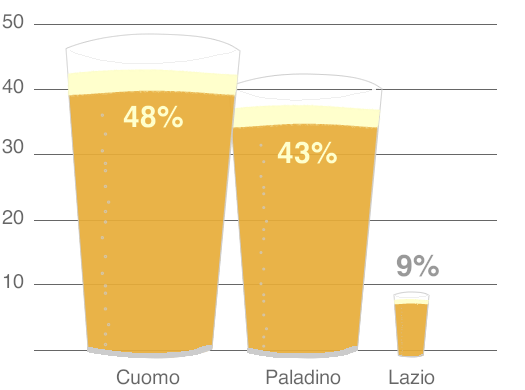 Yesterday Jeff suggested that we poll people on which of the major gubernatorial candidates they would most like to have a beer with. The utterly unscientific results are above (as of about 4:30 pm Thursday). More than 200 people voted.
It looks like a tight race to the bar. And you never know what's going to happen in a race that close. (Will one of the candidates buy? Come on, Carl! You're worth $150 million!)
This could be (probably is) coincidental, but the beer poll results actually match up pretty well with this week's Q Poll that showed Paladino trailing Cuomo, 49-43.
Earlier on AOA:
+ Siena poll: Cuomo still has a big lead
+ Cuomo vs. Paladino -- stop the landslide?
Fine print: This is a completely unscientific poll. Results have been rounded. Margin of error? Depends on how much you drink.
Hi there. Comments have been closed for this item. Still have something to say? Contact us.