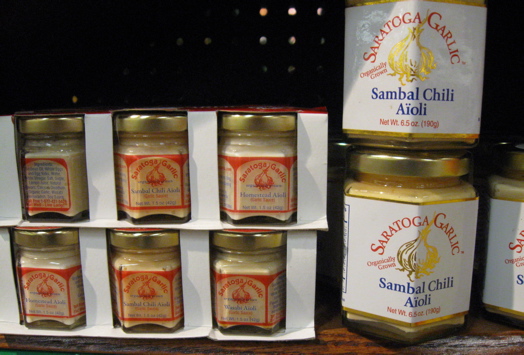 By Jessica Pasko
The AOA elves are back to help you with your holiday shopping. For the next couple of weeks we'll be bringing you fun, interesting, local gift ideas for the holiday season.
My love of garlic is well-documented at this point, but in my mind, you can never have enough of the spicy stuff in your life. So today in the AOA gift guide -- the gift of garlic.
Garlic aioli to be exact, from Saratoga Garlic.
Saratoga Garlic has a great line of aiolis, including original, curry, saffron and wasabi horseradish. They're great as a condiment, a dip or even a marinade. And not only are the aiolis made locally, but they're made with organic garlic grown right in Saratoga Springs.
Gift packs that come with five 1.5 ounce jars of aioli packaged with some artisan breadsticks will run you $16.95, but you can also purchase 1.5 ounce and 6.5 ounce jars individually.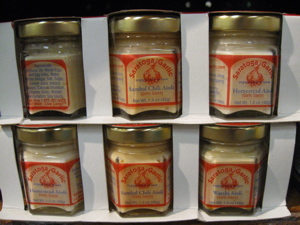 Saratoga Garlic also sells jars of their lemon dill pickled garlic too. You might want to throw in a pack of fancy breath mints with this gift.
What?
Jars of aioli, a mayo-like condiment, from Saratoga Garlic.
Who it's for
Almost foodies, vampire slayers and anyone on your list who you need "just a little something" for. My mother has also purchased the three-piece samplers in previous years and then divided it up among our family's Christmas stockings.
Where to buy
The Troy Farmers' Market, Genoa's in Loudonville, Roma Foods in Saratoga Springs, Delmar Marketplace, the Jonesville Country Store in Clifton Park and a number of other local spots.
How much?
A mini three-pack will run you a low $4.25, while the 6.5 ounce jars retail for $6.25 each. Feel free to mix and match your own "variety pack."
____
Other gift ideas from this year:
+ Hudson Valley Seed Packets
+ Capital Region Etsy: jewelry
+ Adirondack carbon reduction certificates
+ Capital Region Etsy: clothing
+ Capital Region Etsy: kid stuff
Hi there. Comments have been closed for this item. Still have something to say? Contact us.