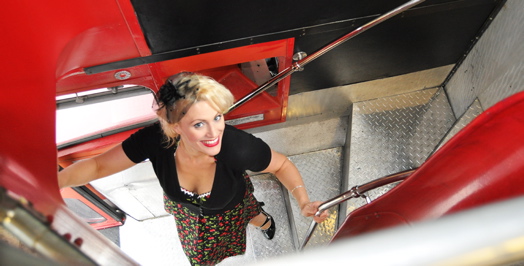 One of the best things about working on AOA is that we get the chance to meet a lot of interesting people. We'll be highlighting a handful of them between now and the start of 2011.
We first met Lorraine Murphy in 2009 when she was shooting cheesecake photos of Capital Region women dressed as classic pin-up models. In November of that year, she and her husband opened Bettie's Cakes. And one double-decker cake stand later, they've got the beginnings of a sweet little empire.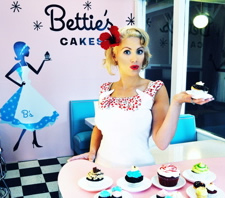 In the past year Lorraine and her husband John have expanded Bettie's Cakes from a spot in Saratoga's Downstreet Marketplace to a rolling double-decker cupcake cafe (Dee Dee), a second truck (Cee Cee), and now a second shop in Colonie Center.
All this has happened as the Capital Region has gone a little crazy about cupcakes. Other local bakeries such as Coccadots, Sweet Temptations, and Fluffalicious now have cupcake trucks that roll through the area.
But this "cucakery cafe" is selling more than cupcakes. One of the things we find interesting about Bettie's is how Lorraine and John have branded and packaged the Bettie's experience.
Lorraine took a little time away from the busy holiday cupcake schedule last week to talk about the success of the bus and her plans for the future of Bettie's.
Bettie's has grown to four outlets inside of a year. Did you expect all that to happen so quickly?
No, we didn't expect to grow this much in the first year. But the popularity grew and we wanted to be convenient for people.
More than 20 people work for us now. We hired a manager and that's helping a lot. Last year it was just John and less than ten people doing pretty much everything.
The cupcake bus started a trend in the Capital Region. There are now a few bakeries that have cupcake trucks. Does that bug you?
Oh noooo. We feel like it's flattery. I tell people that every Lowe's has a Home Depot across the street -- and it only helps business. It helps call attention to the whole cupcake trend in the Capital Region.
What was the light bulb moment like when you said "Oh yes, a double decker cupcake bus?"
That was my husband John's idea. He and I formed Bettie's together and we wanted it to be a fun business. We both had our separate businesses (he owns Core Physical Therapy), and I have the pin-up photos. We wanted it to be fun.
We'd seen cupcake trucks and Airstream campers in Texas and California and New York City, but we wanted to do something a little different -- and there was no place with a mobile cafe.
I was like, "Wow that's huge!" But immediately I loved it. He told me about the double-decker bus while we were at the Travers wine tasting. Then he said, "When you get home, pack a bag because we're flying out to LA to buy the bus tomorrow."
We tried to drive it back but it died in the Mojave Desert at 2:30 in the morning, but while it was being restored and repaired and ready to drive again we had a little time to plan things.
The bus has been wonderful. It was part of a national contest for the Great American Food Truck Race. That national exposure was great for us as a company.
Bettie's branding is such a big part of the business. The character of Bettie, the style, the logo. How did you come up with all that?
We thought a lot about branding. We threw around images logos and styles. Since I'm an artist, some were images I drew -- cartoonish figures of Dee Dee -- but they just didn't seem to work. They were too... childish.
We brought in the whole 1950s feel and I think it sets us aside from other bakeries. We worked with a graphic designer in Texas that I knew. I told him I had this idea that Bettie would be a 1950s housewife and he came up with the rest.
Why the 50s motif?
Because we wanted that home cooked, family, quality time image -- kind of Susie Homemaker in the big flowing dress. And because we don't use trans-fats or chemicals or preservatives, we wanted an image that kind of went with that home cooked feeling.
She's Susie Homemaker...but she's kind of glamorous.
She is very glamorous. And that's what I've always said about the 50s -- it was such a glamorous time and you could be different. It wasn't cookie cutter -- everyone had their own style.
It's why I love the pinup photos. I'm still doing those as well. This year I'm going to offer burlesque photos as well -- playing off all of that glamor.
What do you know now that you didn't know a year ago?
Oh my gosh, we're constantly learning everyday. That's the new mantra around here.
Just last week john caught on fire on Dee Dee trying to hook up frozen propane tanks. We learned not to do that again (laughs). He's OK, but he had to get a haircut.
Seriously though, learning about product ordering and pricing and development and managing employees -- learning how to use social media to our benefit -- there's always something new. We weren't professional bakers, we didn't go to culinary school -- so we even had to learn that.
But I'm that kind of person -- we both are. If you give me a challenge I'm going to do it. There was no one to do pin-up shoots in the Capital Region when I started that. I was an artist, but I had no photography background. I just said, "I think that's a good idea" -- and then I learned how to do it.
Sounds like it's been a lot of hard work. Would you do it again?
Oh my god, yeah! I wouldn't have given this up. I knew it would be hard. I didn't think it would be this hard, but I knew it would be hard.
What's next?
Well, we just signed a lease with Colonie Center, so we'll be there for at least another year. We're looking at expanding to some other cities. We're not sure if we want to franchise or have other locations. We're looking at Boston, and some places in Florida.
And we've got some other plans that we're not quite ready to talk about yet, but they're really cool ideas, and we're really excited about them.
This conversation has been edited and condensed.
photos via Lorraine Murphy
Hi there. Comments have been closed for this item. Still have something to say? Contact us.