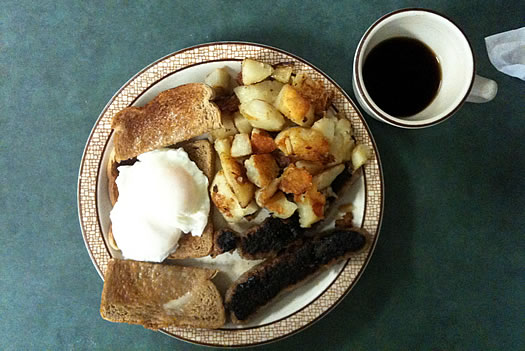 By Daniel B.
Before I can tell you about one of my favorite breakfasts in the Capital Region, I have to make a confession.
I've never been to Dan's Place Two drunk. Ever. Not at two o'clock in the morning, nor at four. In fact, I've never been to this diner in any other state than with clear eyes and a full heart.
And, still, this is great.
I do understand that this diner in Albany, affectionately known as Dirty Dan's, is well loved by the after-hours set. And rightfully so. Their Emmy-Bull Burger is legendary, with its monstrous proportions of protein and grease. For those who are unfamiliar with this force of nature, it's a half pound of ground beef with bacon, cheese, mayonnaise, lettuce, tomato, mayonnaise and a fried egg.
In comparison, their breakfasts seem like health food. But one thing that makes the burger so damn good is exactly what elevates their breakfast sausage to an entirely different level.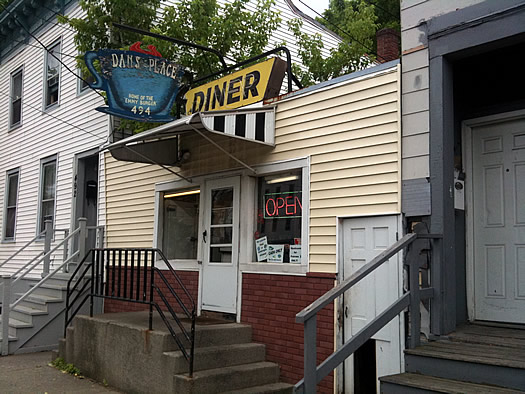 It's the flattop. That would be the large, hot griddle that cooks the most delicious things served at Dan's Place Two. If it's made on the flattop, it's going to be good.
Once when I was there, a regular came in and ask for "the usual." The cook pulled out an industrial sized can of corned beef hash and scooped a generous amount onto the griddle. It was pink and congealed and wholly unappealing. But that griddle changed this meat paste into something miraculous -- a dish that actually looked more than appetizing.
The secrets are fat, heat and patience.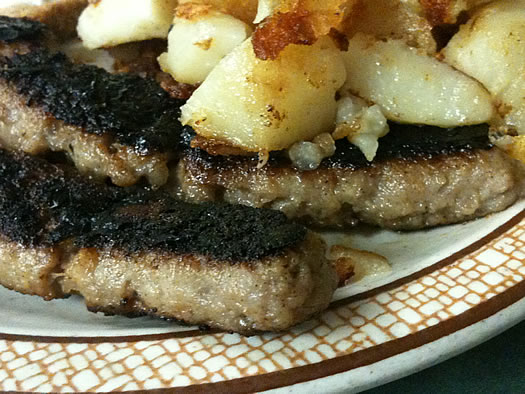 The food that touches the griddle stays there. It's not manhandled and poked or prodded. It's not moved around to make room for other meals. It gets placed on the griddle and stays put just until it's time to be turned over, and not a moment sooner.
This ensures that everything that comes off the flattop is burnished with an impeccable and savory crust. The burgers have it, the corned beef hash is transformed by it, and even the bacon is blessed with it. But the first time I saw what the griddle did to sausages I immediately swore to return to get a plate of them for myself. Since then, I've been back several times for what is now my favorite breakfast meat in the region.
No, they don't make it in-house. And I doubt it has any fancy pedigree. It's really just a typical breakfast pork sausage flavored with sage and pepper. It is a bit unusual in that it resembles large sausage links, yet has no casing, as if someone made a thick sausage patty in the shape of a link.
But it's what they do with the sausage that makes it special.
Whereas the corned beef hash gets merely golden, the sausage is very nearly blackened. On both sides. While a natural casing might get you a pleasurable snap, this toothsome exterior gives an added burst of flavor in addition to texture, before getting to the juicy and tender sausage within.
Plus, it is a natural match for their equally crispy and crusty potatoes, and whatever form of egg you prefer (so long as it has a runny yolk for dipping). I will actually vouch for their scrambled eggs in that not only were they beaten from eggs cracked to order, but they were also actually scrambled. This seems like a no-brainer, but scrambled eggs like this are woefully hard to find.
It's probably why they have not just one, but two signs that say, "We like old fashioned."
The signs are a bit superfluous. When you step into the place with its curved ceiling, time-worn counter, and seats that continue to comfort a broad spectrum of Albany denizens from all walks of life, you get the idea.
Daniel B. is the proprietor of the Fussy Little Blog.
The title previously referred to a sandwich. There was no sandwich, except in the editors' mind.
Recent Eat This!
+ Tanuki Udon at Sushi Tei
+ The sausage sandwich at Gus's
+ Flat iron steak with herbed butter at Garden Bistro 24
+ Clam strips at Bob & Ron's
+ The macchiato at Caffé Vero
Find It
Dan's Place Two
494 Washington Ave
Albany, 12203
Say Something!
We'd really like you to take part in the conversation here at All Over Albany. But we do have a few rules here. Don't worry, they're easy. The first: be kind. The second: treat everyone else with the same respect you'd like to see in return. Cool? Great, post away. Comments are moderated so it might take a little while for your comment to show up. Thanks for being patient.