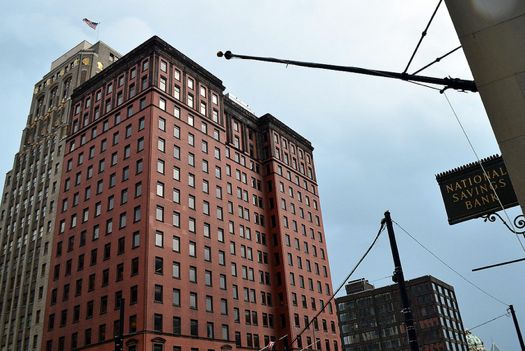 By Rob Madeo
I first met Jeffrey a while ago.
He stopped me on the street and asked for some money, told me his story, and kept me much longer than I wanted. I know some of you think it's a bad idea to give money to panhandlers. You may be right, but I'm sorry, if somebody asks for a couple of bucks they're going to get it. Maybe that makes me a sucker.
So, the next time we met it was much the same. "How's things Jeffrey," I asked. He was completely blown away that I remembered his name and gave me a hug. I could have done without the hug. After that, I think he was keeping an eye out for me, knowing I was good for a donation. One time I was in a hurry to my car and dodged him.
Then one day, Jeffrey intercepted me outside my building.
"You work in here?" Oh, great. I started to imagine Jeffrey dropping in to visit at the office.
"I want you to look at something."
He led me around the front of the building onto State Street. "Look at that, that's a shame." He pointed up at the tattered American flag, frayed and torn, hanging askew from its pole. He told me that his father served in Korea, and that when he was a kid, his dad taught him to respect the flag.
"I went upstairs and told them it shouldn't be like that. They never did nothing about it. But maybe they'll listen to you."
Maybe. I stopped in at the building manager's office and suggested they fix the flag. The next day it had been taken down -- and Jeffrey was waiting to shake my hand. He was beaming, partly because they did something about the flag, but mostly because I listened to him.
"We're half way there, man," he said. "Now they just got to put up a new flag and we'll be all set."
I got another hug.
That was months ago and there's still no new flag. I guess buildings downtown have bigger problems than keeping the flag flying -- like how to fill all the empty office space with warm bodies. And it's also been a while since I saw Jeffrey. Last time, he pulled up his pants leg and showed me his swollen ankle. Said it was making it hard for him to walk.
Now I check the front of the building every day to see if the flag's been put back up. And I always keep a couple of dollars handy in case I run into Jeffrey.
You'll know him if you see him, he'll be the guy working the lunchtime crowd for spare change, inspecting the flags of downtown Albany.
Rob can be found at lunchtime in downtown Albany huddled near a wi-fi hotspot.
Rob on the Soapbox:
+ Something wicket this way comes
+ Growing where the cows come home
+ The Albany parking lot district
+ The Earl of Pearl
Hi there. Comments have been closed for this item. Still have something to say? Contact us.