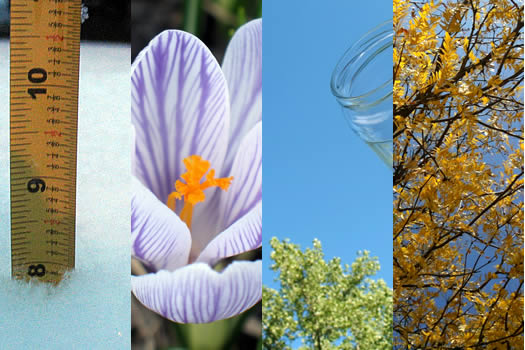 The National Weather Service's climate summary for 2011 is out. Here are a few of the highlight from the wet, snowy year...
(normals in parenthesis)
average temperature: 50 (48.3)
highest temp: 99, on July 21
lowest temp: -13, on January 24
precipitation total: 53.68 inches (39.35) -- the third wettest year on record
largest 24 hour precipitation total: 4.81 inches, August 27-28 (that would be Irene)
snowfall total: 80.3 inches (59.1) -- 14th snowiest on record
largest 24 hour snow total: 12.8 inches, January 12 (some spots recorded much higher totals)
days with precipitation: 142 (137.8)
days with rain: 64
days with snow: 76 (34.8)
While we're on the subject of weather... This recent cold snap aside, winter is totally falling down on the job this year (so far). A few quick facts about this winter and it's less than impressive effort...
+ We've gotten 6.4 inches of snow this season -- and just 1 inch since December 1. December's measly .7 inch total is the sixth smallest on record. The typical snowfall season total by this point is 18.2 inches. [@Caporizzo10]
+ If the snow keeps up (or, you know, doesn't keep up) with this rate (a big if), we're headed toward a season with snowfall total in the 16-19 inch range (very rough estimate). That would be good for a top 5 spot on the list least snowiest snowfall seasons. The record is 13.5 inches (1912-1913).
+ The average temperatures this past December was 34. The typical average is 28.5. The average high temp for the month was 42.2 -- more than 6 degrees higher than the typical average high. (This is seriously cutting into our pond skating.)
+ November is not technically part of winter -- but many years it feels like it is. Not this year -- it was the best November ever. The average temp was 4.7 degrees higher than normal -- and the average high temp was almost 7 degrees higher than normal. It was the 9th warmest November on record. [@Jason_Weather]
Of course, it currently very cold. Today's high was overnight (25) before slipping into the teens all day. And Wednesday's forecasted to be another day 20s, and Thursdays the 30s (with a "slight" chance of snow). But Friday's forecast includes a high of 40 -- and mid-40s for the weekend.
Unless otherwise noted, numbers via the National Weather Service.
Hi there. Comments have been closed for this item. Still have something to say? Contact us.