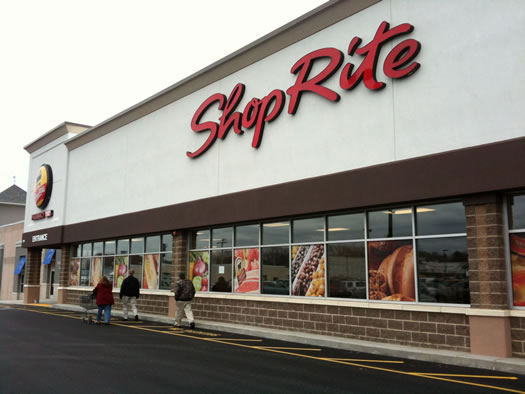 The new Albany ShopRite will open April 26, the company announced today. The store is at 709 Central Ave, on the site of the former OTB Tele-theater (a new version of which is now next door). Full press release after the jump.
We stopped by the store this past week to peek in the windows. The store looked more or less complete -- in fact, we noticed that some of the aisles were already stocked with products.
This will be the second ShopRite in the Capital Region. The company opened a store in Niskayuna last year, is building another in Slingerlands, and just got approval for a fourth store in the village of Colonie. [TU]
If the opening of the Niskayuna ShopRite is any indication, the scene surrounding the Albany store will be a zoo initially.
It'll be interesting to see how it affects competition -- Price Chopper and Hannaford are literally just down the street.
Earlier on AOA: A first look at ShopRite Niskayuna
____
SHOPRITE TO OPEN NEW SUPERMARKET ON CENTRAL AVENUE IN ALBANY, NY ON THURSDAY, APRIL 26
Touts Expansive Variety, Superior Quality of Foods, Services and Highly-Skilled Associates
Albany, NY, March 31, 2012 - ShopRite Supermarkets, Inc., which operates 30 ShopRite stores in New York and New Jersey, including recently opened locations in White Plains, Scarsdale and Niskayuna, NY, today announced that the grand opening of its new 65,000 sq. ft. full-service ShopRite of Albany, located at 709 Central Avenue, will take place on Thursday, April 26, 2012. The store will be owned and operated by ShopRite Supermarkets, Inc. (SRS), a wholly owned subsidiary of Wakefern Food Corp., the largest supermarket cooperative in the United States.
In addition to a broad array of groceries, fresh produce and locally sourced products, the store will have the services that ShopRite customers have come to expect including: a fresh bake shop; fresh meats; fresh seafood; full-service floral department; and pharmacy, as well as a broad selection of ethnic foods and natural and organic products in every department. The store will also offer a wide assortment of prepared foods including a Gourmet Coffee Bar, fresh salad bar, hot food and Mediterranean Olive bars and a selection of Japanese and Chinese specialties for dining in or taking out, as well as freshly made sushi.
For the convenience of its customers, the ShopRite of Albany will offer ShopRite from Home delivery service as well as the free services of an on-site Dietitian to help customers shop for healthy choices or specific diets. A unique feature of the ShopRite of Albany will be the presence of a Wi-Fi lounge, where shoppers can have lunch or enjoy a cup of coffee while browsing the Internet on their personal devices.
The new store will feature the latest energy-saving and sustainable technologies in refrigeration and lighting, including glass doors on the dairy and freezer cases, LED and T-8 lighting and environmentally friendly refrigerant systems. ShopRite of Albany will also feature an on-site bio-digester to significantly minimize food waste and electric car charging stations in front of the store, which will be located in specially-marked parking spaces.
"We want to thank the Capital Region for welcoming us to Albany and we look forward to bringing the same level of customer service, variety, value and low prices to this new location on Central Avenue," said Dave Figurelli, president and chief operating officer of ShopRite Supermarkets, Inc. "We look forward to partnering with the community to become your neighborhood ShopRite."
"On behalf of the City of Albany, it is my pleasure to formally welcome the return of ShopRite Supermarkets to our All America Capital City. Not only is this new supermarket a state-of-the-art facility, but also, it represents a full shopping experience for the customer, including home delivery, dietitian support and myriad other consumer conveniences. Congratulations to all involved with bringing this project to fruition and to the ShopRite family for becoming part of ours," said Mayor Gerald D. Jennings.
# # #
Find It
ShopRite Albany
709 Central Ave
Albany, NY 12206
Hi there. Comments have been closed for this item. Still have something to say? Contact us.