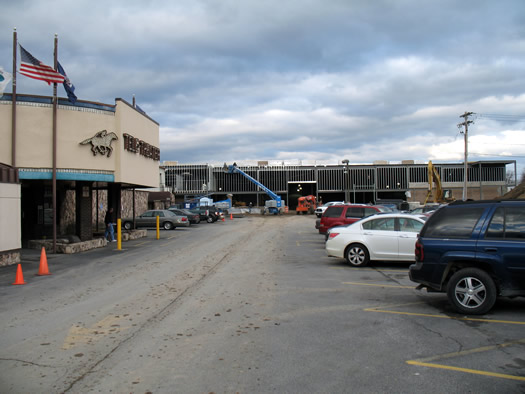 Update: This location is opening April 26, 2012.
Officials from ShopRite and the city of Albany will officially announce today the plans for a new ShopRite in Albany. The all-but-official project is being constructed at the back of the OTB Tele-theater property on Central Ave just to the east of Everett Road.
The supermarket company says it's planning for a spring 2012 opening. We stopped by the site yesterday -- the frame of the building is up, but there's still a lot of work ahead on the interior. (The current tele-theater, which stands very close to the new supermarket building, is slated to be demolished for a new OTB facility.) [TU]
The Albany location will be ShopRite's second store in the Capital Region. It opened a Niskayuna location in October. That new store -- right in Price Chopper's corporate backyard -- has set off what looks like the beginning of a supermarket war with Price Chopper, with competing sales, services, and even a lawsuit.
The (re)arrival of ShopRite in the Capital Region brings more competition to the supermarket scene here and that's almost never a bad thing for customers. This spot in Albany will be especially competitive -- Price Chopper and Hannaford are just up the street. There are rumors ShopRite is planning a total of four stores for this area.
More details from the press release are after the jump -- as are few more pics of the construction site.
From the press release:
ShopRite Supermarkets, Inc. will officially announce the opening of its 65,000 square foot ShopRite of Albany store in Spring 2012.
In addition to a broad array of groceries, fresh produce and locally sourced products, the store will have the services that ShopRite customers have come to expect including: a fresh bake shop; fresh meats; fresh seafood; full-service floral department; and pharmacy, as well as a broad selection of ethnic foods and natural and organic products in every department. The store will also offer a wide array of prepared foods including a Gourmet Coffee Bar, fresh salad and Mediterranean Olive bars and a selection of Japanese and Chinese specialties for dining in or taking out, as well as fresh-made sushi.
For the convenience of its customers, the ShopRite of Albany will offer ShopRite from Home delivery service and will have the free services of an on-site Dietitian to help customers shop for healthy choices or specific diets. A unique feature of the ShopRite of Albany will be the presence of a Wi-Fi lounge, where shoppers can have lunch or enjoy a cup of coffee while browsing the Internet on their personal devices.
The new store will feature the latest energy-saving and sustainable technologies in refrigeration and lighting, including glass doors on the dairy and freezer cases, LED and T-8 lighting and environmentally friendly refrigerant systems. The ShopRite of Albany will also feature an on-site bio-digester, which will significantly minimize food waste and electric car charging ports in front of the store, which will be located in specially-marked parking spaces.
____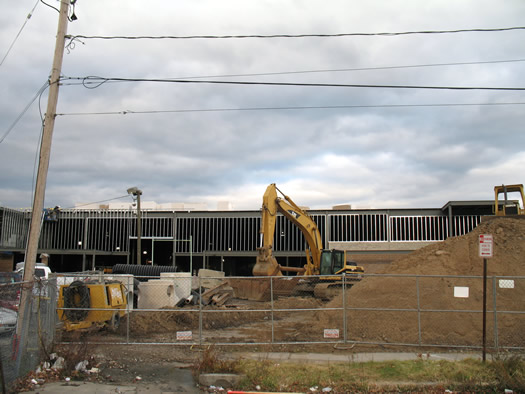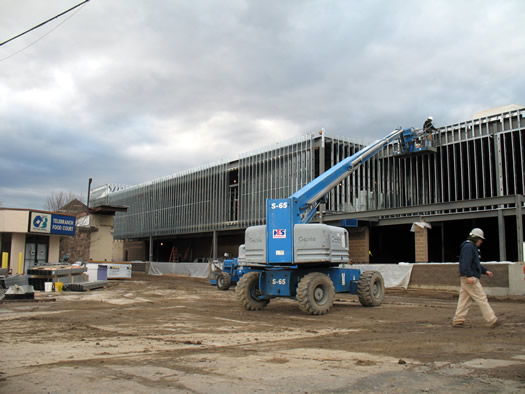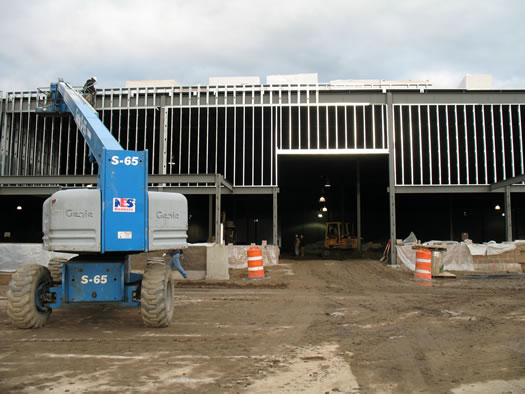 Earlier on AOA:
+ Park and plug in at ShopRite Niskayuna
+ Trying out ShopRite's home delivery service
+ Price Chopper owner sues ShopRite owner over online ads -- is the supermarket war on?
+ A first look at ShopRite Niskayuna
Find It
ShopRite Albany
711 Central Ave
Albany, NY 12206
Hi there. Comments have been closed for this item. Still have something to say? Contact us.