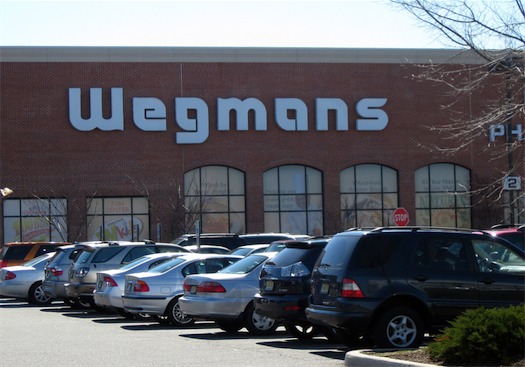 Update July 2012: There continue to be lots of rumors. Here's some discussion about all that.
____
Yep, the Capital Region just got ShopRite, and soon we'll have Trader Joe's, and sometime after that a Whole Foods.
And, yet, the clamoring continues: What about Wegmans?
A spokeswoman for the chain told us today that they are not planning on setting up shop in the Capital Region anytime soon. Jeanne Colleluori says the company is focused on New England -- Wegmans recently opened a store in Northborough, Massachusetts and is building another in Newton, Massachusetts -- and the Mid-Atlantic regions right now.
The latest Capital Region Wegmans rumor is a store at the Latham Circle Mall site (we think we've heard this from about 100 different people). But the company has no plans to build any new stores in New York this year, according to Colleluori. And she says the Capital Region is not part of their four year plan.
"We do receive a lot of requests from the Albany area, and there seems to be a lot of curiosity about why we haven't opened up a store there yet," said Colleluori.
She dismissed the idea of the legendary "agreement" with Price Chopper. "I think you have to look at this from a business perspective, and businesses are looking to go where they can build the most profitable stores. And right now we're looking at what is best for our company."
What criteria do they look for when selecting spots for their new stores? "A number of criteria," Colleluori says. "Enough land -- our stores tend to be very large and we need a large piece of land for our store and the parking lot. Great roadways, growing populations, growing businesses and a population where we will be able to draw employees. We also have to think about how a new store will affect distribution and transportation departments as far as where we are sending trucks. And they consider these requests."
So, does Wegmans ever re-think its four year plan?
"People in our real estate department are always looking out for new opportunities, and whenever someone calls our consumer affairs office and requests a store, those requests go to our real estate department, so they see where the clamor is and they know what the people are looking for. In 2011 we received 4,416 requests to build a new Wegmans store from different places. Including Europe."
No, says Colleluori, they're not setting up in Europe, either.
By the way: As late as October 2011, Trader Joe's was saying the Albany metro was not in its two-year plan. Three months later... it was.
photo: Flickr user christine592
Hi there. Comments have been closed for this item. Still have something to say? Contact us.