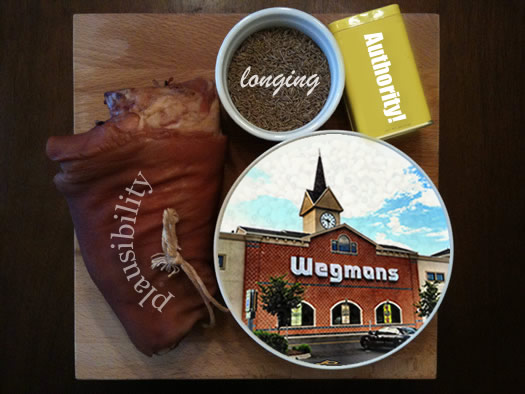 Hey, have you heard the rumor about Wegmans coming to Albany? At the Latham Circle Mall? At the First Prize Center?
Variations of this rumor have been circulating since at least the beginning of the year. We've heard from it about 100 different people (an exaggeration, but not by much). And they all heard from a guy who knows a guy who... you get the picture.
The latest version surfaced Tuesday and it goes like this: the big W has bought the Latham Circle Mall -- it's a done deal -- and Wegmans will start demolition/construction soon. Since then, we've watched search referral traffic for "wegmans albany" come rolling in. The word has obviously gotten around.
Well, for what it's worth, Jo Natale -- a spokesperson for Wegmans -- told us today that the company has not bought the Latham Circle Mall property.
But that story is just so delicious. And it's easy to see why -- it follows the recipe for a juicy rumor...
The recipe
Start with quality ingredients
By almost all accounts, Wegmans is one of the best supermarket chains in the country. It might be the best. (We've shopped there -- we can confirm it is very nice.) People are highly (perhaps crazily) devoted to the chain. And its arrival here would shake up a supermarket scene that's already starting to get crowded.
Sear with the heat of longing
To hear some people talk, to have experienced Wegmans and then live without it is like being pulled from heaven and forced to once again inhabit the frustrating life of mortals. People yearn for the place in a way that's rare for anything, much less a retail outlet.
Also, there's the whole alleged "secret agreement" situation -- that Wegmans and Price Chopper supposedly have some hush-hush understanding that they won't compete in this market. This makes the longing even stronger; we could experience grocery nirvana if only "they" weren't keeping it from us.
Stir in plausibility
The idea of a Wegmans at the Latham Circle Mall site is totally plausible. It's a big site -- large enough for one of Wegmans' 130,000-square-foot stores. And the location already includes a home improvement store, the type of neighbor with which the big W is said to like co-locating. The site is high traffic and centrally located. Also: it's a dead mall, ripe for large scale redevelopment.
Season with allusions to authority and insider knowledge
Here's what separates a truly juicy, succulent rumor from the bland, everyday stuff. Many of the Wegmans-at-Latham Circle rumors include some sort of allusion to a person who would seem to really know. Among the unnamed sources cited in versions we've heard:
+ An unnamed town of Colonie source says it's happening (authority!).
+ A friend who's a food broker says it's happening (real dirt from the industry!).
+ A guy who works for Price Chopper who says it's an open secret in the industry and Chopper is preparing for supermarket war. (If the competition says it's happening, it must be true!)
+ The person who says they work for a company that stocks supermarkets says it's happening (industry dirt!). This claim was especially tasty because he/she includes a bit about Wegmans finding some reason to break the "secret agreement." Intrigue! (He/she also later says Wegmans is headed not for Latham Circle -- but rather the First Prize Center and Crossgates.)
Let simmer for a long time
The Wegmans-in-Albany rumor has been bubbling for months, since at least the beginning of this year. For whatever reason -- it's appealing, it keeps mutating, there might be some actual truth to it (gasp) -- the rumor won't go away. And that persistence adds a hearty, conventional wisdom flavor to the sauce. Because if a story sticks around for this long, it will slowly develop the taste and mouthfeel of fact. It becomes one of those things that people "know" -- even if there are facts to contrary. (If you need more examples, see a large part of what passes for political discourse in this country.)
So where does that leave us?
Here's what we've been told by actual, on the record, named sources.
+ A Wegmans spokesperson -- the aforementioned Jo Natale -- told us today (July 5) that the company has not bought the Latham Circle Mall property. It has also not bought the First Prize Center property. And she said Wegmans is not involved with the real estate development company that has an option to buy the FPC.
+ A different Wegmans spokesperson -- Jeanne Colleluori -- told us this past May the company is currently focused on New England (it recently opened a store near Boston, and has announced plans for a second). She said the company has no plans to build any stores in New York this year. And the Capital Region is not part of the Wegmans four year plan.
+ Rob Ganz -- with Exchange St. Associates LLC, which currently controls the First Prize Center -- told us today that its deal to sell the property to a development company called Widewaters is a long way from final. He says he hasn't heard anything about a Wegmans for the site. But he said over the last decade plus, just about every development scenario you could imagine -- Home Depot, Walmart, hotel, train station -- has been floated for the site. One major hang-up: the current structure on the site would have to been torn down, and it contains asbestos.
So, does this mean that Wegmans is not coming here? Nope. Trader Joe's said for years it wasn't planning a Capital Region location -- and then it was. Stuff happens. Plans change. And companies rarely talk about deals that aren't finalized. You never know. We're not saying it won't happen -- we're saying we don't know. Maybe it will someday.
But until someone is willing to go on the record about Wegmans coming to Albany, we suggest serving all those delicious rumors with a grain of salt. Or an entire shaker.
Earlier on AOA:
+ Wegmans? Really? Please explain.
+ What about Wegmans?
+ Supermarket Week 2012
Hi there. Comments have been closed for this item. Still have something to say? Contact us.