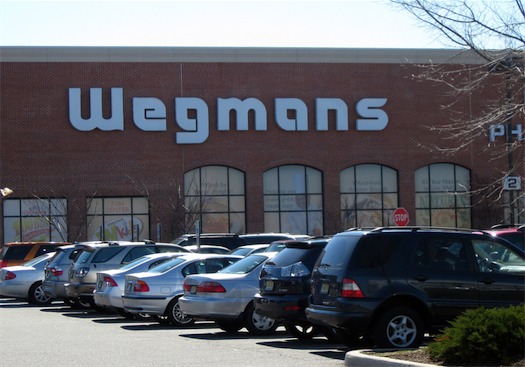 By AOA Greg
It's Supermarket Week again on AOA. All this week we'll have posts comparing, thinking, and talking about supermarkets. Hey, we all have to eat.
If there's one constant in the Capital Region supermarket discussion, it's that people desire a Wegmans. Actually, desire might not be a strong enough word -- crave/swoon over/confront an existential crisis in the absence of/long for a Wegmans.
And I don't really get it. Because last I checked, Wegmans is still... a supermarket.
Sure, Wegmans routinely tops the Consumer Reports rankings of best supermarkets. And I've shopped there more than a few times -- they're nice stores. Worthy of adoration, though? I'm skeptical.
But, OK, I'm open to the idea. So I got connected with editor, savvy shopper and skeptical consumer Laura Northrup. She lives in the Capital Region now, but she grew up in the Syracuse area where her family shopped -- and dined! -- at Wegmans. I know she has an appreciation for the place.
Maybe Laura could explain.
Greg: OK, let's establish your Wegmans cred here -- what's your background with the big W?
Laura: I'm from the western suburbs of Syracuse and grew up with Wegmans. I never worked there (I didn't drive when I was in high school and it was too [far] away.) My family used to do some of our weekly shopping there, but shifted to only going to Price Chopper in the mid '90s. Sometimes we would go there for a few special items no one else had, like Merckens candy wafers in bulk, or a certain brand of frozen meatballs. But what we've kept going back for -- and this is the part that sounds crazy to people who aren't familiar with Wegmans -- is dinner.
Yes, we would get in the car and drive 20 minutes to go out to dinner at the grocery store. Even our medium-sized, modest Wegmans (Rt. 31 in Clay) has a Chinese buffet within the store, where you pay by the pound.

Greg: OK, it's going to take me a second to wrap my head around going to a supermarket for dinner.
Laura: Our Wegmans has meager offerings, too. If we have a reason to be on the other side of town, near the epic DeWitt Wegmans, that means we get to go THERE for lunch. Where the buffet has high quality seafood items and there is an honest-to-goodness food court with a variety of cuisines.
And the place is packed. People love to go there for lunch. Of course, this could be evidence that people in Syracuse have low standards and are weird.
Greg: I used to live in Syracuse. I shopped at the epic DeWitt Wegmans. Many times. And it was nice. But it was still... a supermarket. What am I missing?
Laura: The thing I've always noticed is that if you want to know what every other grocery store is going to be doing in three years, go to Wegmans and look around.
Greg: But what is there left do in a supermarket? It's food on a shelf.
Laura: It is. But there's the question of what food that is, and how it's arranged on the shelf.
You can throw some corn in a bin and print a price sign and call it a day. Or you can stack it nicely and have an artist come in and make beautifully lettered and decorated signs with the corn's price and the name of the local farm that it came from.
If this doesn't make a difference to you, and you don't particularly care which farm your corn or apples are from, then Wegmans is not your store.
If you don't care whether there's a chef sitting there handing out recipes for the particular variety of squash that's on sale, and you just want to buy some squash and get on your way, then Wegmans is not your store.
A couple of the stores I've been to have a model train that runs around the store above shoppers' heads. Why the heck does a grocery store need a train? I don't know, but I like to watch it.
Greg: So, would you say that a lot of what differentiates Wegmans is packaging and experience design?
Laura: Yes, that's a lot of what makes the difference. There are a lot of small and large things that make the shopping experience there more beautiful and more fun. A couple of the stores I've been to have a model train that runs around the store above shoppers' heads. Why the heck does a grocery store need a train? I don't know, but I like to watch it.
It's not all flash and pretty pictures on the produce signs, though. The produce isn't just stacked prettily; it's usually the best available in the area. And they had us caring about eating more servings of vegetables and focusing on local farmers back in the '90s, before anyone knew what a locavore was.
I really can't get out of there without buying some kind of fruit, even if I'm only there to grab some lo mein and Elmira Chicken for dinner.
Greg: I do remember that the produce section had a bit of a wonderland feel about it. Good quality. And the way it was all arranged -- it was like, "Wow, I really want to eat some vegetables..."
But some of the nicer Price Choppers are pretty swank now, too.
Laura: Yes, the new Price Choppers are pretty swank. But whose lead are they following?
Call me when the Chopper live-tweets which fruits and veggies they're delivering from which farm at each store today. https://twitter.com/#!/WegmansLocal
Greg: Point taken.
[Wegmans] gives people something in common and something to talk about in places that don't have Wegmans stores. Those same people might move somewhere else and talk about how amazing something that region is lacking is. You can bond over it.
Laura: Not that they're a farmers' market. A grocery store is still a grocery store.
Greg: I guess that's my main point -- as nice as Wegmans can be, it's doesn't seem like it's so much better than any other nice, modern supermarket. At least, not enough to warrant such adoration.
Laura: For me, who grew up with it, the thing is that they were a modern supermarket before the other stores in the area were what we think of as "modern." They introduced my young provincial mind to crazy concepts like "flavored coffee" and "cheese from France."
I could always find weird international things there, like my beloved Pocky from Japan and Pims cookies from Europe, long before Price Chopper carried them and before the Westgate international Chopper was ever dreamed up.
I often wonder whether everything there really is so much better, or people only think that it's better because of the friendly staff and European market ambience and Wegmans cachet.
Greg: The one thing that's always struck me about Wegmans is how the friendly the people working there always seemed. Like they were actually happy to be there and help you.
Laura: Their reputation as an amazing place to work is a little overblown in the media, but I've heard from friends who have worked there that it sucks less than working at other grocery stores. They have a nice scholarship program for their high school-age workers, though I believe Price Chopper does, too.
Greg: I wonder how much of that is hiring -- just trying really hard to sift for the people who will be friendly.
Laura: They'd have to pay more for the people who really are friendly to sift to the top.

Or cult-like indoctrination!
Greg: !!! We're finally getting to the bottom of this! It's all becoming so clear!
Do you think there's some truth to that, though -- that's there's a Cult of Wegmans?
Laura: Yes. It gives people something in common and something to talk about in places that don't have Wegmans stores. Those same people might move somewhere else and talk about how amazing something that region is lacking is. You can bond over it.
I have a Wegmans reusable grocery bag that I carry here, mostly because it says to people, "I'm not from here, and if you're looking for something to make small talk about, let's chat about olive bars and bulk candy."
Greg: Nothing brings people together like olive bars and bulk candy.

A clip from Wegmans, the Musical. Yes, that really happened. It was written and performed by a high school drama program in Massachusetts. [via Consumerist]
Laura: I don't know what an equivalent thing in the Capital Region would be. Something that people like to gush about when they're not there, but maybe feels a little overrated when you actually are there.
Greg: Tulips? Mini hot dogs?
Laura: That's a good example. My other thought was Bombers, but that's because I hate how crowded it gets.
Greg: I've come to think that people here -- and elsewhere -- hold Wegmans in such esteem because they can't have it. That if it were here, people would start complaining about it the way they complain about every other supermarket here.
Laura: I would put the new ShopRites up against a smaller Wegmans any day.

Except for the bulk candy. It just isn't the same without the bulk candy.
Greg: So, if heaven and earth moved and somehow a Wegmans landed here, do you think it would actually change anything?
Laura: I think there are areas that would be a lot better off if you plopped any grocery store at all there. Overall, there isn't much you can get there that isn't available here. You just have to run around to a few different stores to get it.
What I always hoped Wegmans would do is make Hannaford and Price Chopper up their game and act like they wanted our business just a little. How long it took Price Chopper to start gas rewards and double coupons in this market made me think they sort of took Capital Region customers for granted.
Now we have Fresh Market, Shop-Rite, Trader Joe's, and Whole Foods entering our marketplace.
Greg: There's a lot of competition now -- and even more soon. I think we'll see a lot of places step up their games because of that.
Laura: I miss Wegmans, but mostly I miss the great loss leaders and promotions that come from having three big grocers battling it out in your region.
And while Price Chopper has a deli and a soup bar and everything, I don't see myself going out to dinner there.
Greg: Yeah, it's just not a destination. OK, any last point you'd like to make?
Laura: Shopping at Wegmans feels special and fun, but my family still goes to the sparkling new Price Chopper that's virtually next door instead. They carry most of the same items and their prices are lower. Having to compete with Wegmans in some markets has made Price Chopper and Tops better stores.
It's destination grocery shopping and a great place to have lunch, but I think what people who want Wegmans really want is credible competition for the stores we have. That's here, and more is coming.
That said: I still miss bulk candy.
Greg: One last thing: how much does it bug you that people spell it "Wegman's"?
Laura: A lot. I keep considering registering the domain name theresnoapostropheinwegmans.com
We talked via chat. The log has been lightly edited.
Supermarket Week 2012:
+ Delivery! Comparing ShopRite from Home and Price Chopper Shops4U
+ Annoyed in aisle 5
+ When will Trader Joe's open -- a prediction pool
+ Supermarket Showdown V: the annual cross store price check
+ Feeding the soul, at the supermarket
photo: Flickr user chrstine592
Say Something!
We'd really like you to take part in the conversation here at All Over Albany. But we do have a few rules here. Don't worry, they're easy. The first: be kind. The second: treat everyone else with the same respect you'd like to see in return. Cool? Great, post away. Comments are moderated so it might take a little while for your comment to show up. Thanks for being patient.