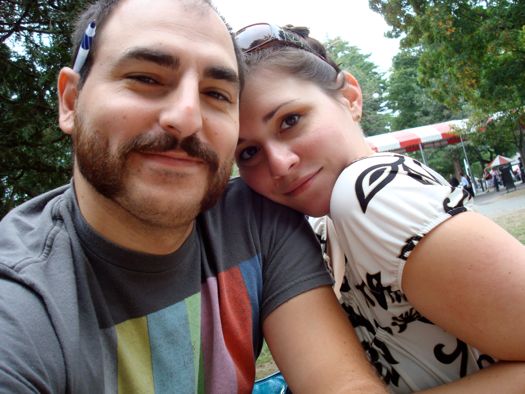 By Crystal Capritta
AOA is taking a little R & R this week. While we're enjoying a little summer, we've rounded up a few experts to share their tips for making summer fun simpler. Enjoy!
Mention Saratoga Race Track and many people think fancy clothes and spending a lot of money. But you can have a lot of fun at the track without spending a ton of cash.
My husband has gone to the track every summer of his life, and I've been right along with him since the first summer we met. Over the years I've won a few of the bets I've placed, and my husband has been known to hit a rare trifecta.
Here are some of our insider tips to having a good time at the track on the cheap.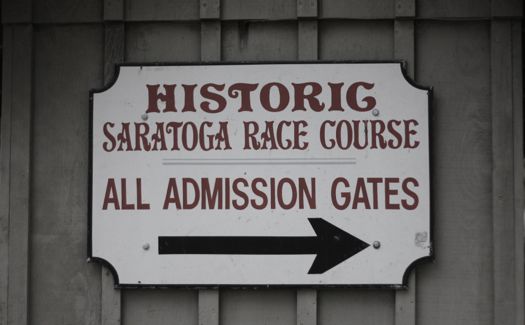 Plan ahead
Pick up a Racing Forum the night before at any Stewart's if you want to get your picks ready early. For those who are not that hardcore, you can pick up a program when you get to the track. This is your guide to the day -- how many races, who's riding, who's running, and what the odds are. Don't forget things can always change on racing day, so make sure you check the monitors for the morning scratches (horses drop out of a race), and keep an eye out for additional scratches and odds changing before each race.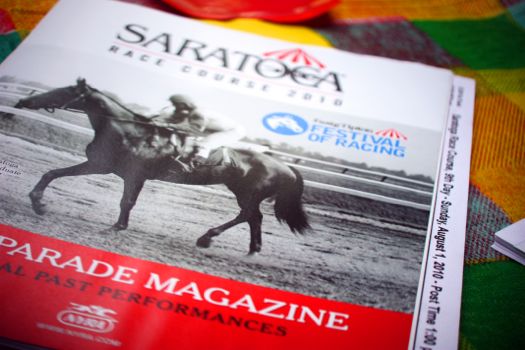 How to dress
Wear comfortable, casual clothes -- no need to be fancy if you're hanging at the picnic tables. Many ladies believe they need to wear big hats to the track. Unless you are protecting your face from sun exposure, leave them home. You will get hot up there, and wearing a hat will be a total drag.
Where to sit
Forget the clubhouse or grandstand. If you want a really good time go in general admission and grab a picnic table. You'll have to get there early to reserve one -- as soon as the gates open at 10 am. If there is not already a table cloth, cooler, or some other marker on the table, it's up for grabs -- get it. This will be your home base for the rest of the day. Don't forget to bring folding chairs in case you don't snag a table or you will be standing.
Food/beverages
Bring your own cooler so you don't have to buy overpriced concessions. You can't bring bottles in, but luckily many specialty craft beer brewers are starting to can their beers. For a fraction of the cost of the run-of-the-mill domestic beers at the concessions, you can be enjoying quality beer all day long. If you can also fit some food in your cooler, bring it along. You can save your money for betting and to get a nice dinner out on the town at the end of the day.
If you're a smoker, you might enjoy a cigar or cigarello to get the authentic track experience. You are not allowed to smoke in the grandstand, but you can puff away back in the picnic area and at the rail.
Betting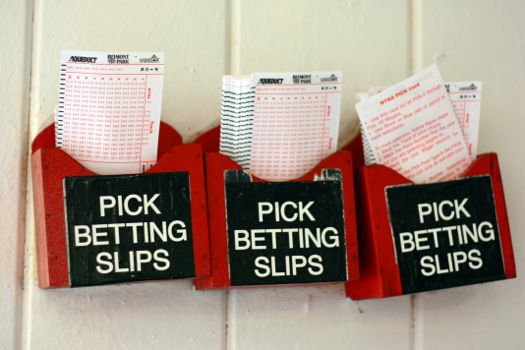 If you're not sure how betting works, the program you grabbed on your way in will give you an overview. Even for experienced betters, going to the window can be a chore, especially when it gets down to the wire for a last-minute bet. Go to the window once -- to exchange your cash for a voucher, then use the automated betting machines. They are much simpler and easier. DO NOT FORGET TO FINISH YOUR BET AND GRAB YOUR TICKET. If you leave your ticket in there the next person in line will bet your money and you can kiss it goodbye.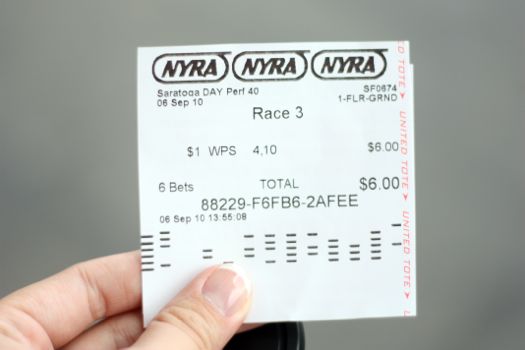 You don't have to spend a lot of money to have a good time. For those who have never bet before, stick to win/place/show or show bets. If you bet a horse to show and it comes in first, second, or third, you will get the show money. If you bet WPS and your horse wins, you get the payout for all 3, if it places, you get the payout for 2nd and 3rd, and if it shows, you just get the show money.
If you want to get adventurous, exactas (picking first and second place) and trifectas (picking first second and third place) are fun. Always box them, never play it straight. Or if you're gonna play it straight, back it up with a box. When you play a bet straight, you will only win money if the horses finish in the exact order you picked, if you box your bet you win no matter what order your picks come in. There have definitely been days where we neglected to box and ended up kicking ourselves for it later.
View
If you want to see the horses up close and personal to check out your picks before the race, they are walked from the stables through the picnic area to the track.
The best spot to watch a race is not at the finish line as most would think. The TV monitors will show you everything, and there will be so many people at the finish line you're not likely to get a good view anyway. The middle of the home stretch, right on the rail is the sweet spot. It's the most exciting place of the race because that's where everyone starts to make their move.
After the races
Once the last race has run, count up your wins and losses. This will determine your next move. If you haven't lost your shirt, you might want to get dinner at Max London's on Broadway or sushi at Sushi Thai Garden on Phila St. If you find yourself in the hole and are looking for some cheap eats, Stewart's might be your best bet. After dinner you might want to stroll Broadway to find a watering hole.
Win or lose, we usually find ourselves getting a drink at Desperate Annie's on Caroline Street and reminiscing about the highs and lows of a day well spent.
Crystal Capritta works her dream job at Etsy by day and is a photographer/blogger in her spare time.
More Summer School:
+ Hosting a great barbecue: Christian Noe
+ Buying a bicycle: Carl Johnson
+ Camping with kids: Katie Beltramo
+Making a fabulous summer cocktail: Nick Ferrandino

Hi there. Comments have been closed for this item. Still have something to say? Contact us.