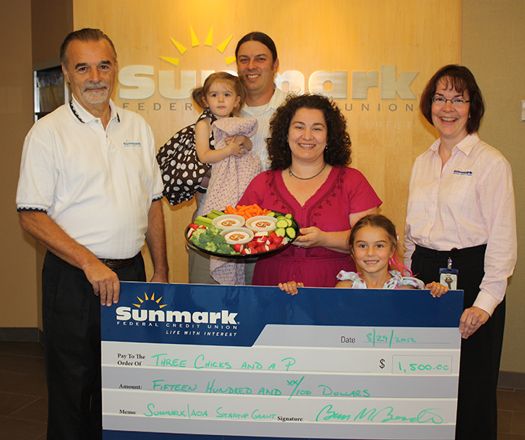 Let's hear it for giant checks and hummus!
Yesterday the winner of this year's AOA/Sunmark Startup Grant -- 3 Chicks and a P, a small business in Rotterdam that makes hummus, bean dips, and tapenades -- got its prize money from the people at Sunmark.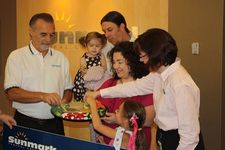 The giant check came with $1,500 actual dollars (in a smaller check via direct deposit) that 3 Chicks owner Jennifer Ritner-Paniccia and her husband Matthew say they'll use for nutritional labeling for some of their newer flavors. They're hoping the labeling will help get their products onto supermarket shelves. 3 Chicks currently sells at local farmers' markets and co-ops.
Everyone celebrated the giant check with broccoli and hummus.
We'll be checking back with 3 Chicks and a P in a few months to see how they're doing.
Earlier on AOA:
+ Three Chicks and a P Sunmark Startup Grant entry
+ A giant check for the Radix Center (last year's winner)
+ Sunmark Startup update: The Radix Center
Hi there. Comments have been closed for this item. Still have something to say? Contact us.