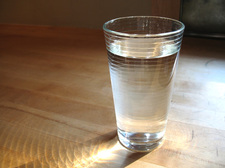 The town of Niskayuna's drinking water took the top spot today in the taste test at the New York State Fair. Eau de Niskayuna narrowly beat out the drinking water from... Guilderland. (Niskayuna and Guilderland were both competing because they tied in this year's Capital Region competition.) [NYS Department of Health]
From where is Niskayuna is getting this tasty water? According to the town's 2011 drinking water report:
Our water source is groundwater from two aquifers. In 2011, 57% of our water was drawn from wells located near the Mohawk River in the Town of Niskayuna. 43% was drawn from the City of Schenectady wells located in the Town of Rotterdam near the Mohawk River.
Guilderland's primary water source is the Watervliet Reservoir -- which is in Guilderland, but owned by the city of Watervliet. (It also gets water from a trio of wells in the town, and the city of Albany system). [Town of Guilderland annual water quality report 2011]
The Capital Region has a pretty strong claim on the best-tasting drinking water in the state. In addition to the strong showing this year from Niskayuna and Guilderland, the city of Albany took the took spot in the statewide competition in 2010 and 2007. And Albany's water finished in the top 5 of a national competition last year.
(The photo on the right is Albany water. Just so that's clear. It's drinking water, so it should be.)
Earlier on AOA:
+ Ravens Head Brewing -- which is hoping to set up at St. Joseph's in Albany -- has cited the quality of the local water as one of the reasons for wanting to come here.
Hi there. Comments have been closed for this item. Still have something to say? Contact us.