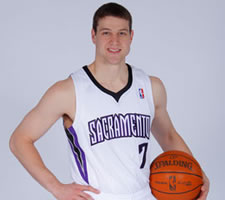 After the full blown Jimmermania of his senior year at BYU, Jimmer Fredette's first season in the NBA with the Sacramento Kings was a let down. The Glens Falls folk hero fizzled. It wasn't pretty. And expectations weren't high for this season.
But so far this season: not bad!
A few signs that Jimmer's starting figure out things in the NBA...
+ Jimmer's scoring average isn't much higher than last season (8.2 vs. 7.6) -- but he's scoring those points in fewer minutes. In fact, his points/36 minutes is good for 20th in the NBA. [ESPN] [Basketball reference]
+ He's shooting a lot better. Known as a shooter in college, Jimmer's field goal percentage was under 40 percent last season -- and he shot just 36 percent from three. This year: 43 percent, and 44 percent from three.
+ That better shooting has pushed his player efficiency rating up more than 7 points this season to 17.65 -- which is a totally respectable number (good enough for "third banana" status). And it puts him in the company of other not bad players. (Luckily for Jimmer, defense isn't a big component of PER.) [ESPN] [ESPN]
+ Kings coach Keith Smart says Jimmer's made "a gigantic leap" this season. And there's been talk of Jimmer being in the running for most improved player. [Sacramento Bee] [SB Nation]
It's not like Jimmer's owning the NBA. But he's starting to show he could have a decent career. And with him fighting for playing time, calls have started to free Jimmer -- either via more minutes, or a trade. [Bleacher Report] [The Big Lead]
Also: we're just going to pretend that this shot didn't happen.
Earlier on AOA: 28.5 facts about Jimmer Fredette
photo: NBA.com