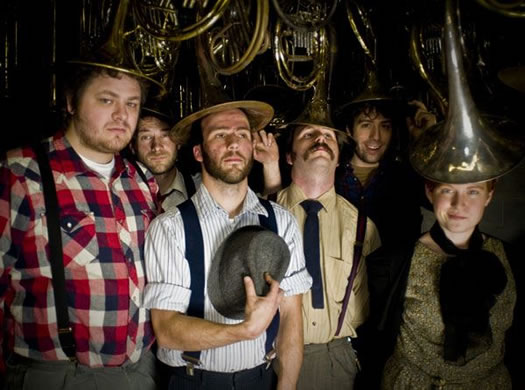 Breaking: The season known as "summer" continues with an upcoming set of two days commonly called "the weekend." Sources close to the situation report that "summer" and the "weekend" go well together. Only time will tell.
Saturday's looks like the best day this weekend in terms of weather -- sunny and 85. Sunday could be thunderstormy.
After the jump, a bunch of stuff to do this weekend - from TNO, to the Track, to beer, to all sorts of theater and music. Got something good planned that's not on the list? Please share!
Have a great weeekend.
Troy Night Out
We have mixed feelings about Friday being Troy Night Out. On the one hand -- it's Troy Night Out! On the other hand, it's the last Friday in July. Where is summer going? A few things to check out tonight:
+ The Tight Knit Market's Friday Flea is back in Monument Square.
+ The twilight farmers' market is in Riverfront Park with producer only vendors, prepared foods, and music.
Saratoga
It's weekend two of the season at the Saratoga Race Course. Fridays are family days at the track, with face painting, arts and crafts, and inflatables near the carousel. And this Sunday's gate giveaway is a Saratoga 150 t-shirt.
Capital Region Craft Brewers Festival
Brewers from around the Northeast and beyond will offer samples on Saturday at Joseph L. Bruno Stadium for the 4th annual Capital Region Craft Brewers Festival. 2:30pm to 6:30pm - $25 and up
Schoharie County Sunshine Fair
The Schoharie County Sunshine Fair opens this weekend at the county fairgrounds in Cobleskill. Fair food, a parade, tractor pulls, fireworks, music and more. The fair continues through August 3. $12- $55 Daily tickets and four and eight day passes also available
Theater
Pygmallion
The Williamstown Theatre Festival's production of Pygmalion -- starring Robert Sean Leonard and Heather Lind -- closes Saturday. You probably know Leonard from House (and Dead Poet's Society). Lind has been a recurring character on Boardwalk Empire and she's been cast in a pilot for a new AMC series -- she's also from Guilderland.
Berkshire Theater Festival
Same Time, Next Year opens this weekend at Berkshire Theater Festival. It's the story of a love affair between a couple who meet just once a year. Friday at 8pm, Saturday at 2pm & 8pm - $38 to $58
Also this weekend at BTF:
+ Just So Stories of Rudyard Kipling. Friday at 11 am and 2 pm, Saturday 11 am - $15, $10
+ And the Boston Globe critic's pick: Extremities. Friday 8 pm, Saturday at 2 pm and 8 pm - $35, $45
Merry Wives of Windsor
Saratoga Shakespeare Company presents the Shakespeare comedy The Merry Wives of Windsor, done in the style of a 1930s silent film, this weekend in Congress Park. Friday & Saturday 6:30 pm, Sunday 3 pm - free
Spamalot
Spamalot closes this weekend at the Park Playhouse in Albany's Washington Park. Friday-Sunday at 8 pm - free seating on the hill / seats up front for $14 - $22
Et tu Wonka
Classic Theater Guild's Heldeberg Theater Festival continues this weekend at Indian Ladder Farms. This year they're doing Charlie and the Chocolate Factory and Julius Caesar. Charlie and the Chocolate Factory, Friday at 7pm and Saturday and Sunday at 3 pm / Julius Caesar, Saturday and Sunday at 8 pm - free
The Sparkley Clean Funeral Singers
The Sparkley Clean Funeral Singers, a new work by country singer-songwriter Lori Fischer, continues at Capital Rep. Friday 8 pm / Saturday 3 pm and 8 pm / Sunday 2 pm - $20 and up
Les Miserables
The Mac-Hayden Theater in Chatham opened its production of Les Miserables this week. Friday 8 pm, Saturday 4 pm & 8 pm, Sunday 2 pm & 7 pm - $28-$30 / under 12 $12 with adult
The Music Man
The Not So Common Players closes their production of The Music Man this weekend at Clifton Commons in Clifton Park with CBS6 Anchor Jerry Gretzinger as Professor Harold Hill. Friday and Saturday 8 pm - free
Improv
Saturday night weekly short form improv comedy show MopCo is back at The Comedy Works on Northern Blvd in Albany. Think Whose Line is it Anyway. 8 pm - $15-$20
Bang on a Can
The annual Bang on a Can Festival is underway at MASS MoCA. The summer music festival is a three-week intensive of public performances, recitals, and lectures, dedicated to the creation, study, and performance of new and adventurous music. This Saturday there's the Bang On A Can All-Stars, performing Julia Wolfe's Steel Hammer. 8 pm - $24 concert / $35 concert and museum admission / $15 students
Music
Friday: WEXT Birthday Bash at Valentine's: Sgt. Dunbar and the Hobo Banned
First of two nights. With: Ray Murray and the Bomb Squad. 8 pm - $7 (includes a copy of Sgt Dunbar's new EP
Friday: Annie and the Hedonists at Upbeat on the Roof
Acoustic blues/vintage jazz. 7 pm - free
Friday: Leon Russell and Jonathan Edwards at The Egg.
Classic rock 'n roll. 8pm - $29.50
Friday: P.O.D. + Flyleaf at Upstate Concert Hall
Still so alive, presumably. With: Stars in Stereo, Manafest. 7:30 pm - $21.70
Friday: Paranoid Social Club at Putnam Den
With: Wild Adriatic, The Hornitz. 9 pm - $10
Saturday: WEXT Birthday Bash at Valentine's: Pete Donnelly
Night two. With: Bear Grass, Olivia Quillio.
Saturday: Bang On A Can All-Stars at MASS MoCA
As part of the annual Bang on a Can festival, a performance of Julia Wolfe's Steel Hammer. 8 pm - $24 concert / $35 concert and museum admission / $15 students
Saturday: Cicely Parnas and Louis Lohraseb at The Massry Center
Young cellist and conductor-composer-pianist play Beethoven, Rachmaninov, Mozart and others. 7 pm - $20
Saturday: Michael Powers Frequency at Helsinki Hudson
Blues. 9 pm - $18
Saturday: Banjo Masters in the Round at Caffe Lena
"Five strings, five pickers." 8 pm - $18
Sunday: O.A.R. at SPAC
O.A.R. = Of A Revolution. With: Andrew McMahon, Allen Stone. 6:30 pm - $31 and up
Sunday: Saratoga Choral Festival at Spa Little Theater
This year's show features the choral music of Dave Brubeck. 3 pm - $30
Sunday: Maria Muldaur & The Campbell Brothers at Music Haven
Folk singer paired with "high-energy gospel soul." 7 pm - free
Sunday: Christine Ebersole at Helsinki Hudson
Two-time Tony winner. Singing classics from composers such as Cole Porter. Part of the Helsinki on Broadway series, playing with jazz violinist Aaron Weinstein's trio. 7 pm -
Hall of Fame Weekend
This is Hall of Fame Weekend in Cooperstown. This year's group of inductees is unusual -- it's an umpire, an owner from the early 20th century, and a player from the 19th century. The induction ceremony is Saturday afternoon at Doubleday Field and there will be special programs running all weekend.
Duck Race
Saturday: More than 6,000 little rubber ducks will float down the Feeder Canal in Glens Fall this weekend for the annual Million Dollar Duck Race. It's an annual Kiwanis Club fundraiser -- buy a rubber duck for $5, let it go with all the other ducks at Haviland Cove. The duck that crosses the finish line first wins a grand prize and one lucky duck could win $1 million. (To do that, the number of the winner duck would have to match a number being held by the club's insurance company. In 22 years nobody has won the million.) The race starts Saturday at 11 am
Blueberry Festival
Saturday Sunday: The 14th annual Austerlitz Blueberry festival is back with all kinds of blueberry deliciousness, plus crafts, demonstrations, antiques, music and entertainment for kids. Sunday 9am to 4pm. $6, under 12 free. The pancake breakfast goes from 9am to 11:30 am - $7, under 12 $3
Pick 'em
We're right in the middle of blueberry season in this area. And those berries aren't going to pick themselves. (Here's a list of places to maybe check out for PYO -- note: it's from 2012.)
Bike rodeo
The Albany Police Department's annual Bike Rodeo for kids is Saturday in Swinburne Park. Food, games, giveaways. Kids should bring their bike and a helmet. Saturday 11 am-3 pm - free
Swimming
Looking for a place to go for a swim, or just lie by a lake or pool? Here's a list of public pools and beaches.
Berkshire Botanical Gardens
The Berkshire Botanical Gardens are a lovely place to to wander or have a picnic. Combine it with a dinner in Stockbridge or a trip to the Berkshire Theater Festival. On Saturday you can get a guided tour of the gardens. (If you sneak out of work early on Friday, you can have cocktails in the gardens with some of the gardeners.)
Ice Cream
Check out the Tour de Soft Serve and the Tour de Hard Ice Cream and the Tour de Gelato before you make up your mind. There's also Moxie's vanilla tour.
Farmers' markets
The outdoor season for farmers' markets are in swing in Troy (Saturday), Delmar (Saturday), Saratoga (Saturday), Schenectady (Sunday), and the new Spa City Farmers Market -- at the Lincoln Baths in Saratoga Springs (Sunday).
Summering
The season won't last forever. Throw a summer barbecue, mix a cool cocktail, go camping, buy a bike. Looking for other ways to enjoy summer in the Capital Region? Here are a few ideas.
The Saratoga Race Course, Capital Rep, Live Nation, The Tri-City Valley Cats, and The Mop & Bucket Company advertise on AOA.
photo via Sgt. Dunbar Facebook
Say Something!
We'd really like you to take part in the conversation here at All Over Albany. But we do have a few rules here. Don't worry, they're easy. The first: be kind. The second: treat everyone else with the same respect you'd like to see in return. Cool? Great, post away. Comments are moderated so it might take a little while for your comment to show up. Thanks for being patient.