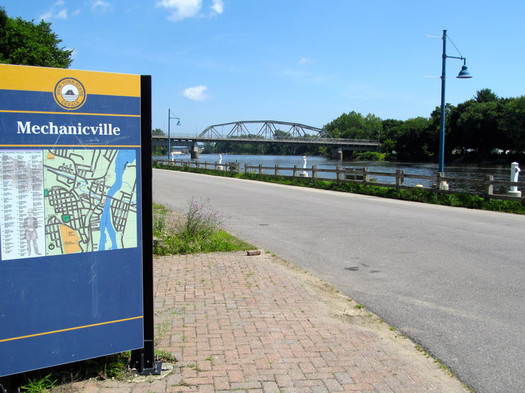 From the Annals of Facts of Limited Utility: While editing last week's in-between places feature about Mechanicville and Stillwater, we did some research on the claim that Mechanicville in the smallest city in the state. And based on Census data about geographic size, it's true -- M'ville's land area is just .84 square miles, more than half a square mile smaller than the next city on the list.
Anyway, that got us curious about the size of cities around the state -- which are the biggest, the smallest, how big or small they are relative to each other.
So we pulled the numbers and sorted them for easy scanning. And is there a map? Oh, you know there's a map...
What is this?
It's a ranking of the geographic size of cities in New York State. The numbers are from the US Census Bureau (which lists the areas in square meters).
The rankings do not include the state's towns and villages. What's the difference between a city, town, and village? Good question. Here's a quick explanation.
Did you know: There is no minimum size -- geographic or demographic -- for a city in New York State.
New York State cities ranked by geographic size
In addition to size in square miles, we've also included size in "Albanys," "NYCs," and "Mechanicvilles" to provide some perspective. For example: about 14 cities of Albany could fit inside the area of New York City. (Or, to put it more simply: NYC is 14 times the size of Albany.)
We picked Albany because it's a place with which most people around here are familiar, and NYC and Mechanicville because they're the biggest and smallest.
Cities in the Capital Region's four core counties are marked in blue.
Map
There's a clickable map of all these cities at the top of the page -- scroll all the way up.
A few things
+ That NYC is the largest isn't a surprise. But nowhere else in the state is even close.
+ Look at Rome representing in the #2 spot. Wouldn't have expected that out of the CNY city. We would have guessed Syracuse and Utica were both bigger CNY cities than Rome. Bonus bits about Rome: It's said to be the site of the nation's first cheese factory.
+ Another surprise (for us): Saratoga Springs in the top 5, bigger than Syracuse and Albany.
+ As it turns out, the Capital District has the two smallest cities in the state -- Mechanicville and Watervliet, which is just 1.35 square miles. And Cohoes (#51) and Rensselaer (#53) are toward that end of the scale, too.
Hi there. Comments have been closed for this item. Still have something to say? Contact us.