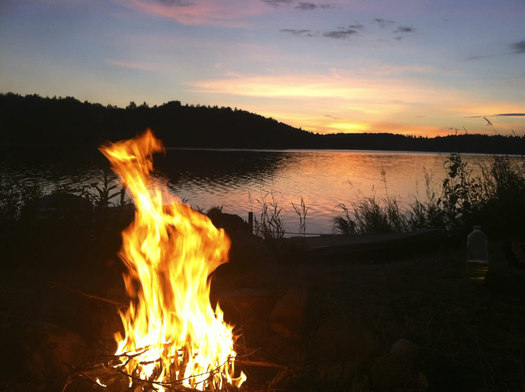 By Casey Normile
One of the good things about the Capital Region is how close it is to spots for hiking and camping -- whether it's a state park or preserve close to the region's core or, a little farther out, the many opportunities in a place like the Adirondacks.
You get out of town, among the trees, and bask in the joys of a tent, a quiet lake, a can of beans, and a little bit of dirt under your fingernails.
There's still plenty of time to venture out to the woods this summer. And if you want to be one with nature, but you're not too experienced with roughing it, here are a few things to keep in mind -- they'll make camping a little more enjoyable.
By no means is this an exhaustive list. And if you're an inexperienced camper, you should start slow. The only way to learn to camp is by experience -- and by experience, I mean mistakes and amusing stories of everything that went wrong.
1. Know your water situation
Whether you're looking into the kind of campsite you can drive to, a lean-to, or just a free space in the woods, know where the water is, whether you need to sanitize it (and how), or plan to bring your own. There's nothing worse than not having enough clean water.
2. Bring plastic bags
I've followed this rule religiously over the past ten years and it's never let me down. You may not know what you need them for yet, but believe me, you'll need them. Wet clothes, dirty dishes, keeping things dry in the rain, sap- or mud-covered gear, or just for trash and recyclables.
3. Bring toilet paper
Even if you're staying at a campground, bring extra -- they might run out, or you might need it on a hike or adventure in the wilderness. It's one of those things you forget how much you need until you don't have it.
4. Always assume it will be freezing at night
Even if the forecast tells you it'll only go down to 55 degrees at night, bring something warm to sleep in. It will likely feel colder than that in the woods and if you don't need the layers, you can use them as a pillow.
5. Rough it... but not to the point of stupidity
It's good to rough it for a few days, but not to the point of self-harm or risk. Half a loaf of bread is not enough for three people for two days of camping. A book is not a suitable substitute for a pillow. And not bringing a map does not make you look smarter. Camp smart and bring the basic necessities.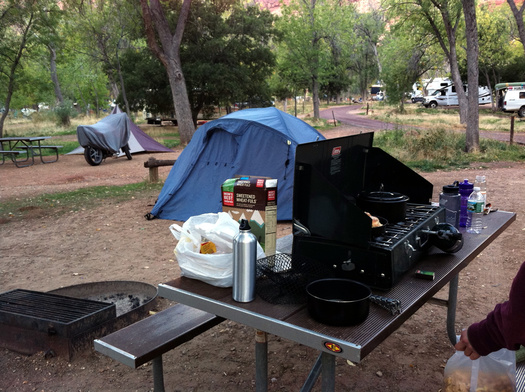 6. Bring wet naps/baby wipes
Just another one of those "you don't know what you need them for yet but you will" items. Sometimes you just can't wash your hands or shower. If you bring some sort of sanitary wipes, you'll feel just a little bit fresher and they won't take up much room or weight in your pack.
7. Prepare for any weather
No matter what the weather forecast says, be prepared for rain and cold. Bring a ground tarp to put under your tent in case of rain. Bring layers to wear. Bring a raincoat and shoes for all weather. You're friends may tease you for being over-prepared, but they won't be laughing when they're sleeping in a wet tent.
8. Know your neighbors
You may have visions of a rousing evening of guitar and tales of times past, but if your neighbor has a 3 year old, they'll make sure that doesn't happen. If you want to have a transcendently quiet night of Thoreau and a crackling fire, but your neighbors are 21 year-olds who brought more beer than food to their campsite, that's just not gonna happen.
9. Try to use the bathroom right before you go to sleep
Maybe it's just me, but I hate getting up in the middle of the night in the middle of the woods to use the bathroom. No matter what the weather, I'd rather just stay in the safe cocoon of my little tent until morning comes. So road trip rules apply -- even if you don't think you have to go, try anyway.
10. Treat yourself
The joy of camping is returning to nature and living on just the basic needs for a few days. You have a fire because you need light and heat. You bring food that will actually nourish you. And you build a shelter because you're at the mercy of your surroundings. But that makes little treats all the more sweet. All of the sudden, a hot cup of delicious tea or hot cocoa tastes better than they ever have, and warm fuzzy socks seem like a resort-level luxury.
____
Earlier on AOA:
+ How to hike the High Peaks and not be That Guy
+ Summer School: Camping with kids
+ Ask AOA: A good place to camp? (2011)
Say Something!
We'd really like you to take part in the conversation here at All Over Albany. But we do have a few rules here. Don't worry, they're easy. The first: be kind. The second: treat everyone else with the same respect you'd like to see in return. Cool? Great, post away. Comments are moderated so it might take a little while for your comment to show up. Thanks for being patient.