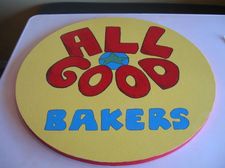 Official word via the Facebook page of All Good Bakers today that the bakery/cafe has closed. The announcement isn't a surprise -- the bakery's Delaware Ave location has been closed for a few weeks now.
From the Facebook message:
We are very sad to inform you that we are indeed closed. Nick and Britin have split. Nick is handling all questions through allgoodbakers@gmail.com.
Sincere apologies for not informing you sooner, it has been a difficult and emotional time for us. Wish we could carry on, but it's just not possible now given the circumstances. We will miss you all greatly and are VERY grateful for your amazing support and patronage as we attempted to realize our dreams.
AOA confirmed the bakery's closing today with Nick Foster, who said All Good Bakers is closed for good. "We appreciate all the business from our regular customers," he told us. "We wish we had more of them." Foster said there could be other projects in the future.
This is a sad outcome -- for personal reasons, of course. But also because All Good had been trying to do something different -- they touted themselves as "Farm to Bakery~Cafe" -- and they had won fans in the process of working their way from a stand at the Delmar Farmers' Market and a CSA-style arrangement for baked goods, to a shared space on Quail Street, to their own spot on Delaware. And while the bakery could be idiosyncratic at times, it was apparent that Nick and Britin cared about what they were doing and were trying to go about their business with purpose.
Small, local businesses are fragile.
All Good Bakers had advertised on AOA.
Hi there. Comments have been closed for this item. Still have something to say? Contact us.