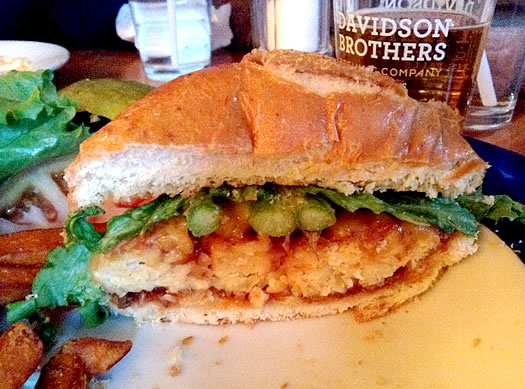 By Jeff Janssens
Few foods are as satisfying as a classic hamburger. Lately, though, I've been making an effort to eat less red meat.
So even though I'd heard that The Hollow Bar + Kitchen in downtown Albany has a very good beef burger, one featuring a fried egg and habanero ketchup, I was more interested in their tempeh burger, curious to see if I could leave satisfied even after opting for the vegetarian option.
The Hollow succeeded. The texture and taste of the tempeh -- along with an enjoyable sauce and roasted vegetables -- left me sated.
Tempeh is, in essence, a cake of cultured and fermented soybeans. I've written about the tempeh samosa at Umana, but the tempeh is only a bit player in that appetizer. With the tempeh burger at The Hollow, tempeh is given a starring role.
And in this role tempeh shines. If you're unfamiliar with it, don't think tofu. Tempeh -- developed originally in Indonesia -- features whole soybeans, which give it a unique taste and satisfying texture.
The tempeh patty on The Hollow's burger is sliced almost an inch thick; its taste is nutty and earthy. The whole soybeans give it a bit of crunch -- not to mention more nutritional value than other soy products -- and its firmness makes for a particularly satisfying bite between the bun.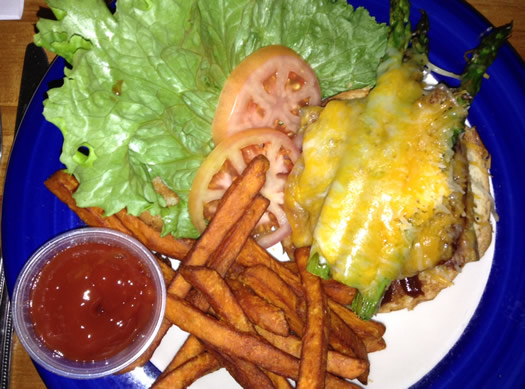 Of course the tempeh burger isn't served plain. It's topped with a sweet potato barbecue sauce that provides a slightly sweet, slightly smoky addition to the tempeh. I didn't really taste the sweet potato in it, but I imagine it did play a role in the thickness of the sauce. As someone who's often skeptical of barbecue sauces, this one succeeded, in large part because it wasn't overpowering.
With the tempeh burger and sweet potato fries costing only $9, I thought it reasonable to add cheese for a dollar extra. There are several options; I chose the Monterey Jack-cheddar blend. This comes as a combination of shredded cheeses melted atop the tempeh in a layer just thick enough to add a noticeable sharpness that played well off the barbecue sauce.
The menu stated the burger was topped with roasted vegetables but didn't specify what the vegetable would be. So I was surprised to find whole asparagus spears layered between the tempeh and the cheese. There were a few of the tender upper asparagus halves, and they added some depth of flavor, a bit of bitterness. They were a bit unwieldy, though, hanging off the side of the burger, so for that reason alone a different vegetable might be a better option.
I must also mention the bun, because this is the element that can make or break any burger. And here, the bun was toasted, buttered, fluffy, and substantive enough to handle all the elements -- but not so dense that it eclipsed the many featured flavors and textures held within.
There is plenty of flavor in The Hollow's tempeh burger, and I'm glad to see another area restaurant taking advantage of this alternative protein. Accompanied by a pile of sweet potato fries that were nicely crisped and a pint of the excellent Victory DirtWolf Double IPA -- one of many fine beers available on tap -- it made for an enjoyable overall experience.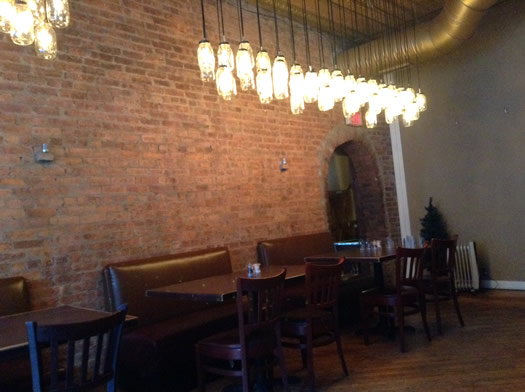 The Hollow opened last year in the space on North Pearl Street previously occupied by the Bayou Café, the only remnants of which lie in the second, back bar area and its dark, swamp-house motif. The dining area features an appealing minimalist aesthetic: brick walls and entryway arches, exposed ventilation ducts, and rows of lit mason jars hanging low from the ceiling. With an already-established reputation as a concert space for quality bands such as The Hold Steady, The Hollow has now become something of a rarity: a hot spot for nightlife that also serves as a destination for those looking for a tasty, thoughtfully-prepared meal.
Jeff Janssens writes about food and beer at The Masticating Monkey.
More Eat This!
+ Hamachi Kama at Sushi Tei
+ COB Pizza at Red Front
+ Spiced Potato with Hot Pepper and Special Pancakes at Northeast Dumplings House
Find It
The Hollow
79 N Pearl St
Albany, NY 12207
Hi there. Comments have been closed for this item. Still have something to say? Contact us.