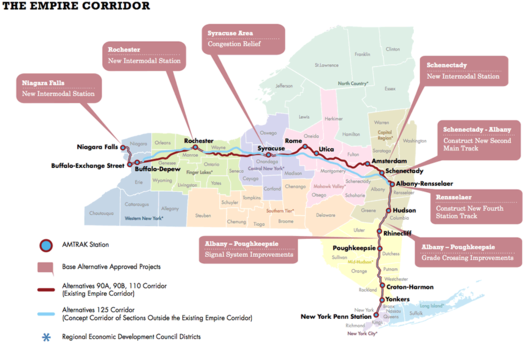 High speed rail in this country is one of those things that always seems to be happening just over the horizon. And for the Northeast -- and the Capital Region specifically -- this somewhere-out-there future holds all sorts of potential. Imagine what it would be like to hop a train at Albany-Rensselaer -- the 9th busiest station in the nation -- and be in NYC in a little more than an hour.
The thing is, for all the talk, we never seem to get closer to actually arriving at high speed rail. But that might be changing. Slowly.
The state Department of Transportation is currently working to sort out plans for higher speed rail service through New York. And there was a public information session Tuesday at the NanoCollege about the options, the first of series of sessions around the state.
We stopped by, checked out the presentations, and talked with one of the people involved in the planning. Here's a breakdown of the state's current route toward high-speed rail.
Much easier-to-read charts and maps are above in large format -- click or scroll all the way up.
The current situation
A lot of people ride the train in New York State, especially between Albany and New York. And Penn Station in New York City is one of the world's busiest train stations. But that's only (the geographic) half of the current situation. And understanding that helps shed some light on the high speed plans that are on the table.
"Albany-south and Albany-west are really worlds apart," Bill Lipfert explained to us while we stood next to a giant passenger rail map of the state in a rotunda at the NanoCollege. Lipfert is the rail operations planning lead on High Speed Rail Empire Corridor Program for LTK Engineering Services, which is working with NYSDOT to sort through high speed rail options. "Albany-south, we have a world-class, high-frequency, reliable, getting more reliable with the improvements being made, [service]. Albany-west, we have a very congested corridor because of the freight, getting more congested because of the growth in freight traffic. And, really, the question is what's the best way to have Albany-west be like the same or better service quality as Albany-south."
A big part of the problem is that there are just two tracks -- for both freight and passenger rail -- between Albany and Buffalo (there were four in the past). So passenger trains often end up getting caught in the traffic.
That congestion contributes to the Empire Corridor having an average speed of just 50 miles per hour (and an average max speed of 79 mph). Yep, not high speed.
What's on the table?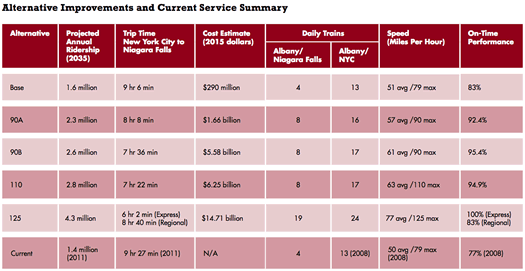 There are currently five options for passenger rail on the table. That chart above includes a breakdown, but here's the super-quick summary:
Base - This includes some upgrades already in the works -- like a second track between Albany and Schenectady, along with two new tracks at the Albany-Rensselaer station. But for the most part, it's a status quo option. Top speed 79 mph.
90A - New locomotives and cars, along with 20 other upgrades beyond the base option. Top speed: 90 mph.
90B - Here's where things really start to change. 90B includes the 90A upgrades, plus 300 miles of new passenger train-only track between Albany and Buffalo. Top speed: 90 mph.
110 - The 90A package, plus 325 miles of passenger train-only track. Top speed 110 mph.
125 - The biggest jump -- constructs an entirely new 247-mile passenger rail corridor between Albany and Buffalo. It would create an express line that would stop at Albany, Syracuse, Rochester, and Buffalo. Top speed: 125 mph.
As you can see from the chart, each option increases the project capital costs. There are also escalating environmental impacts -- stuff like noise and land use. And the next chart illustrates the cost comparisons: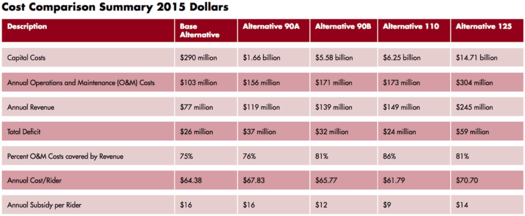 Said Lipfert of the options on the table: "Our goal was really to get up into the auto-competitive, auto-superior speeds."
What does this mean for Albany?
Not as much as these options potentially mean for areas to the west of Albany, because to some degree, the line between Albany and New York City is pretty much maxed out. Some of the potential track upgrades should increase on-time reliability. And Lipfert said other upgrades for the line along the Hudson could cut another 15 minutes off the current travel time of 2:20, which is something.
But the major aim of these options is to make the service between Albany and Buffalo more like the service between Albany and NYC.
So, is one of these better than the others?
That's a tricky question, because it depends on what you're willing to trade off. Example: That 125 plan with its express line might sound great, but are you/we/the state/feds willing to spend the money to make it happen -- it's by far the most expensive option.
That said, given the public information, that 110 option looks like it might be the most promising. It's not cheap -- in fact, it's the second most expensive option -- but the ridership projections have it pegged as the option with the lowest annual cost and subsidy per rider.
OK, fine. But where are the really high speed options?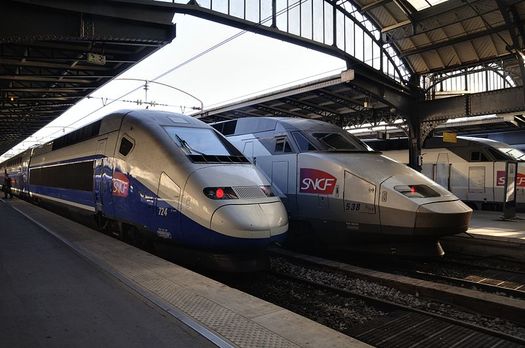 TGV trains in Paris. The train line has top speeds that approach 200 mph. / photo: Wikipedia user Taxiarchos228 (cc)
The 125 mph option is faster, but it's not necessarily what you might consider "high-speed rail." Trains in parts of Europe and Japan have top speeds approaching 200 mph. So, why is that not on the table?
The big reason: cost. Lipfert said that initial options -- for trains traveling 160 mph and 220 mph -- were "wonderfully fast, but completely unaffordable." In this case, "completely unaffordable" is $40 billion in capital costs.
Why so expensive? Because a system operating at those speeds would pretty much require starting from scratch -- new trains, new tracks, new paths for the tracks, everything. And it would involve large scale environmental impacts. Lipfert said an early "highly conceptual" plan for very high-speed rail involved running a new track down the west side of the Hudson River more or less along the path of the Thruway. It would have to be threaded, somehow, through residential areas, forests, wetlands, and farmland.
What's the timeline for all this?
That's hard to say, for a few reasons. One, the planning process isn't finished, yet. It's currently in the "tier 1" step of environmental review. That will result in the selection of a preferred alternative, and then "tier 2" review. That review will include a look at how to finance the plan.
Oh, right, the money. There is not currently a clear plan for where the money would come from for most of these plans. It would be some combination of federal/state/local funding, but that's not mapped out in detail, yet. So, $6 billion -- or whatever the total would be -- is a big hurdle. But it's not necessarily so much money as to make this totally unlikely. (Some perspective: The cost of the planned Tappan Zee Bridge replacement is estimated to be something like $4 billion.)
Another thing: Say one of the options that include lots of construction is selected. Actually building the stuff can take a while because, according to Lipfert, it's not like there are a ton of people just standing around with expertise on how to work on high speed rail construction. They're high tech jobs that involve working outside, often in tough conditions. "Training those people, attracting those people to those jobs is a whole challenge in its own right. You can't just flip a switch and have an army of a thousand to implement this project."
Also: Construction would likely be in phases so as not to totally disrupt current service.
So, all that said, the implementation schedule for these options is probably something like a decade or a decade-and-a-half. If there's the money for them.
Yeah, so that's kind of like a high speed rail buzzkill. Is there reason to optimistic?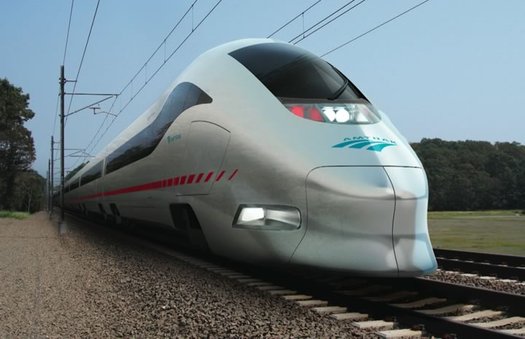 An Amtrak high-speed locomotive rendering from 2012.
Sure. Almost all large scale projects take a long time to plan and build. But the process is in motion. And, for the moment at least, the longterm trends -- increasing ridership, shifting public attitudes, rising energy prices -- appear to be pointing to a future with more and better rail service.
"I look at my own daughter, who has a driver's license but doesn't drive, just doesn't like to drive. Doesn't own a car, has no interest in a car. The next generation is much more open to transit and trying different modes and being multi-modal," Lipfert said near the end of our conversation. "I was just on the Caltrains service between San Francisco and San Jose -- they can't buy enough rail cars, they're standing room only. They encourage people to bring bikes, and many people will bike from their apartment to the train, and then bike from the train to their job. It's a great multi-modal experience. And that's really what we're trying to support here -- not only this corridor, but also connections to other modes. So I'm very optimistic about the future."
What can I do about this?
There's a lot of info about the proposed options on the NYSDOT website. And the official comment period for this phase of the state's planning process runs through March 24. If you want to get your word in about this topic, now's a good time to do it.
____
Albany, Rensselaer, and the Livingston Avenue Bridge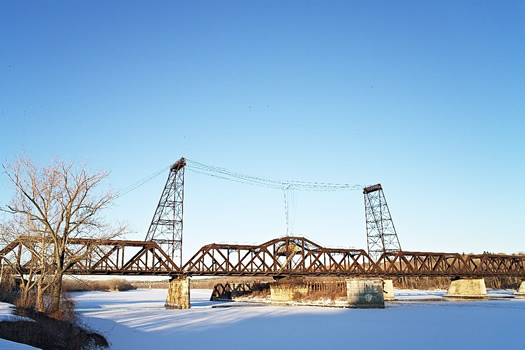 photo: Bennett V. Campbell
One more thing: The Livingston Ave Bridge, which spans the Hudson River from Albany to Rensselaer, will almost certainly end up being part of any sort of large-scale upgrade to the current rail system in the state. It's a critical point in the system, and it's really old.
Martin Daley, from the Livingston Avenue Bridge Coalition, was at the information session Tuesday to bang the drum for including a pedestrian/bike pathway on a new bridge. He's been making this case for a few years now, and it's one of those things that just sort of seems like should be an obvious element of a new bridge. (You know, why shouldn't there be pedestrian and bike access?) But, as Martin highlighted during our conversation, the projects that get attention/funding are often the projects for which people have been speaking up consistently. So, he was there.
The Livingston Avenue Bridge Coalition has a new website about the idea, and it's tracking developments there as they come along.
____
Earlier on AOA:
+ An updated vision for high-speed rail
+ Albany-NYC: strong potential for high-speed rail?
+ High-speed rail? Maybe not so fast.
+ Schumer on board with walkable, bikeable Livingston Ave Bridge
+ A walkable Livingston Avenue Bridge
+ The Livingston Avenue Bridge
all charts and maps: NYSDOT
Hi there. Comments have been closed for this item. Still have something to say? Contact us.