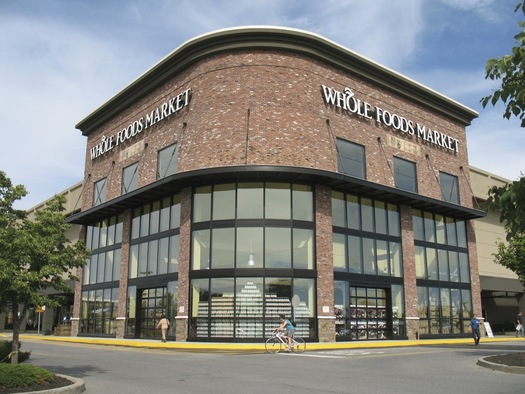 The long awaited Whole Foods at Colonie Center opens this Wednesday.
We figured a lot of people will be curious, so we stopped by for the media tour Monday afternoon.
Here are a bunch of photos and a few thoughts...
Photos
They're in large format above -- click or scroll all the way up.
The supermarket as interface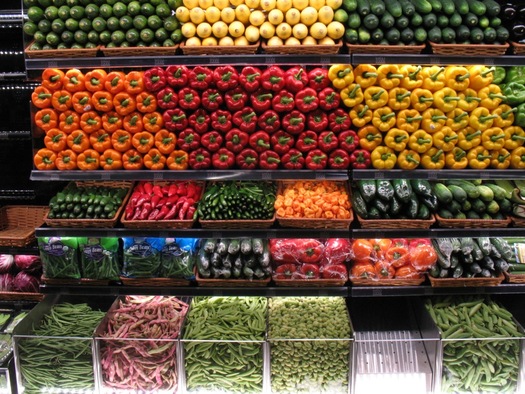 One of the ways we've come to think about supermarkets is as interfaces. That might sound wonky and pretentious (because, um, it is), but it makes sense in that supermarket serve as one of the main ways people access the very large and very complicated system that produces food. And thinking about things that way also helps sort out what a supermarket is trying to do, and the tradeoffs -- simplicity/selection/cost/quality and so on -- made along the way.
Right, so Whole Foods. Here's how Michael Sinatra, the company's spokesperson, described its approach:
What really differentiates us is the fact that we are selling only natural products. The trend has certainly moved towards people caring about what they're putting in their body, caring about the way their food is produced. And when they shop in our stores we're doing a lot of the homework for them.
That pre-filtering shows up in how the store is designed, both visually and in terms of product selection. The seafood counter has ratings for the sustainability of wild-caught fish. The meat counter includes an animal welfare guide with ascending levels of strictness. All the eggs sold in the store -- and the eggs in products sold in the store -- are cage free. Products are "free of artificial preservatives, colors, flavors, sweeteners, and hydrogenated fats." The signage emphasizes the origins of local products.
Essentially it all tries to make a case to the shopper that's something along the lines of: "If you're concerned about these issues, we understand, and you can relax here -- because we've made it easier for you." Trader Joe's employs a similar strategy with its many house brand packaged products. (Of course, it's worth mentioning that taking the preservatives out of a potato chip or a frozen dinner doesn't necessarily make it healthy.)
And it doesn't hurt that the store itself is attractive, with good light, colorful signage, and engaging displays.
Local stuff
Among the angles the company was touting at this new store is the group of local products it's sourced for the first time -- 52 new products in all. It's carrying products from local vendors such as RAD Soap, Tara Kitchen, and Bake For You.
At this point, the local angle isn't all that unusual. Honest Weight carries a bunch of local products, and has done so for a long time. And even traditional chains such as ShopRite, Price Chopper, and Hannaford tout their local offerings.
But we did think it was notable that Whole Foods employs "local foragers" for regions around the country. The forager for the Northeast Region -- Elly Truesdale -- was in the store Monday and we had a chance to talk for a few minutes. Her job is to not only seek out products from local producers that Whole Foods might want to carry, but to also work with those local producers to offer assistance and guidance in sorting out the details necessary to be carried in a major chain. An example: Truesdale says she worked with the owners of Tara Kitchen in Schenectady on getting bar codes for the restaurant's line of simmer sauces.
No doubt Whole Foods is working with these local producers because, first and foremost, it believes it's good for Whole Foods' business. ("Local" is good marketing these days.) But it highlights some of the resources available to a large chain, and if a small, local business can benefit, it's a bonus.
Price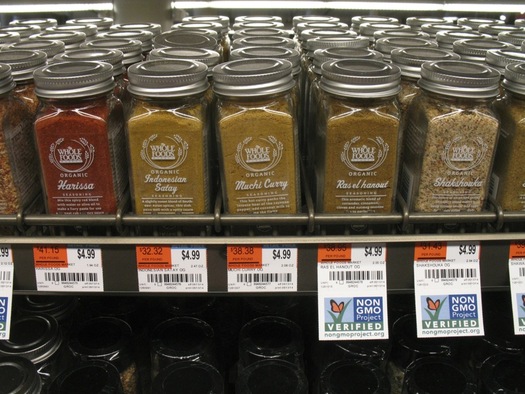 Whole Foods has a reputation for being expensive, thus the "Whole Paycheck" nickname. And let's face it, one of the trade-offs you're going to make when buying an item like grassfed beef or organic whatever is that it's very often going to cost more than the bargain-priced "conventional" stuff.*
Sinatra emphasized that the company believes many items it carries are good values. "If you're shopping with the seasons and you're buying our house brand -- I always point to the olive oil category as a good example. We have a house brand liter of olive oil that we sell for $6.99, which is really priced competitively with any other extra virgin olive oil that you could buy in any market period. But we also have very specific, single origin, artisanaly made olive oils from around the world that the prices are higher on."
Where does Whole Foods fit in here?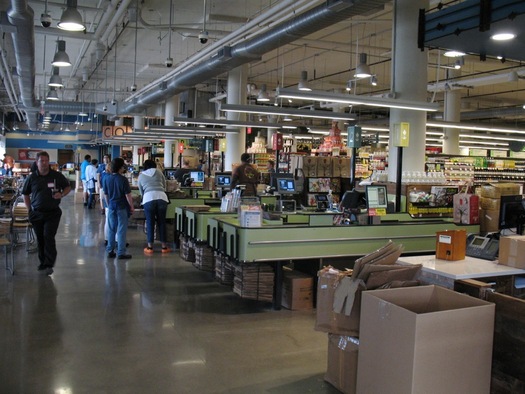 There's a lot of supermarket competition in the Capital Region now, across a wide spectrum of price and product type. Whole Foods is probably most like the Honest Weight Food Co-op in Albany and Healthy Living Market in Wilton. They all have an emphasis on natural and organic products, they're roughly the same size, and there are even visual similarities. Trader Joe's is probably in the same neighborhood, though it has an even more edited selection and leans toward packaged foods.
But a lot of the things that differentiate these places are starting show up in other outlets. The Price Chopper Market Bistro in Latham definitely exhibits some Whole Foods visual characteristics (even if it's much bigger). And all the traditional outlets are expanding their offerings in organic and gluten free and other previously niche categories.
Whole Foods will probably most often get compared to Honest Weight, though, and vice versa. It's been about a year since Honest Weight moved its new location, and from what we've heard informally, business has been very strong since the move. Can the two co-exist?
"Absolutely," said Sinatra when we asked about it Monday. "I think with places like their shop [the co-op] and our shop what it's doing is creating more interest in natural foods and more awareness for natural foods. So I think for the industry -- especially in such an agriculturally driven area like upstate New York, the Hudson Valley, the Capital Region -- I think it's really good for consumers."
____
* A lot of the words used to talk about food now have sort of lost their meaning because they've been stretched and warped to suit all sorts of interests. "Natural" is a good example -- it can mean all sorts of things at this point.
Earlier on AOA:
+ Comparing the size of Capital Region supermarkets
+ Checking out the Price Chopper Market Bistro
+ Checking out the new Honest Weight location
+ Checking out the Trader Joe's on Wolf Road
Honest Weight advertises on AOA.
Hi there. Comments have been closed for this item. Still have something to say? Contact us.