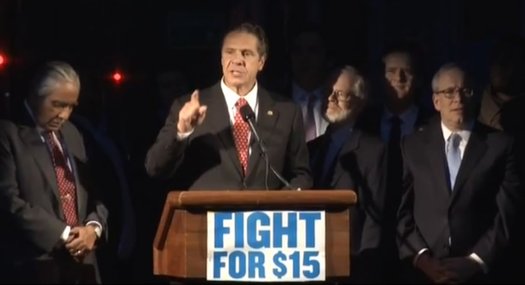 The Cuomo admin announced Tuesday that Andrew Cuomo is moving to unilaterally set a $15 minimum wage for state employees.
The increase would be phased in over the next few years, rising to $15 in New York City by the end of 2018, and by 2021 in the rest of the state. It's projected the increase would affect approximately 10,000 state employees -- 9,000 of them outside New York City.
The governor publicly announced the plan at a Fight for 15 rally in New York City. "This is about basic fairness and basic justice," he said of the push to raise the minimum wage both in New York State and across the country. "We're going to lead the way. The nation's going to watch us."
The Cuomo admin projects that the wage increase will cost $20.6 million annually after it's fully implemented in 2021. (For some frame of reference, the state's fiscal year 2016 budget is almost $143 billion.)
Back in September Cuomo announced he would be pushing to increase the state's minimum wage for all workers to $15 an hour. That followed a maneuver his administration pulled off this summer in which it used a wage board to set a raise to the $15-per-hour level for fast food employees -- bypassing the state legislature.
It's possible that Cuomo is moving to raise to the wage of state employees now simply because he thinks it's the right thing to do. But it's also probably true that he sees this as another way to exert force on the legislature -- specifically Republicans in the state Senate -- to act on a minimum wage increase when the new session starts.
It'll be interesting to see how the debate plays out. Conservative orgs like the Empire Center are already pushing against an increase to $15 per hour, arguing it will stunt job growth. You'd expect that sort of push back. But it will also be worth watching if there's geographic element to support and/or opposition, because a $15 per hour wage in Manhattan isn't the same thing as it is in Utica.
More coverage:
+ NYT: Cuomo to Create $15 Minimum Wage for New York State Workers
+ TU CapCon: Minimum wage React-O-Matâ"¢
Earlier:
+ Getting some sense of a $15-per-hour minimum wage
+ Cuomo: Raise New York State's minimum wage to $15 an hour for all industries
+ New York State set to raise fast food minimum wage to $15 per hour
screengrab from Cuomo admin livestream
Hi there. Comments have been closed for this item. Still have something to say? Contact us.