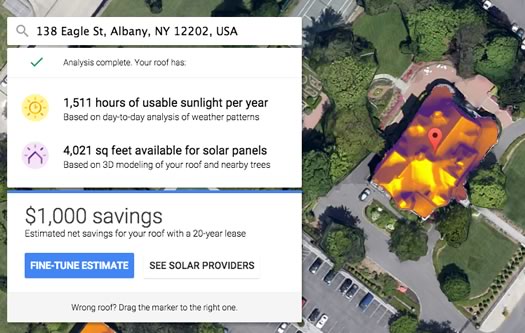 It seems like solar panels are popping everywhere the last few years, on both commercial buildings and neighborhood homes. And if you're curious about the potential of adding solar panels to your home, there's a tool that might help you start to get a sense of that.
Google recently extended its Project Sunroof tool to include the Albany metro area. Basically Google uses its map data of roofs to estimate the solar potential of a building. It then breaks down some estimates for how much a system might cost, and how much the building owner might save if they lease panels, take out a loan to buy them, or just pay cash.
Example: That screengrab above is the a clip from the page generated for the Governor's Mansion in Albany.
Of course, the info that Project Sunroof provides is just going to be a rough estimate. And Google even notes that the figures may vary from the estimates generated by a contractor who actually stops by for a visit. But it's a place to start, and it may help you get a sense of what sorts of questions to ask if you decide to investigate further.
Earlier on AOA:
+ Solar continues to grow around New York
+ Ask AOA: Residential rooftop solar options?
+ Our time in the sun
Hi there. Comments have been closed for this item. Still have something to say? Contact us.