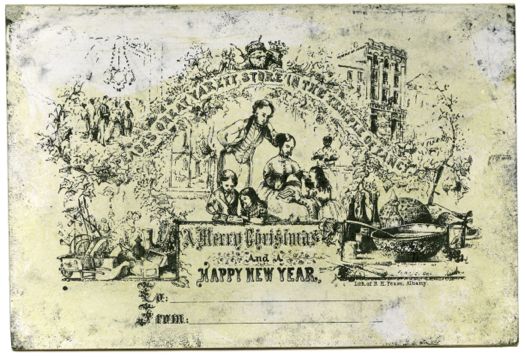 Here's are some fun of local Christmas and holiday history that might be fun to share with family and friends over the next few days...
The first Christmas card
The first Christmas card was printed in Albany in 1851. One of the cards is currently on display at the Albany Institute of History and Art as part of the Capital Region in 50 Objects exhibit.
The Albany store/printer that produced that first Christmas card was Pease's Temple of Fancy, which is also said to have been the first to use a depiction of Santa in an ad.
T'was the night before Christmas...
The poem "A Visit From Saint Nicholas" was first published in the Troy Sentinel in 1823, but there's a controversy over who actually wrote it -- Clement C. Moore or Henry Livingston, Jr. For the last couple of years, Duncan Crary and Jack Casey have produced The Trial Before Christmas -- a mock trial with real attorneys in the Rensselaer County Courthouse, to determine the true author of the poem. Missed it? Here's a video from last year.
Yes, Virginia, there is a Santa Claus
Yes, that Virginia -- who wrote the letter to the New York Sun that was answered by editor Francis Pharcellus Church -- lived for quite a while in Valatie in Columbia County. There is even film of her reading the famous editorial answer to her letter to a group of area school children.
The 18th century holiday table
Many Christmas traditions trace at least some of their roots to the Dutch. And, of course, the Dutch were a major influence in Albany's history. Earlier this fall we talked with food historian Sara Evenson about what was probably on holiday tables in Albany during the 18th century, including Christmas "cookey."
Also fun: An 1823 recipe for Albany Cake -- and Peck's Arcade pastry chef Greg Kern's recreations of the cake.

Hi there. Comments have been closed for this item. Still have something to say? Contact us.