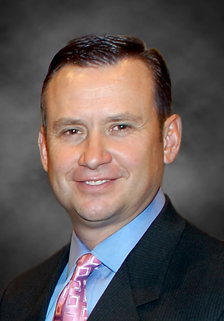 The Golub Corporation -- the privately-held parent company of Price Chopper/Market 32 based in Schenectady -- announced Wednesday that it has a new CEO. And notably, the person is not a Golub.
Scott Grimmett, who had been the company chief operating officer (he was the first non-Golub to hold that role), is succeeding Jerry Golub in the CEO role. Grimmett (that's him on the right) joined the Golub Corp in 2012 after working for Safeway for 37 years. He's been part of the company succession plan since he was hired, according to a press release.
Press release blurbage:
"This is an exciting time for our company," said Neil Golub, chairman of the board. "While international conglomerates and Wall St. continue to consolidate our industry, we are investing in our future as a strong, American-owned, family-built regional chain. The design work that we invested in Market Bistro (circa 2010-2014), coupled with the brand-defining innovation that has given rise to our first few Market 32 concept stores has not only laid the groundwork for our continued growth, but also fueled the acceleration of our plans to modernize our stores under the Market 32 banner. "
Jerry Golub is now vice chair of the company's board and will be leading a committee focused on accelerating the switch from the Price Chopper brand to Market 32, according to the press release.
(Jerry Golub replaced Neil Golub -- they're cousins -- as CEO in 2012. As it happens, when the switch was announced in 2011, the company also announced it was hiring Grimmett as COO.) [Daily Gazette 2011]
One bio bit about Grimmett: He started in the supermarket business as a part-time clerk at a Safeway in Seattle. [Safeway press release 2003]
Price Chopper is, of course, a major player in the local supermarket scene (it has 136 stores across six states in the Northeast). And it's one of the Capital Region's 10 biggest private employers.
About a year-and-a-half ago the Golub Corp announced it would be switching the name of Price Chopper to Market 32, a much-discussed change that's been slowly been rolling out as the company remodels its stores. Notable at the time (at least it was to us) was that Jerry Golub took to Facebook to personally respond to questions about the name change. It'll be interesting to see how Grimmett fills the role as the head of the hometown company.
Earlier on AOA:
+ Price Chopper is rebranding itself as Market 32
+ Price Chopper CEO responds to questions about Market 32 switch
+ Checking out the new Price Chopper Market Bistro
photo via Golub Corporation
Hi there. Comments have been closed for this item. Still have something to say? Contact us.