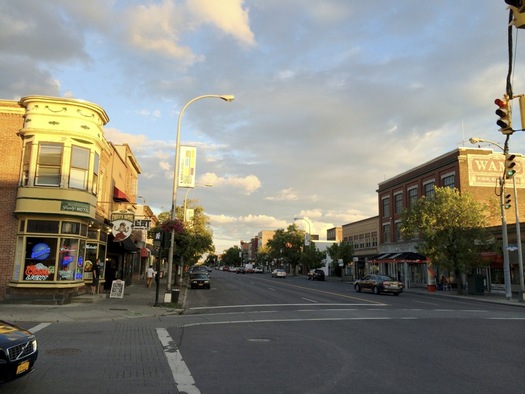 By Sandy Johnston
Street safety has been a major topic of discussion in the Capital Region recently, from Albany's red light cameras to the Madison Avenue road diet to the death of a young boy in Albany and far too many others across the region. It's pretty clear that everyone agrees something must be done.
To a large extent, though, it seems that the discussion about road safety for all users has focused on more and better enforcement of existing laws as a solution to the toll. And while enforcement of speed limits and road safety -- which, in my experience, is pretty nonexistent in much of the region -- is absolutely part of the ultimate fix, the focus on it ignores that there is, in fact, a much more effective solution at hand: better design of our streets and roads.
Here are a few examples:
Swan Street
The section of Swan Street between Park Ave and Madison Ave in Albany is a frequent topic of discussion on the Hudson/Park Neighborhood Association listserv, to which I subscribe. It's easy to see why: these few blocks carry a relatively high volume of traffic for a neighborhood street, and the road is wide, one-way, and has an ambiguous number of lanes, all of which contribute to frequent speeding.

Swan looking north from Irving. Notice how it is unclear how many travel lanes there are. / image: Google Streetview
Wrong-way drivers turning south onto Swan from Madison have also been a problem, aided by the fact that at that intersection Swan widens completely unnecessarily to have dedicated right AND left turn lanes (neither of which is used particularly frequently).
Listserv discussion has focused on a "yield to pedestrians in crosswalk" sign that the city has repeatedly placed in the middle of one intersection, only to have it rarely last more than a few days before being run over yet again.
And therein lies the rub. Look: placing more signs isn't going to fix Swan's problems, and neither are increased patrols. Swan suffers from speeding because the street's design encourages it. To control the speeding and wrong-way drivers, the street has to be redesigned.
Let's start with the wrong-way problem. This is Swan looking south from Madison. Note how this neighborhood street -- which carries about 3,250 cars per day, on the high end for a neighborhood street but not that busy -- is effectively five lanes wide here. With street markings worn away, this looks inviting, and it's easy to understand why someone might assume it's a two-way street (hint: it looks like one).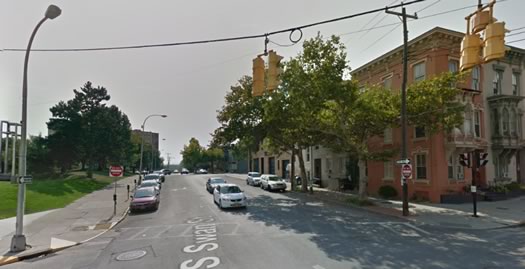 image: Google Streetview
Now here's an illustration from the National Association of City Transportation Officials (NACTO) Urban Street Design Guide of the kind of low-key design intervention that could drastically cut down on the wrong-way problem (granted, the example is a two-way street, but it's not hard to imagine it applied to Swan):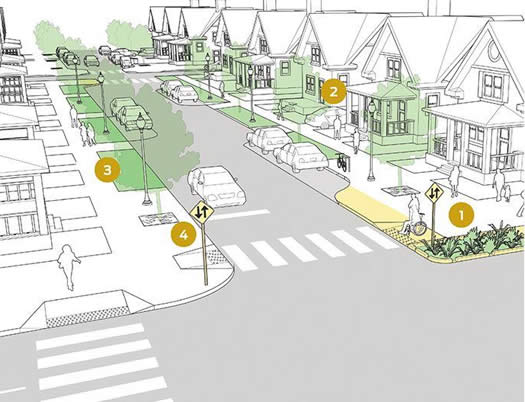 "Bumping out" one sidewalk corner eliminates a turn lane, but narrows the road considerably, reducing turning speed so that pedestrians are safer and (if this were a one-way street) making wrong-way turns physically impossible.
Central Avenue
I'll illustrate the lane width issue with another example, although the lessons apply to Swan as well. I and others have written about the dangers of Central Avenue in both its urban and suburban sections. However, political responses to the danger -- such as the NYSDOT-led See! Be Seen! Campaign -- have focused on modifying pedestrian behavior and enforcement, with only limited design intervention.
That's not going to work, because Central, like many other Capital Region roads, is -- to borrow a catchphrase from Smart Growth America -- dangerous by design.
Taking the section from Henry Johnson Boulevard to N. Allen Street in Albany as an example, the inner travel lanes are about 12 feet wide, and the outer ones more like 14 feet. Here's why that's a problem (again, from the NACTO Guide):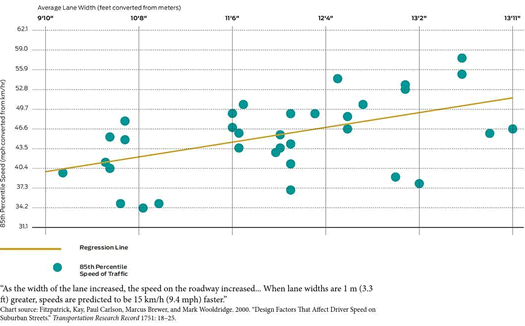 In the study sample, the 85th percentile speed (the speed below which 85 percent of cars were traveling) of cars in a 12-foot lane varied from 37 to almost 50 mph. And it's important because the 85th percentile speed is what road engineers use to, in theory, set a "rational" speed limit.
And that means that while Central has a fairly modest 30 mph speed limit in the section through Albany, the road is actually designed for much higher-speed traffic. Designing for that kind of speed is pretty close to obscene and irresponsible in an urban context -- and of course the incentive to drive that fast overwhelms any prospect for speed limit enforcement. No wonder, then, that NYSDOT's 2014 report on pedestrian safety in the corridor found that the 85th percentile speed on the Albany section of Central was well above the marked speed limit:

Think about that again: Some portion of the 85 percent of drivers on Central were doing 4-6 mph above the speed limit (and the other 15 percent were driving even faster). It's not surprising -- they were responding to design cues! 85th percentile speeds were above limits in other sections of the corridor as well, but not quite as drastically. This isn't something that increased enforcement can solve. Indeed, the 85th percentile speed paradigm is based on an outdated approach that considers only the safety of drivers, and assumes all crashes are equally dangerous (they're not).
So the speed limit on the urban section of Central is set well below the road's design speed. Should we not allow cars to go faster, then? Well, no. Vehicle speed has a huge impact on pedestrian mortality from crashes, the rates of severe injury or death from 25 percent to 50 percent as speed rises from 25 to 33 mph -- and car-pedestrian crashes tend to rise as car speeds rise. No wonder, then, that the NYSDOT report recommended studying a road diet on the Albany stretch of Central.
And there are numerous opportunities for such road diet interventions in the region. According to Eric Fischer's traffic count visualization, Central carries no more than 18,000 cars per day east of Manning -- below the Federal Highway Administration's recommended road diet threshold of 20,000 and well below NACTO's more generous threshold of 25,000. Madison Ave, where a road diet -- albeit an incomplete one -- is being implemented, carries no more than 15,000 cars per day. Washington Ave, one of Albany's broadest and fastest streets, carries fewer than 11,000 cars per day, and would be an ideal candidate for a road diet.
Better for everyone
The concern for road safety for all users is far from theoretical. Nor is it the province of starry-eyed utopian urbanist idealists. As Chris Churchill has documented repeatedly over at the Times Union, people of all kinds die in crashes. Our current road design is for the most part outdated and prioritizes free-flowing car traffic above all other concerns, including human safety. Typically, design improvements are hard to implement because many drivers see them as making their own lives more difficult. But better design -- design that emphasizes safety -- doesn't have to come with costs to drivers. Here in the Capital Region, we have a unique opportunity to achieve the best of all worlds; most, if not all, arterial roads in our urban sections are well below actual capacity and have significant ability to absorb design changes without impact to travel times.
As the Capital Region sees something of an urban renaissance, with residential development in new places, the issue of street safety is becoming more important than ever. Here's just one more example: A private dorm is set to open at the high-speed, high-volume intersection of Washington Ave and University Drive across from UAlbany's uptown campus, with another planned just down the road. Hundreds of students will be walking to class from these buildings -- and trying to cross a broad, dangerous road to get there. Will our road designers take them into account -- or will we continue to pin all of our hopes on a pursuit of enforcement, while neglecting safer design?
Sandy Johnston is finishing up his Master's in Regional Planning and a certificate in Urban Policy at UAlbany. He blogs at www.itineranturbanist.wordpress.com and is a vocal presence on Twitter @sandypsj. Before moving to Albany, Sandy had lived in New Jersey, Oregon, Iowa, Connecticut, Chicago, Jerusalem, and New York City. Sandy lives in Center Square/Hudson Park with his partner Gabriella, a state worker, and their two cats. You can reach Sandy with comments or complaints through his website.
Earlier on AOA:
+ What if tearing down I-787 could actually improve traffic?
+ Thinking about the direction of Central Ave
Hi there. Comments have been closed for this item. Still have something to say? Contact us.